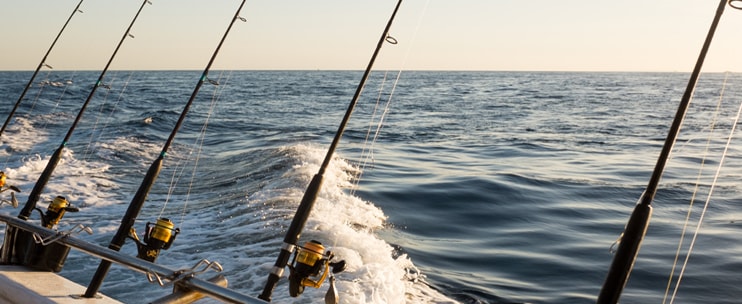 There are many ways to enjoy the pristine, abundant waters of the Hawaiian Islands. Snorkeling, perhaps, is the most popular activity, where guests can have an up-close encounter with Hawaii's marine life, but for those who are not exactly into swimming in open water, another way to have a fun ocean adventure is to go fishing! Deep sea fishing is another leading water activity in Hawaii, where travellers can have a thrilling time hauling their fish catch, or just spend a relaxing day in the middle of sea. With ocean waters teeming with different varieties of fish, this activity is definitely something you'd want to try when travelling to Hawaii. 
Read on to trace the history of Hawaii deep sea fishing, discover the varieties of fish available in the Hawaiian waters, and just learn more about this fun and relaxing activity!
A brief history of Hawaii deep sea fishing
As they say, to further understand and appreciate something, it is best to go back and study its history. As for Hawaii deep sea fishing, it can be traced back to the practice of ancient Hawaiians, when fishing held a central role in their daily lives. Several years back, it is mainly from the seas where ancient Hawaiians drew their sustenance. While they did hunt on land, seafood was really the primary protein in the Hawaiian diet, which they partnered with vegetable staples like sweet potato and taro. Fortunately, the seas of Hawaii are just so abundant with different kinds of 'ono', or delicious, fish, that this is the usual Hawaiian meal up to the present.
Because the ancient Hawaiians benefit a lot from the sea, it was their tradition to maintain a personal and more spiritual relationship with it. They studied the ocean extensively, and they honed their diving and fishing skills, while making sure that they did so safely. With unique fishing implements such as basket traps, creative lures, hooks, and lines, ancient Hawaiians were able to master the craft of locating, trapping, and catching fish without causing harm and damage to the ocean. They truly showed high regard for deep sea fishing that their literature, in fact, has a lot of fishing stories that celebrate the great fishers of their time, like the tales of the famous Ku'ula-kai and Puniaiki. Such collection of Hawaiian fishing stories is still told and shared until now, which just shows how much they value deep sea fishing and how deeply ingrained it is even in their present culture. Thankfully, too, the ancient Hawaiians took great care of and showed deep respect to the seas, that Hawaiians of today, plus travellers like you, get to enjoy clean waters, abundant with many sorts of fish and other marine life.
The variety of fish available in Hawaii's waters
Travellers who opt to go deep sea fishing can expect different kinds of fish to catch, which guests have the option to "catch and release" or taste one hot off the grill, subject to local laws and the guidelines and inclusions of your chosen fishing charter. One of the most common species is the marlin, or a'u as it is locally called, which can get as heavy as 1,600 pounds. Because of its weight and its natural instinct to put up a fight when hooked, the battle to bring in this fish is a great challenge, which is why it is highly prized by sport fishers.
Another fish known to be abundant in tropical waters such as that of the Hawaiian Islands is the ahi, or the yellowfin tuna. If you've tried, or at least have heard of, the Hawaiian poke bowls, it is the yellowfin tuna that is usually the main ingredient of this famous native Hawaiian cuisine. This fish is highly valued for flavorful meat, both cooked or in sashimi as in these poke bowls, so it is often sought after by fishermen and even travellers on charters. Besides this tuna type, you can also find the skipjack tuna, locally referred to as aku. Just as flavorful as the yellowfin tuna, the skipjack tuna's flesh is oily and dark, preferred to by those who enjoy the taste of mackerel. Skipjacks are teeming in the Hawaiian waters, most especially in the Oahu area.
The dorado or mahi-mahi is the fish usually associated with Hawaii, as it is always featured in its local cuisine. Any neighborhood restaurant would most probably have this on the menu! Its flash is tender, flaky, and very tasty and flavorful, especially when done the Hawaiian way, so this is another prized fish catch. Good thing there are lots of them in the Hawaiian seas!
There are certainly lots more fish varieties that you can expect when you go deep sea fishing, like the sailfish or the ono, also called the wahoo, and this is typically dependent on which of the main Hawaiian islands you plan to visit and when you plan to visit. Fortunately, wherever and whenever you decide to go deep sea fishing in, there will surely be reliable fishing charters that will take you to a thrilling fish catching adventure!
Famous spots for Hawaii deep sea fishing
The Kona Coast in Big Island is probably the most popular destination for deep sea fishing, as it has a huge ocean drop-off that measures thousands of feet to the ocean bottom, located not too far from the shore. Kona's deep waters, also referred to as the "Grander Alley", are noted to be teeming with large marlins, weighing over 1,000 pounds! Other big game fish varieties in the area include sailfish, tuna, and the mahi-mahi, which are the frequent daily catches of local fishermen. This part of Hawaii is truly deserving of the label "fishing mecca" because of the abundance of fish in the area, so if you are headed to the Big Island, you might as well try catching some!
In Oahu, deep sea fishing is usually done in the island's leeward coast. Not far off the coast of Waikiki, there is a sharp drop-off where fishermen head to to catch big fish. In fact, this island of Hawaii has recorded a really large fish catch just near Ko'Olina — a blue marlin weighing more than 1,800 pounds! With its waters teeming with these types of enormous fish, Oahu has a lot of charters to choose from so you can try deep sea fishing. 
Kauai Island is also a great spot for deep sea fishing because of its natural underwater topography. There are deep water areas just close to the shore, so fishing charters can bring their guests for a fun fishing adventure in no time. Most of these charters in Kauai depart from Nawilwili on the south shore, and from there, it takes just a few minutes to be in the fishing grounds! 
While Maui Island has a period called the "golden zone" (from the month of May to June) wherein the most famous types of big game fish are most likely to be caught, the rest of the year is still a good time to go fishing in this part of Hawaii. Mostly done on the leeward part of the island, deep sea fishing is offered by several Maui fishing charters, too, which often depart from Maalaea or Lahaina. From any of these points, it also takes just a few minutes before getting to the Maui seas' prime fishing spots. 
Some things to remember when fishing
If you want to truly experience the Hawaiian way of life when you visit the island, fishing is the way to go. To the Hawaiians, it is more than just a sport or a hobby. It is a way of life, especially for the native Hawaiian community, as these people still greatly depend on the ocean for their daily sustenance just as their ancestors did. Consequently, there is a certain amount of respect that is expected from guests when approaching the waters and starting to catch some fish. For starters, you may want to read on the local laws, customs, and other regulations that apply in the area. Luckily for tourists travelling to any part of Hawaii, a license is not necessary for recreational deep sea fishing, so you can just go and book that fishing escapade. However, it would not hurt, and would actually be better, to familiarize yourselves by reading up on these rules beforehand. Another tip is to pay close attention to the information that will be shared by the crew on-board, as these people are especially trained to enlighten guests as to what they need to know when catching fish in the waters of their hometown. Of course, after you pay attention, make sure to actually apply them, too! 
This is not to say, though, that because it is more than a pastime to the Hawaiians, it is improper to actually try and do it recreationally. The Hawaiians would certainly want you to experience how fun this activity is! Deep sea fishing is a thrilling adventure, especially when done appropriately, and it will surely give you a taste of the island lifestyle. Go and get fishing!








Enjoy a shared trip on either one of the following sportfishing boats The Maggie Joe, a 53' Custom Sportfisher, designed especially for sportfishing in Hawaiian waters. The Ruckus, a newly refurbished 38' Bertram, an air-conditioned vessel with a shaded fly bridge and...
If you're headed to "The Valley Isle" for a quick escape away from the bustling city life, then you're in for a treat! Maui is a beautiful spot in the Hawaiian Islands located between two mountains (hence the moniker "Valley Isle"), which is very much famous for its...
If you're travelling to any of the beautiful islands of Hawaii, might as well learn a Hawaiian word to kickstart your vacation!The word 'hokua', in Hawaii, actually refers to the crest or tip of a wave. Incidentally, Hokua also refers to Aloha Blue Charters' adventure...
Here's a quick history on Hawaiian fishing -- It can be traced back to the time of the ancient Hawaiians, when fishing held a central role in their daily lives. It was through fishing that they drew their everyday sustenance, so they maintained a more personal and...
If you are headed to Kauai Island for a vacation and have started doing some reading in making your itinerary, then you might have already encountered the Waita Reservoir in your research. The Waita Reservoir is a tourist destination in Kauai, located near Kauai's...
Aside from its majestic mountains, lush valleys, and beautiful bodies of water, Kauai Island is home to a variety of outdoor activities.Kauai tourists get to fully experience the charm and allure of the island by going on these outdoor adventures, and have lots of fun...
We have always been made aware that including fish in our diet does good for our bodies, but did you know that the activity of fishing is actually good for you, too? Fishing is not only a thrilling activity, especially the act of reeling in your fish catch, but it is...
[dsm_button button_one_text="Book Your Tickets Now" button_one_url="https://fareharbor.com/embeds/book/kapohokine/items/118617/?&sheet=249400&asn=fhdn&asn-ref=discounthawaiian&full-items=yes&flow=no" button_one_url_new_window="on" button_alignment="center"...
Someone once said that the act of fishing is actually much more than the actual fish, because "it is the great occasion when we may return to the fine simplicity of our forefathers".  It might not seem so for some, but truly, fishing is an exciting activity,...
Hailed as the "fishing mecca" of the entire Hawaiian Islands, Big Island, specifically Kona Coast, is no doubt the most popular destination in Hawaii for deep sea fishing.  Its waters are teeming with different varieties of fish species, especially big game ones, so...
 It is home to some of the best local delicacies such as the Malasadas (Portugese sugared fried dough snacks) and the world-famous Kona coffee, the best natural landscapes such as the Waipi'o Valley and the Kilauea Volcano, the best golden and powdery white sand...
Just a quick search on the Internet would show that one of the top things you must experience in Kona is big game fishing. Truly, if you're vacationing in a place surrounded by pristine waters, and is hailed as Hawaii's "fishing mecca", you can't not seize the...
Big Island's Kona Coast is considered a mecca for sport fishing in Hawaii. While other Hawaiian Islands offer big game fishing as one of their outdoor activities, Kona, as many anglers can attest, is truly something else. With its diverse and abundant marine life, you...