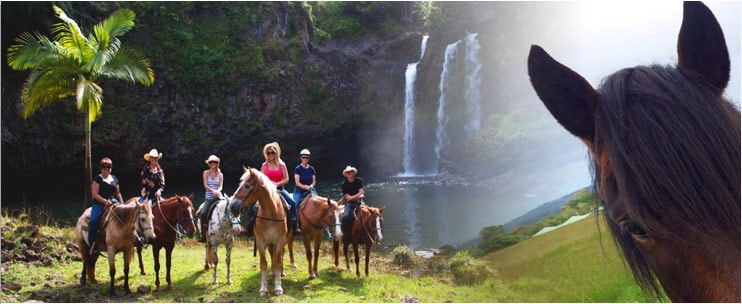 To learn more about horseback riding in Hawaii and to further appreciate the fun and beauty of it, a quick history about this activity is just proper. Paniolos, or Hawaiian cowboys, form an important part of Hawaii's culture. These horse riders trace their roots way back in the 1800s, when cowboys all the way from Mexico and California were taken to the Islands by King Kamehameha III. He made such an order so that he had in his employ some skilled cowboys who could round up wild cattle and teach the native Hawaiians the proper cattle and horse handling skills. This is precisely why, at present, there remain vast cattle ranches and modern-day paniolos!
Fortunately for travellers headed to Hawaii, or even locals for that matter, these private ranches are open for their enjoyment to have a horseback riding adventure of their own. What's great about these tours is that they do not just provide a thrilling time riding a horse, but they also offer spectacular panoramic views of the island, which they won't be able to experience elsewhere! Thus, if you are looking for a fun adventure that takes you away temporarily from the seaside to let you experience the countryside, a horseback riding tour is your best bet! Read on to learn more about the horseback riding adventures offered in each of the major islands of Hawaii.
Oahu horseback riding
Perhaps the most popular ranch on Oahu Island that offers different kinds of horseback riding tours is Gunstock Ranch. A working ranch that has a wide variety of services and facilities to offer its guests, Gunstock Ranch is very much popular for its horseback riding tours, which caters to all riding levels and preferences. Its most popular is the 1.5-Hour Scenic Horseback Ride, which most say is the best way to experience the beautiful Hawaiian countryside as it takes riders to the ranch's spectacular mountain lookout. In fact, all of their horseback riding tours do take the riders to these identified spots where they will be able to marvel at and take lots of photos of the stunning panoramic views of the mountains, valleys, and coastline of Oahu. There are, however, special riding tours that Gunstock Ranch offers, like the Sweetheart Ride, which, in addition to the scenic views, offers a lovely fireside picnic dinner with the beautiful natural views in the background. Another special tour is Gunstock Ranch's Advanced Trail Ride, which is especially reserved for experienced riders who would want to trot and canter during the ride. This is great for those who want to particularly customize their riding tour in accordance with their riding ability, so that they can freely ride to the best of their skills, without having to wait and worry about riders who are not as experienced and skilled.
Another popular ranch on Oahu is Kualoa Ranch. Established in 1850, Kualoa is an esteemed company that strives to enrich its visitors' experience by sharing with them the beauty of Kualoa' sacred lands and celebrating its rich history. What's great about Kualoa is that it does not only own and manage a vast land of lush green beauty that it gladly shares with you, it also advocates stewardship and environmental protection, which you will also get to learn about when you join any of Kualoa's tours. Its 1-Hour Horseback Ride is a favorite, which lets riders explore lush green landscapes, and even a fascinating 800-year old fish pond, which are all beautiful but undiscovered spots on Kualoa Ranch. The spots that you will get to see on this tour are undoubtedly beautiful–exceptionally beautiful, in fact, that they have been featured in a number of Hollywood films, such as Jurassic Park, Godzilla, and 50 First Dates! If you've seen these movies and were instantly amazed by the natural sights featured in them, then this tour is perfect for you as you will be able to experience such beauties first-hand!
Maui horseback riding
On the Island of Maui, you can never go wrong with booking a horseback riding tour through Mendes Ranch. This ranch prides itself in the spirit of ohana, or family, within its operations. A family owned and operated business, Mendes Ranch was established in the early 1900's when Manuel Mendes, otherwise known as "Red", and his only son Ernest, received the land where the ranch is now located as homestead. It was challenging at first, since they acquired the land of dirt roads over rocky terrain, with no electricity and running water. Through their perseverance and strong sense of cooperation within their ohana, Mendes Ranch is now one of the most famous tour companies in Hawaii that gives its guests a wonderful experience of the Hawaiian countryside. Its Morning Horseback Ride is perhaps its most booked horseback riding tour, which begins at the Mendes Ranch Corral, and will take you down the edge of the scenic valley to the coastline, where you will have a lovely time gazing at the views of the magnificent waters of the Pacific Ocean. This is a Maui sightseeing experience like no other because you get to take in the beauty of the whole island by just standing where you are! 
Kauai Horseback Riding
Princeville Ranch is definitely your best option when you want to go horseback riding on the island of Kauai. It is, in fact, one of the longest-running cattle ranches in Hawaii, established many years ago during the reign of Kamehameha III. Thus, when you book any of its tours, you will get to experience Princeville Ranch's fascinating history, and as well as its vast and well-maintained lands, just as the early paniolos, or Hawaiian cowboys, have done during the ranch's early years. One of its horseback riding tours is the Private Kauai Horseback Ride, which lasts for either two hours and a half or three hours and a half, and will take you on a private horseback excursion in its breathtaking 2,500-acre ranch situated on Kauai's stunning north shore. If you book the longer tour, you are to cap off your riding and sightseeing adventure with a refreshing swim in a 80-foot waterfall, the sight of which is another breathtaking moment–as if you haven't had enough from your ride! You will also get to experience the same with Princeville Ranch's Waterfall Horseback Ride, the company's most popular horseback riding tour, which, unlike the Private Kauai Horseback Ride, is the not-so private option and will require at least four guests to book. 
On the other hand, Princeville's Paniolo Horseback Ride may not include the waterfalls experience but is just as fun and scenic, as it will let you in on a 2-hour ride through the lush verdant pastures located in the ranch, with views of the spectacular Hanalei mountain in the distance. In all of these tours, you may also catch sight of cattle grazing freely in the area, as Princeville Ranch is a working ranch that raises and takes care of cows and other animals!
Big Island horseback riding
In this part of Hawaii, one of the most famous tour company that offers horseback riding tours is the Na'alapa Stables. The Na'alapa Stables has been providing fun horseback riding adventures to tourists, and even interested locals, for around 40 years now. Established in the early 1980s, Na'alapa Stables' riding tours let its guests take an unforgettable sightseeing journey through the Big Island's countryside, with the beautiful ocean views in the distance. Its two horseback riding tours are the Waipi'o Valley Adventure and the Kahua Ranch Adventure. The first is a tour in one of Big Island's natural treasures is the Waipi'o Valley, also referred to as the "Valley of the Kings", which  is not just a place of exquisite Hawaiian countryside beauty, but also of great significance in the history of the Island. If you want to learn more and discover for yourself why this has now become one of the most popular tourist destinations in the Big Island, you should definitely go for this horseback riding tour!
The Kahua Ranch Adventure, on the other hand, offers riders a fun time meandering through the spectacularly breathtaking and ultimately relaxing Kahua Ranch, one of the oldest working ranches in Hawaii. In this tour, you and your companions will enjoy a guided horseback riding tour in the ranch, which features panoramic views of the mountains, cinder cones, and coastline of Big Island, while riding through the lush pastures of Kahua Ranch. With all of the sights you will get to see from Kahua, this horseback riding tour is certainly worth every buck!
Pa'ani Ranch on the Big Island is another popular option. Pa'ani is a 220-acre working cattle ranch that offers a number of fun and wholesome activities for the whole family to enjoy. Its Paniolo Ride is a 90-minute horseback riding tour wherein you will ride through the verdant pastures in the ranch, with lots of fruit-bearing trees and bushes scattered around. With the amount of rainfall this part of the Island receives regularly, you and your fellow riders will surely be treated to fields so lush and green! In addition to this, you may also be able to see the animals that it keeps and takes care of within their territory since Pa'ani, as mentioned, is a working cattle ranch, apart it being a tour operator. Truly, this change of colors and scenery will make your trip more exciting and unforgettable, especially coming from the usual excursions by and in the waters of Hawaii.
Given these ranches to choose from, you can be certain that a trip to Hawaii is not complete without going on a horseback riding adventure. Don't worry about having no experience in riding! Except for a certain few tours that are reserved for the advanced riders, most of these tour options are walk-only rides, perfect for beginners and young riders. These rides are all guided by well-experienced paniolos, too! 
Really, there's nothing much to think about and have second thoughts of! Go through these options and book that Hawaiian horseback riding tour now!




Oahu Horseback Riding Tours

Maui Horseback Riding Tours

Kauai Horseback Riding Tours

Big Island Horseback Riding Tours