A quick Google search on Lanai Island would reveal that it is a best-loved Hawaiian destination.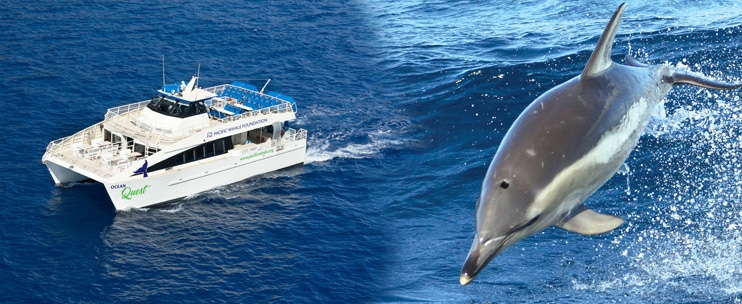 It is not only home to the world's biggest pineapple plantation, it is also rated as one of the finest snorkeling spots in the world, with its crystal clear waters and abundant seas. Let Pacific Whale Foundation take you to an exceptional adventure as it makes you experience all this, and more, when you book its Lanai Snorkel and Dolphin Watch package tour!
This package tour features a relaxing cruise on-board the Ocean Quest, Pacific Whale Foundation's double-deck catamaran especially built for a smooth and steady ride on your way to Lanai's south shore.
Ocean Quest is well-equipped with a spacious cabin, comfortable armchairs, and rear and upper decks for your sightseeing pleasure, and it has sunbathing spots on-board, too, so you can blissfully bask in the warm Hawaiian sunshine during the cruise! Take pictures of the breathtaking views of the clear blue seas and the huge coastal cliffs in this part of the trip, or you can just sit back, relax, and enjoy the moment in this tropical paradise.
Upon Ocean Quest's arrival in the south shores of Lanai, the real fun begins! Discover for yourself why the island is a top pick among divers and snorkelers, as the package tour includes a snorkeling adventure, complete with premium snorkel gear and snorkeling instructional improvement guides for beginners. Aside from these inclusions, Ocean Quest also has a waterslide and snorkel platform on-board, so you will have easy access to the ocean as you begin your underwater exploration. Get ready to catch sight of majestic coral reefs and all the marine organisms teeming down under, including brightly-colored tropical fish and large sea turtles! This is undoubtedly an adventure of a lifetime, and an enlightening one, too, as Pacific Whale Foundation's crew will also familiarize you with responsible coastal tourism and environmental stewardship–the foundation's advocacy since its establishment in 1980. 
While the rules of Maui County do not allow swimming with dolphins, you can still have an enjoyable time watching these precious marine mammals from the boat during the tour's dolphin watch! See pods of spinner, spotted, and bottlenose dolphins swim by the catamaran, and if you're lucky, you may catch them leap into the air and spin above the surface! These playful animals are abundant in the seas of Hawaii, and, during the months of December to April, humpback whales are, too, so expect to see these huge creatures as well if you're traveling during these months.
Not only will your hunger for nature connectedness be satisfied by booking this package tour, but your craving for scrumptious food as well! Inclusive of Pacific Whale Foundation's Lanai Snorkel and Dolphin Watch are delicious continental breakfast and barbecue lunch meals, so you will never go hungry throughout the duration of the snorkel cruise. Adults aged 21 and above also get to enjoy one complimentary alcoholic beverage, so make sure to bring a valid picture ID to avail this cool treat!
Make your hearts and tummies happy by booking this top-rated ocean ecotour by Pacific Whale Foundation. Go and reserve your slot now!
Pacific Whale Foundation's Lanai Snorkel and Dolphin Watch
Tour Inclusions
Personal flotation devices

Premium snorkel gear, including optical masks for eyeglass wearers

Snorkeling instructional improvement guides

Guided reef/underwater tour

Expert narration by on-board marine naturalists

Fish ID and Junior Naturalist programs

Marine Life Picture Card
Continental Breakfast Menu
Assorted pastries

Banana bread

Fresh tropical fruits

Coffee

Fruit juices
Barbecue Lunch Menu
Potato salad

Corn and bean salad

Garden burgers

Grilled chicken breasts

Hotdogs

Chocolate chip cookies

Fruit juices

Sodas
* The cruise will try to accommodate specific diet restrictions (allergies, gluten-free meals, vegetarian meals), but kindly give prior notice regarding such requests.
* As of the moment, vegan and kosher requests will not be accommodated.
* The complimentary alcoholic beverage includes local beer, wine, or Mai Tai options. Additional alcoholic drinks are also available for purchase.