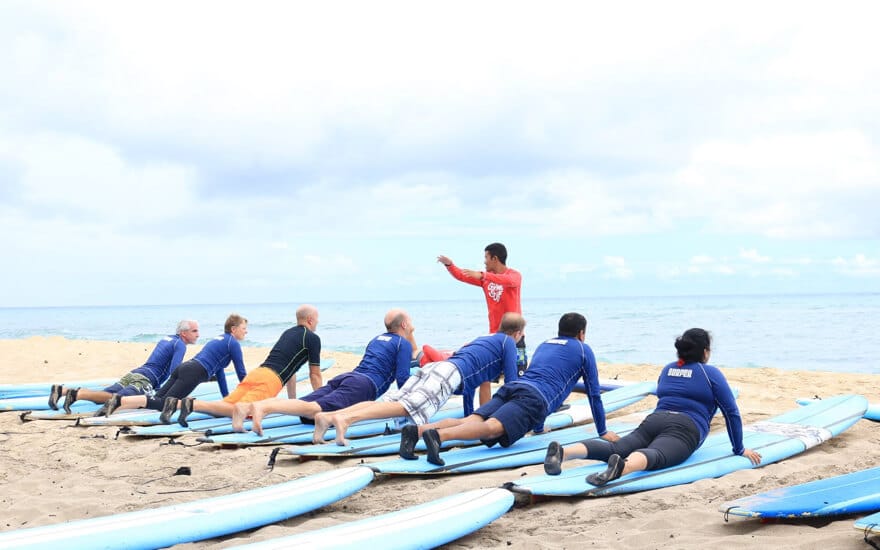 How many lessons does it take to learn surfing? Is it hard to learn?
If you dream of riding the waves, there's no better place to learn surfing than its birthplace: Polynesia. Did you know that ancient Hawaiians made their way to Hawaii from Tahiti and Marquesas through surfing? It was also where the art of standing and surfing upright on longboards was invented.
When the early Hawaiians first came to the island in the 4th century A.D., they brought many customs, including playing in the surf on paipo (belly) boards. In 1779, shipmaster Lieutenant James King saw actual surfing, which he recorded on the ship's log.
Unknown to many, surfing is an old water sport. Have you heard it has an impressive history?
History of Surfing
Long ago, riding the big waves on sturdy surfboards was a part of the ancient Hawaiians' daily life. In fact, skilled surfers gained respect and prestige in society. It was not only a hobby or a job for them, but a way of life and a form of art. They were fascinated by the idea of taming the ocean and discovering what was beneath. Even their chants were asking the Gods to give surfers courage to ride the big waves and convince them to make the surf good.
Later on, many upper-class Hawaiians created a community that revolved around surfing. During those times, many taboos separated the commoners from the royalty. Those did not exclude surfing. There were some beaches that the rich could surf on 24-foot longboards where commoners were not allowed. Usually, they would surf on 12-foot surfboards. Chiefs, including King Kamehameha I and KaumualiI of Kauai, were some of the most popular leaders for their surfing abilities. Their surfboards were said to be among their prized possessions.
Unfortunately in the early 1900s during the arrival of the westerners under the leadership of Captain James Cook, surfing almost vanished. They controlled everything on the island, including the natives' religion, sports, gods, and cultures. They taught them to believe only in one God, Jesus Christ. The foreigners also discouraged the locals to play less and insisted on wearing clothes, and learn to write and read and work more. Luckily, renowned author Jack London became instrumental in the revival of the sport when he and his wife arrived in Oahu in 1907. He wrote an article about this "sport of kings" published in numerous magazines and publications.
In the same year, a rich land developer from California named Henry Huntington asked 23-year old Irish-Hawaiian surfer George Freeth to give a surfing demonstration during the opening of the Redondo-Los Angeles railroad at Redondo Beach. At the time, he was the most popular beach boy. Freeth was also the first individual to develop a shorter surfboard by cutting a large 16-foot design into half. Since then, the California shores became the grounds of an experiment for creating surfboards – different designs, shapes, and sizes.
Many years later, surfing grew popular throughout the United States. Learning from the ancient Polynesian ways, a surfing enthusiast James Matthias Jordan, Jr., brought the sport to the East Coast. In 1912, he rode a Hawaiian redwood board at Virginia Beach, which has become the main surfing center in the country since then. Surfing also reached the West Coast until it became known to a few more places, including Australia.
It was in the 1960s when surfing really garnered international attention when movies and surf music such as Beach Boys became famous. Competitions started to develop and the professional surfing community began to take hold. This trend continued up to the present.
Best Places to Learn Surfing in Hawaii
Surfing and Hawaii are a perfect pair. With its wide variety of waves suitable for all levels and warm, turquoise-blue waters, you will find countless surf camps scattered along magnificent coastlines throughout the island. If you are a beginner or intermediate, the tamer summer waves are ideal. You can leave the massive winter waves to the most daring and professional enthusiasts until you become one. For now, all you can do is hire a certified and professional coach and guide to teach you the basics. 
If you're planning to learn the sport anytime soon, head to these top spots for surf lessons in Hawaii:
Puaena Point
Puaena Point is located next to Haleiwa Beach Park on Oahu's North Shore. Ask a local, and they will tell you it is a good surf spot. Often, surf lessons take place here when the waves aren't too high. Before reaching it, you have to pass through a small sandy beach, which is also perfect for a picnic. It has some shades if you need a break from the heat and a few minutes walk away from the gorgeous Police Beach where they filmed the popular television series "Lost."
If you're a stand-up paddleboard fan, Puaena Point is also an ideal spot to visit. Plus, it is not far from Haleiwa Town where you can find cool surf stuff, boutiques, restaurants, and art galleries.
Flat Island (Popoia Island)
Located on the island of Oahu, Flat island or also known as Popoia Island is a favorite playground for beginners and longboarders alike. In fact, kayakers also love to take a rest here. Be aware of the reef at low tide though. After your lessons, you can take a rest on the small strip of sand on its southwest side. Enjoy the gorgeous views of Lanikai Beach, Kailua, the Mokulua Islands, and the East Shore of Oahu. As a bonus, watch seabirds nesting along the rocky shore because the island is also a State Seabird Sanctuary. And if you have the time, take advantage of the nearby Lanikai Beach where you can snorkel with green sea turtles!
Launiupoko State Wayside Park
Although it is not as wide as other surfing areas, Launiupoko State Wayside Park offers a perfect spot for surf lessons as well as beginners. It has long easy reef waves that surfing newbies sought after. In fact, it is an all-time favorite on the west side of Maui. It has a welcoming mood where you can meet all kinds of surfers.
It boasts a stunning green grass park setting with picnic tables and barbecue stations. Its small beach is a wonderful place for a quick dip, and other water activities. Stand-up paddlers also often visit here because the water is usually calm since it is one of the last beach parks in the area to get the wrap-around trades from the north.
Kahaluu Beach Park
Best described as a "real-life aquarium" by the locals, Kahaluu Beach Park is a protected bay on the Kona Coast. Beneath its crystal clear, brilliant blue waters, you can see coral heads, sea turtles, and a variety of colorful tropical fish from your board. This is the reason why this place is not only famous for surfing but also snorkeling. If you want to tan after your lessons, you can relax and sunbathe. There is also a picnic area in case you need a recharge.
With its smaller waves, practicing your ride is perfect here. When there is a swell, the waves can go higher to 4-6 feet that challenge advanced surfers. You can find many surfing schools with professional coaches in this area, along with rentals if you do not have the necessary equipment. 
Kiahuna Beach
When you are in Kauai for surf lessons, Kiahuna Beach is one of the most recommended spots. Thanks to its outlying reef, which makes the water relatively calm. Aside from surf lessons, the area is also known for boogie boarding and snorkeling lessons. If you are a beginner surfer without a guide, remember to stay close to the shore for your safety. Outside the reef, you can watch experienced surfers riding the bigger waves.
It is suggested that you bring an umbrella though, because there's not a lot of shade here to protect you from the sun when resting from your session. To complete your visit, you can stay until the afternoon and watch the beautiful Kauai sunset with your favorite drinks.
Kalapaki Beach
Located on the island of Kauai in front of the Kauai Marriott Beach Resort, Kalapaki Beach is partially protected by a large break wall. In addition to surf lessons, guests also love to learn swimming, boogie boarding, and stand-up paddleboarding here. Others come here to sunbathe, play volleyball, or simply relax and watch outrigger canoes and cruise ships that come and go out of Nawiliwili Harbor. 
After your lessons, you can grab lunch or snacks at some nearby restaurants. Rentals are also available at a few rental shacks if you don't have equipment. 
Lahaina Breakwall
On most days, you can see a lot of surf coaches with their students crowded around Lahaina Breakwall located in Maui. Surf schools based here make it their main teaching spot for its forgiving waves that are consistent throughout the year. That is why many visitors who are interested in learning the sport flock here, which is also a favorite of longboarders. 
During low tide, be wary of sharp reefs below the shallow water though because it can easily cause injury or damage to your surfboards. During winter, adventurous and advanced surfers 
challenge their skills here with rideable swell and light offshore winds.




Come to Hawaiian Surf Adventures for unique surfing lessons by boat! For many, a surfing experience completes an Oahu holiday. With over 100 surf...