Do you want to go onboard on Big Island's inviting waters but don't know how to start?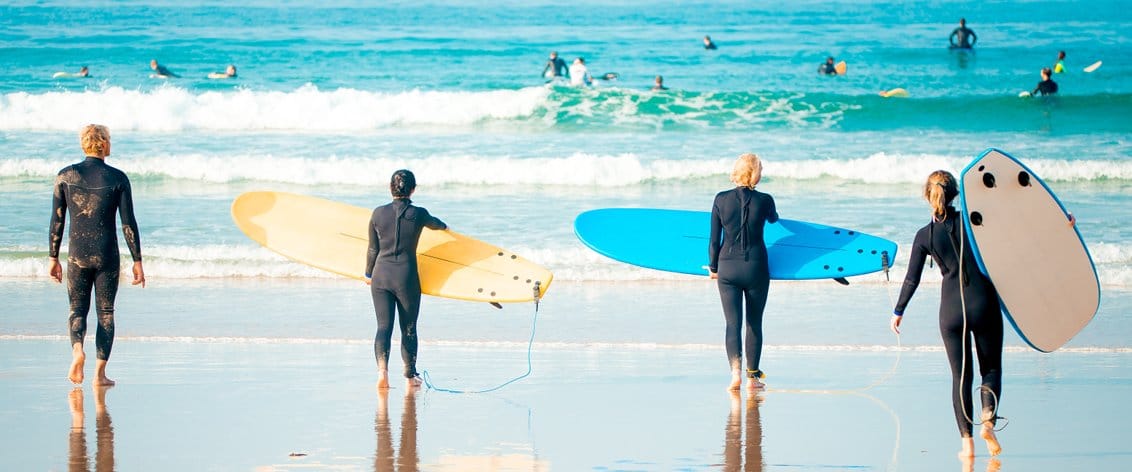 Kona Town Surf Adventures offers surfing lessons and rentals at affordable prices. With their friendly and professional coaches, you can now experience riding the waves in no time!
 While most beaches in Big Island are for the experienced for their bigger swell, there are also spots ideal for beginners and surf lessons like Kahaluu Beach. Many call it a surfing shrine where you can see black-lava rock walls. The waves here are manageable most of the year. There's also a lifeguard, so you don't have to worry about your safety. Beginners can also try Kohanaiki Beach or better known as the Pine Trees Beach Park, where it's best to avoid the crowd on the weekends.
 Kona Town Surf Adventures primarily hold their surf lessons at the beautiful Kahaluu Beach. Also called a real-life aquarium, it is a protected bay on the Kona Coast a few miles from the Kailua-Kona town center.
Did you know that the area used to be a home for the royal families during the 18th and 19th centuries? Conducive for surf lessons and beginners, its crystal clear, blue waters allow you to view the reef beneath your surfboard. If there's a swell, which could go as high as 4-6 feet, they will call you beforehand and move to another two locations for everybody's safety. 
Kona Town Surf Adventures also provides stand-up paddleboard rentals, in addition to customized surf lessons and private surf tour adventures. As a premier surf lesson school, they prioritize your comfort and safety. Their seasoned surfers have decades of experience in the water here, so they have a deep understanding of the ins and outs of surfing in the area. They can also predict the weather patterns from surf reports, so they know when to maintain maximum safety guidelines. Not only do they teach the basics and tricks only master surfers know, but they are happy to answer any questions related to surfing you may have.
From private to semi-private to group lessons, equipment will be provided for your added convenience. These include surfboards and rashguards of different sizes. All lessons last for two hours, including the discussion of ocean safety and surfing basics. If you tag along with your family or friends, a group lesson is perfect for you. You will not only learn the know-how but also enjoy scenic ocean views while having fun. Besides, it's better to share first times with our loved ones, right? Another benefit of a group lesson is you get more motivation from other members of the team. On the other hand, a semi or private lesson also has some advantages for individuals who want to focus on their lesson. 
 Book your lessons now because the waves are waiting for you!
Group Lessons
Up to 4 students per 1 instructor

Minimum age of 10 years or older

Minimum of 2 people per booking with a maximum of 12 people
Semi-private Lessons
2-3 students per instructor

Minimum age of 10 years or older

Minimum of 2 people per booking
Private Lessons
Children under 10 years old (and usually not younger than 5) must be in a private lesson.

1 student per instructor
Special Instructions
Location and Time:

Check-in at the Kahalu'u Beach Park. Look for the Mercedes Sprinter van located on the north end of the beach.
Address: Kahalu'u Beach Park, 78-6702 Ali'i Dr, Kailua-Kona, HI 96740
The usual check-in is at Kahalu'u Beach Park unless otherwise noted by Kona Town Surf Adventures. Kona Town Surf holds permits at 3 surfing locations, so they may call you to adjust your check-in location if the surf is better at one of the other 2 locations.
Alternate locations only used if Kona Town Surf contacts you: The end of Ala Nui Kaloko Rd. It goes through Kaloko-Honokohau National Historical Park.
Address: Old Airport State Beach Park, 75-5560 Kuakini Hwy, Kailua-Kona, HI 96740
Note: Please arrive 15 minutes prior to your lesson time.
Restrictions:

All guests must know how to swim.
Children under the age of 10 (and usually not younger than 5) are REQUIRED to be in a private lesson rather than a group or semi-private due to safety.
Special Notes:

To help preserve the coral reefs for future generations, you are advised to use reef-safe sunscreen only.

Operations:

Daily

Duration:

2 hours

Capacity:

 
Group: Minimum of 2 per booking. Maximum of 12 per booking. 4 students to 1 instructor
Semi-Private: Minimum of 2 per booking. 2-3 students to 1 instructor
Private: 1 per booking. One student to 1 instructor
Equipment:

Surfboards, Rash Guards, and Booties are provided