Are you dreaming of paddling in Hawaii but don't know how to start?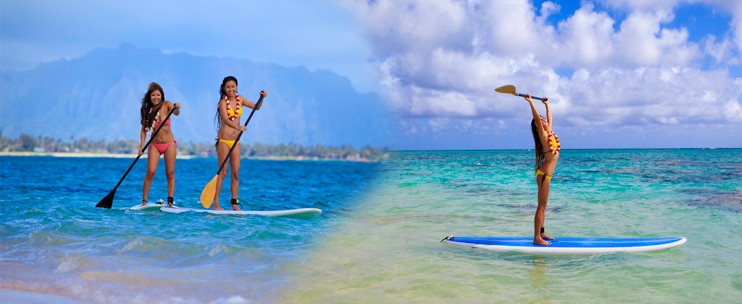 Kailua Beach Adventures welcomes you to a one-and-a-half-hour paddling lesson where you learn paddling strokes and the secrets to balancing on a stand-up paddleboard. This lesson will take you along Kailua's pristine beach. Kailua Beach Park is Oahu's second most beautiful beach. Located on the easterly shoreline, it is a 1.5 mile-long stretch of turquoise blue waters that perfectly match stunning soft, white powder sand. This beach offers a variety of water conditions for a more exciting stand-up paddling (SUP) experience – from flat water sailing to moderate rough and rolling waves. To practice your basic strokes and techniques, you usually stick to the calmest part of the ocean.
Why lay down on your belly when you can stand up? While surfing and kayaking are fun ways to discover the ocean, stand-up paddling brings a unique experience. It allows you to experience the thrill of surfing with the techniques of paddling.
The practice of standing on a surfboard while paddling with a handheld paddle in Hawaii dates back to the 1940s. It started when the Waikiki beach boys would stand up on their surfboards while teaching their students how to surf. In addition, they were also able to carry their wealthy students' cameras in this position. Though the custom of SUP died a few years later, a surfer from Waikiki named John Zapotocky continued to practice surfing while standing up with a paddle for seven decades. Other Oahu surfers followed until it gained attention nationwide, including California.
Take your Oahu vacation to the next level and let Kailua Beach Adventures take care of you! Staffed with the best instructors in the world, your enjoyment and safety are their priorities. Before heading to the area, ensure to bring essentials such as towels, swimsuit, change of clothes, appropriate footwear, sunglasses, and reef-safe sunscreen. Start your day with a van pick-up from your Waikiki hotel for your convenience. When you arrive at Kailua Beach Adventures' shop, you will check in and receive a short briefing. After which, you will begin with your SUP lessons right away. You can ask questions regarding the ocean and SUP to your friendly and expert instructors. During your lessons, watch out for wildlife, including sea turtles and brightly-colored fish around the coral reef. This is common due to your standing position, allowing you to have a good view beneath your surfboards.
After two hours, you can enjoy other activities like snorkeling, boogie boarding, and sunbathing. They will provide equipment such as snorkeling gear, beach mat, beach chair, boogie boards, and bicycles for free. Your package also includes lunch such as deli and pizza. The beach is well-equipped with facilities, including covered and open-air picnic tables, barbecue grills, bathroom facilities, shower, and parking areas. At 3 pm, your van takes you back to Waikiki.
Don't miss out on Oahu's popular activities! Book with us now for the best Hawaii tours at low prices!
Stand-Up Paddling Guided Tour Inclusion
All paddleboarding equipment (Paddles, drybags, island landing permits)

Lunch

Use of snorkeling gear, beach mats, beach chairs, bicycles (bike locks included), boogie boards, and secure locker

Free beach parking
Special Instructions
Check-in is at 7:15 for the 8:00 am tour.
Check-in is at 9:00 am for the 9:45 am tour. 
Check-in is at 11:45 am for the 12:30 pm tour. 
Note: If you chose transportation, the pick-up information would be in your confirmation email.
Address: 130 Kailua Road, Kailua Beach Adventures Beachside Center
Must be at least 13 years old.
Seventeen years old and under must be accompanied by a parent or guardian.
All participants should know how to swim.
Operations:

Daily except for Sundays

Duration:

1 and half hour of lesson + 2 hours beach time and lunch
Equipment: Stand-Up Board – Aquaglide 11'3″ or similar.