Here's a quick history lesson on surfing in Hawaii — Did you know that during the ancient Hawaiian times, surfing was not considered a recreational activity as it is viewed at present?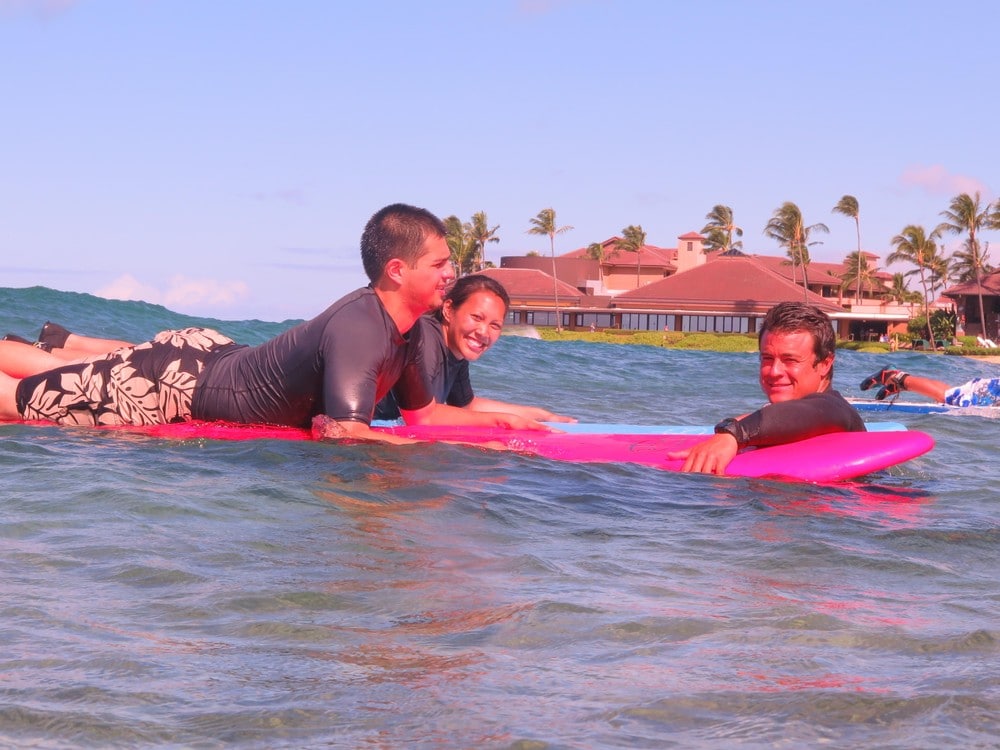 Back then, ancient Hawaiians viewed surfing not as a fun pastime, extreme sport, or even a career; it was more of an art than anything else. This, in fact, is the reason why surfing was reserved for the Hawaiian royalties during this time. While anyone can actually engage in surfing with long wooden boards during this period, the best surfing spots were, however, exclusive only for the Hawaiian royalty, so commoners had to make do with surfing locations that are not as suitable as those set aside for the higher class. Times have changed, however! Now, you can enjoy surfing as an exciting ocean activity, and you can do so in the finest surfing spots in all of Hawaii! If you are visiting Kauai, go and try riding the waves with Hawaiian Style Surfing! Hawaiian Style Surfing offers different surf lessons, and one of which is Kauai's Ultimate Semi-Private Surf Lesson, a great way to learn surfing through an individualized and more supervised session with a professional surf instructor!
Established in 2015, Hawaiian Style Surfing has now become one of the leading surf companies on Kauai's sunny south shore. Because of its great services and experiences in providing the best surfing adventures to tourists and locals even, Hawaiian Style Surfing is definitely your best bet if you wish to learn and experience riding the waves in Kauai.
 Its owner, Josh Helmin, has been in the business of providing fun ocean adventures, such as scuba diving, snorkeling, and boat tours, to tourists for more than 20 years, so you can trust that Hawaiian Style Surfing also guarantees the same safe yet exciting water adventure to level up your vacation on the Island! 
Hawaiian Style Surfing believes that the best surfing experience all boils down to three things: learning in the best surfing location, using the best equipment, and training with the best surf instructors. This, precisely, is what you will get when you book Hawaiian Style Surfing's Kauai's Ultimate Semi-Private Surf Lesson. First, Hawaiian Style Surfing will bring you to the finest surfing spot in Kauai, where the swells are safe and ideal especially for beginners. You will also be provided with exceptional surfing equipment to guarantee your utmost safety and enjoyment as you give surfing a go. Lastly, you will not only be provided with exceptional surfing equipment but exceptional surfing instruction, too, from the best surfing instructors in Kauai! Hawaiian Style Surfing's surf manager, Billy Quereto, has been surfing for most of his life, and is, in fact, a professional surf instructor for more than 15 years. You can trust that he and the rest of Hawaii Style Surfing's staff, who are just as well-trained and well-experienced, will share with you their passion for and knowledge in surfing, when you book its Kauai's Ultimate Semi-Private Surf Lesson.
Each session of Hawaiian Style Surfing's Kauai's Ultimate Semi-Private Surf Lesson is open to only two students per instructor, so you are guaranteed a well-supervised surfing lesson when you book this package. The session will start with a brief introduction on land, so that you will be initially primed on the basics of surfing and ocean safety. If you have any questions or concerns, this is the best part of the lesson where you can ask away! This is because this introductory portion will only last for a few minutes, and the rest of the session will be spent on water, actually riding the waves of Kauai. Of course, as this is a semi-private lesson, your assigned surf instructor will be giving you continued attention and guidance as you get up and ride your first wave!
Hawaiian Style Surfing's Kauai's Ultimate Semi-Private Surf Lesson is the best option for you if you are not too comfortable learning how to surf in the company of a group of fellow beginners. This may also be the most ideal choice for young learners, as these are the students who would need more attention, guidance, and supervision from their trainers. Ultimately, if you really want to improve your surfing skills, boost your confidence, and just be the best surfer you can possibly be, Hawaiian Style Surfing's Kauai's Ultimate Semi-Private Surf Lesson is your best bet!
What are you waiting for? Hawaiian Style Surfing is so thrilled to ride the waves with you! What are you waiting for? Go and book your slots to Kauai's Ultimate Semi-Private Surf Lesson now!