Surfing is a Hawaiian tradition. It's probably safe to say that your vacation on the land of Aloha is not complete without trying the sport.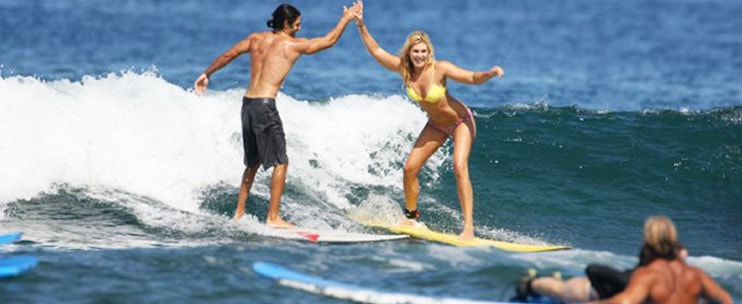 If it's your first time and you don't know how or where to start, Poipu Beach Surf School in Kauai got you covered!
There are many reasons to visit Kauai. Being the oldest major island in Hawaii, dating back to 5.1 million years ago, it is truly a paradise full of beauty and culture. It is a gem that is home to some of the best beaches in the world. Did you know that 90% of the island cannot be reached by road? In fact, you cannot find the most beautiful parts of Kauai near the road. For daring and bold adventurers, they prefer it this way. Along with helicopter tours, sailing, hiking, swimming, snorkeling, and many more outdoor activities, surfing is one thing that you should miss. Whether you are a beginner, intermediate, or a pro, there are ideal spots for you!
Being the most popular beach on the South Shore, Poipu beach is perfect for surfing beginners. Actually, the area is two beaches in one. The Nukumoi Point or tombola, a narrow sand spit extending from shore to an island, separates the two bays. The western side is where beginning surfers practice.
Its small waves gently break on the shallow sandbar, a protected lava rock with a shallow area for swimming. This is also where families usually bring their small children for fun outdoor activities like picnics, lawn games, and even small parties.
Poipu Beach Surf School is one of the best choices in Kauai when it comes to surfing and paddleboarding newbies. It is located on the sunny south side of Kauai at Poipu Beach, where it's the safest among all Hawaii's beaches. With lifeguards on duty 7 days a week, you don't have to worry about your safety. Plus, its crystal clear blue waters make your experience fun!
As soon as you check in, you will be welcomed by their friendly staff. Ensure that you bring your essentials such as towels, a change of clothes, reef-safe sunscreen, and sunglasses. Before driving to the beach area with your guide, you will watch a short video regarding ocean safety and surfing basics (how to paddle board and stand up). And then the rest of the lesson will be spent in the water about catching waves.
Founded in 2005 by former pro bodyboarder and professional waterman Doug Muraoka, the school has been teaching surfing and paddleboarding enthusiasts for years. Their expert and professional staff are all lifeguard certified and CPR certified. They are passionate about sharing the culture of this ancient Hawaiian sport. Plus, they prioritize your safety.
If you tag along with your kids, they have different surf lesson options depending on your preferences: group, semi-private, and private lessons and surf with an instructor for immediate surfers, which is available at 8 am daily.
Group Lessons
Four students per instructor

Available daily: 8:00 am. 10:00 am, 12:00 pm, and 2:00 pm; available from Mondays to Fridays at 4:00 pm
Semi-Private Group Lesson ( recommended for friends or families who want a lesson without other people)
2-3 students per instructor

Available daily: 8:00 am, 10:00 am, 12:00 pm, and 2:00 pm; available from Mondays to Fridays at 4:00 pm
Private Lesson (Hands-on approach with an instructor and a less crowded lineup and recommended for kids aged 6-10)
Available daily: 8:00 am. 10:00 am, 12: pm, and 2:00 pm; available from Mondays to Fridays at 4:00 pm
Surf with an Instructor (Recommended for Intermediate Surfers)
There is an experienced instructor who teaches techniques to hone surfing skills. The instructor who is familiar with the area will also assist you with safety and lead you to the best spot for your level.

You should have previous surf experience for this lesson and know how to duck dive and turn/cut out of waves.
Special Instructions
Check-in Location and Time:

Check-in 15 minutes before your lesson time at Poipu Beach Surf School at 2100 Hoone Road Koloa, HI.
Meet at the Nukumoi Surf Shop for initial instructions then all guests will follow the instructor to the nearby beach parking lot for the lesson. 
Restrictions:

The minimum age required is six years old.
All guests should know how to swim.
Note: For surf with an instructor, guests should have previous surf experience and know how to duck dive and turn/cut out of waves.
Special Notes:

Make sure to have transportation. You'll stop by the check-in location for check-in and to view the safety video before driving over to the beach area (following instructor).

Operations:

Daily

Duration:

1.5 hours

Capacity:

Varies depending on surf type

Equipment:

Surfboards, rash guards