Do you happen to be in Kauai? Or perhaps heading to "The Garden Island" for a holiday?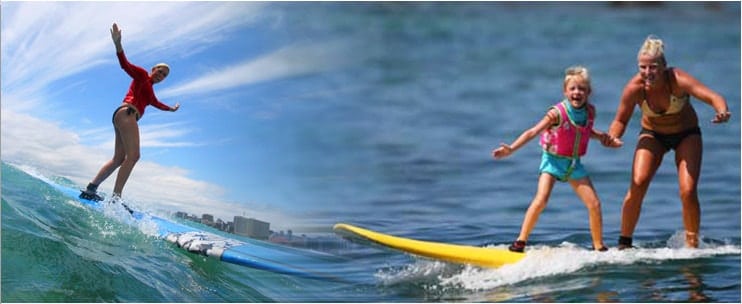 You shouldn't miss riding the waves! Whether it's your first time or a surf beginner, Kauai Surf School got you covered. For advanced surfers who are looking forward to discovering Kauai's waters, you don't need to bring heavy surfboards on your way because they also have rentals. Do you want to practice balancing on your board while paddling through the water? You can book stand-up paddleboard lessons at affordable prices.
Kauai is a training ground for champion surfers, including the three-time world winner Andy Irons. The island's abundant coastlines offer big waves for surf veterans, as well as calm waters conducive for lessons and beginners. Throughout the year, many surfing enthusiasts of different levels visit Kauai for its various wave conditions. In winter months from November to February, master surfers flock to the island to ride the gigantic 30 to 40-foot swells. On the other hand, it's best for beginners and individuals who want to learn surfing to visit in summer from May to October for moderate waves.
Kauai Surf School holds its surf lessons at one of the country's best beaches – the Poipu Beach. Named as one of "America's Best Beaches" by the Travel Channel, this beach is a series of beautiful golden sand crescents. In addition to surfing, beachgoers visit here for swimming, snorkeling, and boogie-boarding. Plus, it is where you can find a natural ocean wading pool.
Before checking in, make sure to bring the following: towel, appropriate swimwear, rash guard, clothes for before and after, and reef-safe sunscreen. You are also encouraged not to wear valuable items.
What's special about Kauai Surf School is their passion for teaching kids. They always prioritize safety, so you don't need to worry about your children. In fact, you can join them in a group lesson. True to their mission to provide surfing enthusiasts the sport's basic foundation to encourage growth, Kauai Surf School is staffed with highly-trained, professional, and certified coaches.
Did you know that the only prerequisite to surfing is knowing how to swim? So, whatever your age is, you are guaranteed to experience riding the waves after your lessons. They have successfully taught all kinds of learners, even as young as two up to 75 years old. For 2 hours of fun, you will be given 30 minutes of dry land instruction, including ocean knowledge and water safety. Another half an hour is provided for practice and a guaranteed one hour for catching waves.
If you are a large family or group of friends with many members, multiple instructors will be assigned to your group to ensure that everybody can be assisted. For individuals who are more comfortable learning alone, a private lesson is ideal. One instructor will be assigned to you, so you have his 100% attention. If you want company but not with multiple members, you can enroll for a semi-private lesson where one instructor will guide you with 1 or 2 other members in your group.
Group Lessons
4 students per instructor with a maximum of 4 students per class. Children under ten are required to be accompanied by a paying parent or guardian at the lesson with them.
Semi-private Lessons
2 or 3 students per instructor
Private Lessons
1 student per 1 instructor
Private Lessons for Kids
Designed for children age 4 to 10. Fun and safety are the goals of this lesson. One student per instructor.
Semi-Private Lessons for Kids
Designed for children age 4 to 10. Fun and safety are the goals of this lesson. 2 students per instructor.
Semi-Private Lessons for Kids
Time and Location:

Check-in is at the Kiahuna Beach Shack in front of the Kiahuna Plantation Resort near the beach. Please check in at least 15 minutes before your lesson time.
Note: Public parking is available at the end of Hoonani Road near the Sheraton Resort.
Restrictions:

Participants should know how to swim.
Operations:

Monday to Saturday
Capacity: 4 students per instructor for group lessons. 1 student per instructor for private lessons. 2-3 students per instructor for semi-private lessons.