Are you a surfing beginner looking for affordable surf lessons in Hawaii?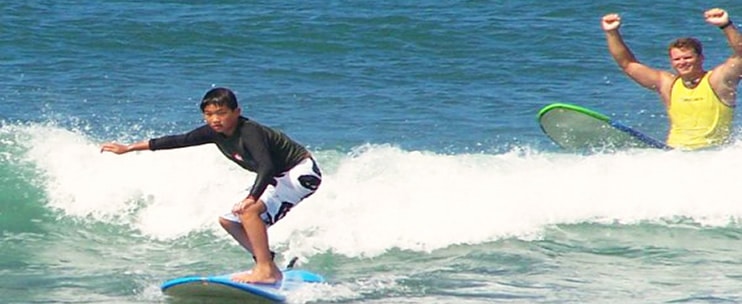 Come to Hawaiian Surf Adventures for unique surfing lessons by boat! For many, a surfing experience completes an Oahu holiday. With over 100 surf spots around the island, it's one activity that you should never miss.
On top of a sunset cruise, snorkeling, kayaking and canoeing, luau dinners, parasailing, helicopter ride, ATV adventures, swimming, and ziplining, riding waves is an all-time favorite of tourists and locals alike. Most of the time, you will also see many people relaxing, simply watching pro-surfers display their surfing tricks. Also known as "The Gathering Place" because it is where tourists usually gather, Oahu offers a variety of wave breaks for every level – from Waikiki Beach to Banzai Pipeline. Whether you are a novice, intermediate, or a pro, there is always an ideal spot for you on the island.
The best thing about Hawaiian Surf Adventures is that your lessons are held in an isolated bay conducive to learning. In this case, you don't have to be stuck in a crowded spot and avoid arguing with other students if who owns the next wave. In fact, everywhere you look, it's easy to spot many surfing schools holding their lessons even without your binoculars. Furthermore, you will have a wonderful boat or van ride on the way to the beach, so you don't have to carry your surfboats. Plus, if someone in your group wants to join the ride while watching your lesson, they can sign up as an observer at a reasonable price. They may also enjoy swimming, snorkeling, or simply experience the stunning views of Maunalua Bay!
Located 20 minutes east of Waikiki in the Koko Marina Center across Hanauma bay, Hawaiian Surf Adventure ensures that you will have a remarkable surfing experience. Before checking in, it's best to bring your own rash guard and reef shoes if you have them since they are available but in limited sizing. Good news for the US active duty military because they are offering discounts, as well as Kama'aina discounts. They provide both private lessons and group lessons. If you have small kids who are younger than 8 years old, it is recommended that they have a private lesson. With their certified and professional coaches with extensive First Aid training, you don't have to worry about safety because it has always been their priority. All you need to do is sign a waiver and watch your children enjoy this fun water sport.
Are you an advanced surfer who wants to hone your skills further? You can hire one of their best coaches for one-on-one lessons, and they can take you to different breaks the island offers. You will be learning about turning, large-sized waves, duck-diving, smaller board techniques, and other surfing strategies only master surfers know.
Special Instructions
Time and Location:

There is available round-trip transportation from Waikiki to Koko Marina. Approximate pick-up times are 8:30 am, 11:30 am, and 2:30 pm. Approximate return times are 12:15pm, 3:00pm, and 5:30pm. Hawaiian Surf Adventures is located in Koko Marina Shopping Center (7192 Kalanianaole Hwy Honolulu, HI 96825), a 20-minute drive from Waikiki, depending on traffic conditions. 
Direction: Just take the H-1 East the entire way, and Koko Marina is on the left, right before Hanauma Bay.
Restrictions:

If you are prone to getting seasick, taking precautions the day before the tour and the day of the tour is strongly recommended.

Operations:

Monday to Saturday
Equipment: 11 ft and 12 ft soft-top boards with a leash and long sleeve rash guards. Life vests available upon request.