Some might say that two hours is too short a time for an ocean adventure tour, but when you're vacationing on an island where the finest snorkeling spots are within close range, this is certainly doable.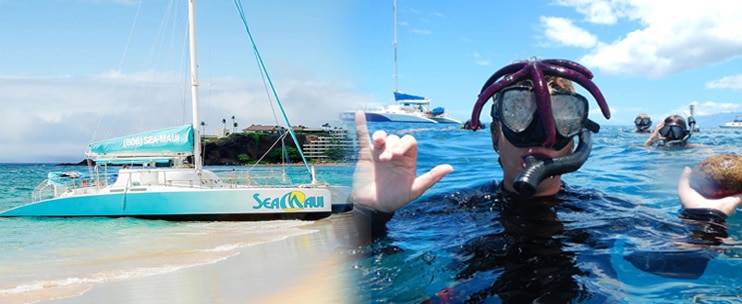 In fact, this is what Sea Maui promises: a quick alternative to get you from the beach and straight to snorkeling in less than no time. Let Sea Maui give you the most exciting two hours of your Hawaiian holiday by booking their Xpress Morning Snorkel package tour!
Ideal for those who are not fond of long boat rides, Sea Maui's Xpress Morning Snorkel takes their guests from Ka'anapali to nearby snorkeling sites on-board the Sea Maui II. These sites, such as the Mala Wharf, Cliff House, and the 505, are actually just a stone's throw away from Ka'anapali Beach, so you can go snorkeling straight away and would not have to wait long for an exhilarating adventure. Truly the perfect package tour for thrill-seekers, or for those who may have other things planned for the rest of the day!
Except in certain months of the year (October to the first few weeks of December), the Sea Maui II sets sail daily and departs from Ka'anapali every 9:00 in the morning. It will take a quick boat ride to West Maui's best snorkeling spots, which are located just offshore from Ka'anapali, so you and your companions can start exploring Maui's underwater world at just a little past 9:00! Maui Island, just like the rest of Hawaii, boasts an exceptionally clean and habitable ocean, so it is no wonder its waters are teeming with a variety of sea creatures. 
You are then guaranteed marine life sightings, such as the Hawaiian green sea turtles, colorful tropical fish like the racoon butterflyfish and parrotfish, and even the gorgeous coral reef formations these fish dwell in! During the whale season, you may even catch sight of huge humpback whales, so watch out for that, too, if you are travelling during the whale months. What's great about Sea Maui's Xpress Morning Snorkel is it will not only take you to an instant ocean adventure, but it is a guaranteed kid-friendly tour, too, as its staff and crew are friendly and well-trained to handle guests of all ages.
After an exciting time in Maui's stunning underwater playground, you can also take a break and relax in Sea Maui II's spacious lounge nets. Here, you can comfortably lie down and enjoy the warm breeze, the beautiful weather, and the breathtaking views of the blue Hawaiian seas and sky. As Sea Maui's Xpress Morning Snorkel is a morning tour, you can healthily get that gorgeous tan and some Vitamin D, too!
Sea Maui is the only operator that offers this kind of express morning snorkel option, and if you want to start your day with a fun-filled adventure, Sea Maui's Xpress Morning Snorkel is the most suitable package tour for you. Majority of the tour time is spent on marine life encounters and underwater sightseeing, and after a jam-packed morning, you'd be back on land by lunchtime to enjoy the rest of the day exploring the rest of Maui!
Sea Maui's Xpress Morning Snorkel Tour Highlights:
Fast boat ride to the finest snorkel sites in Maui
Snorkeling at Mala Wharf, Cliff House, or 505, all great snorkel spots just offshore from Ka'anapali
Sea turtles, tropical fish, and other marine life encounters
Breathtaking above-water and underwater views
Sea Maui's Xpress Morning Snorkel Tour Inclusions:
Inflatable flotation device
Snorkel gear (mask, snorkel, and fins)
ALL FEES INCLUDED
Operates daily
If booking Friday night, please call for availability.
Reception Plans require 24 hours notice to book.
Please see our Holiday Cruises for Valentines, Easter, Father's Day, July 4th, & New Year's Eve.
Special Instruction
Where and When: Departs at 9:00 am. The boat will pull up directly on the beach behind Whalers Village in Kaanapali. Please check in 30 minutes prior to departure at the Sea Maui activity booth next to Leilani's at Whaler's Village.
View Map
Tour returns to Kaanapali Beach fronting Whalers Village at 11:00 am.
There is usually parking validation for Whaler's Village (up to 4 hours).
Requirements: All participants are required to sign a waiver prior to the tour.
Restrictions: Participants must be physically able to board the vessel from the beach. It is a barefoot boarding and you my get wet getting on and off the boat. Any guest entering the water to swim must be able to swim and be comfortable in the water.
Operation Days: October to Mid December – Monday, Wednesday, Thursday, & Saturday
Starting Mid December – Daily
Duration: 2 hours
Vendor: Sea Maui
Island: Maui
Capacity: 49 guests
Equipment: Sea Maui II