If you are headed to Kauai Island for a vacation and have started doing some reading in making your itinerary, then you might have already encountered the Waita Reservoir in your research.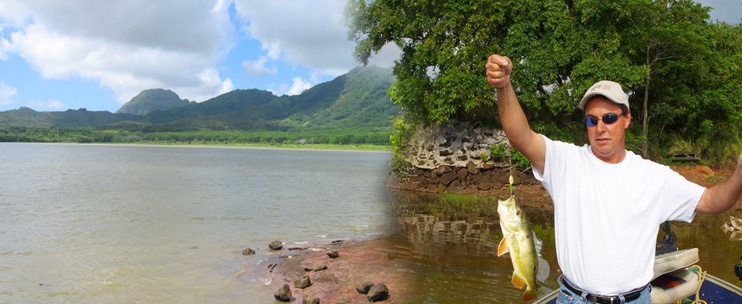 The Waita Reservoir is a tourist destination in Kauai, located near Kauai's Tree Tunnel and Old Koloa Sugar Mill. The entire area is a picturesque spot that offers a variety of exciting activities to its visitors, freshwater fishing being the most popular. Waita Reservoir is not accessible to just about anyone because it is located on private property, but thankfully, there are tour operators like Koloa Bass Fishing Tours that can be your ticket to this Kauai hidden gem. Let Koloa Bass Fishing Tours take you to Waita Reservoir for a fun freshwater fishing adventure you will never forget!
To get to the Waita Reservoir, Koloa Bass Fishing Tours utilizes two bass boats. The Suntracker is the bigger option, which is available for parties of three or more.
 If you are just two in the group, or if you're travelling solo, you can choose to book the private charter via a smaller boat and pay the private tour price. These boats are going to take you to, as they call it, the "sweet spots" of Waita Reservoir, where you can go freshwater fishing! Its waters are abundant with big mouth bass, tilapia, tucunare or peacock bass, and catfish, which you will get to reel in using rods, reels, and baits, all provided and inclusive in the package tour. If this is your first time to try your hands on fishing, it won't be a problem as instructions and safety briefing will also be provided by your Koloa Bass Fishing Tours accompanying guide. No prior fishing experience is thus required to join and enjoy this freshwater fishing adventure!
As they say, one of the things that you learn from fishing is the value of patience. With Koloa Bass Fishing Tours, however, it is very unlikely for you to go restless and impatient as you wait to hook some fish because the sights in Waita Reservoir will surely keep you entertained! One of the largest inland bodies of freshwater in Hawaii, the Waita Reservoir is set against a stunning backdrop of majestic mountains and lush fields nearby, and you will definitely enjoy these natural views during the tour. Make sure your camera is ready for these amazing views, which, again, not anyone travelling to Kauai can get to experience and relish!
After taking pictures of the beautiful sights, get ready to take more photos, this time with your fish catch! Successfully reeling in a fish is truly something to be proud of, especially after the effort and the wait, so go and snap lots of pictures! Afterwards, these fish are to be released back to the water, as the Koloa Bass Freshwater Fishing Tour is a catch-and-release program, so as to conserve and protect the marine life in the waters of the reservoir. 
Don't miss this exciting freshwater fishing trip in Kauai's hidden gem! Go and book your slot to the Koloa Bass Freshwater Fishing Tour now!
Koloa Bass Freshwater Fishing Tour Special Instructions
Koloa Bass Freshwater Fishing Tour

is located at 3477A Weliweli Road, Koloa, HI.
Guests should be at least 5 years old. Guests aged 5 to 17 years old must be accompanied by an adult.

Guests under 12 years old must wear a life vest at all times.

The following are not allowed to join this tour:

Those who have had recent surgeries, chronic neck, or back

Those with extreme allergies to pollen or dust

Pregnant women

Parties of at least 3 shall book the Suntracker. For parties of 1 to 2, a private charter with the (smaller) bass boat must be booked. All boats are equipped with the necessary fishing equipment.

Guests are not allowed to take home any of the fish catch. This fishing tour is only catch-and-release.

Photos taken by the guide are free of charge. After the tour, the photos will be sent to the email address of the person who made the reservation.

The tour will last for 4 hours.