Everyone knows that fish is among the healthiest proteins on the planet, with all the nutrients and "good" fats it contains.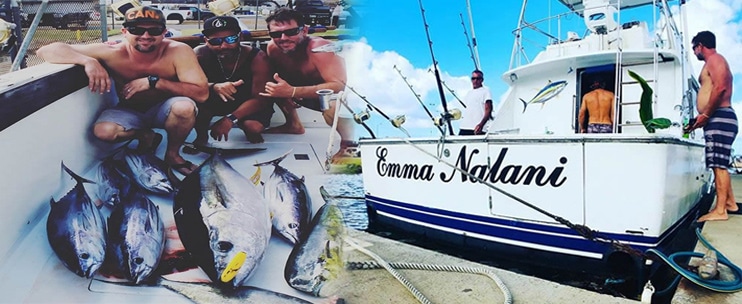 We have always been made aware that including fish in our diet does good for our bodies, but did you know that the activity of fishing is actually good for you, too? Fishing is not only a thrilling activity, especially the act of reeling in your fish catch, but it is also an activity that trains patience and determination, teaches focus, and encourages quality time with your loved ones! Not to mention the fact that you get to spend a lot of time in the ocean, relishing the beautiful views and the breeze! Go and discover all of this yourself by joining Go Fish Kauai's fun fishing tours!
Go Fish Kauai is a locally-owned family business, with a mission to give guests a great fishing experience to level up their vacation in Kauai Island. It utilizes a Bertram 38 Convertible III Sport Fisher, fondly called as the Emma Nalani. Emma Nalani's flybridge is 14-feet above water, furnished with comfortable seating good for six people, perfect for sightseeing of the picturesque views of the ocean and the coastline of Kauai. The vessel's interior is just as great, as it is also equipped with comfortable seats, as well as an indoor flushing bathroom, all of which are guaranteed to be well cleaned and maintained prior to every fishing trip!
You are sure to enjoy the cruise on the Emma Nalani, but make sure to savor the moment as the boat ride from the slip to the fishing grounds will take just around 15 minutes!
ALL FEES INCLUDED
Operates daily
If booking Friday night, please call for availability.
Reception Plans require 24 hours notice to book.
Please see our Holiday Cruises for Valentines, Easter, Father's Day, July 4th, & New Year's Eve.
Special Instruction
Where and When: Check in at the Nawiliwili Small Boat Harbor.
2494 Niumalu Rd
Lihue, HI 96766
View Map
Restrictions: Please do not bring anything banana related aboard.
There is a 5 day cancellation policy in effect for this tour.
Special Notes: TIPPING: Is at the discretion of the guest. If you'd like to tip the Captain and Crew please do. How much is up to you.
Operation Days: Daily
Duration: 4, 6 or 8 hours
Vendor: Go Fish Kauai
Island: Kauai
Capacity: 6 anglers per vessel
Equipment: Bertram Professional Fishing Vessel. 17 tons and 41 ft LOA. Features Fly Bridge with seating for 6, fully equipped indoor seating area and private bathroom.