Big Island is known for a lot of impressive things.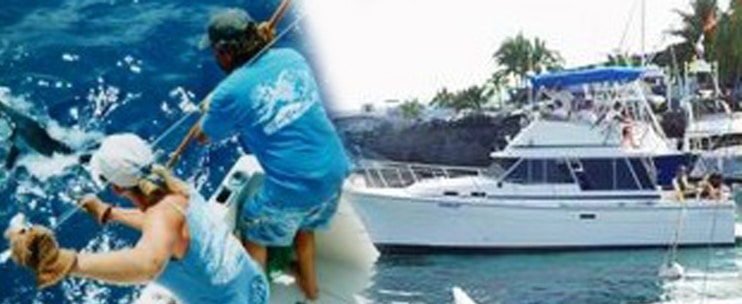 It is home to some of the best local delicacies such as the Malasadas (Portugese sugared fried dough snacks) and the world-famous Kona coffee, the best natural landscapes such as the Waipi'o Valley and the Kilauea Volcano, the best golden and powdery white sand beaches, and, of course, the best outdoor activities to let you experience all of these when you're on the island! If you're looking for an outdoor activity to try out with your family during your stay, make sure to consider a deep sea fishing adventure with Camelot Sportfishing! Truly a great way to experience the Big Island, known as the "fishing mecca" of the entire Hawaiian Islands, a fishing adventure with Camelot Sportfishing is an experience you will never forget!
Camelot Sportfishing is a family-run local business in Kona, headed by Robert and Cyndee Hudson, a husband-wife team who has been piloting the waters off the Kona Coast for more than 30 years. The entire family has been passionately working together to run Camelot Sportfishing, so you and your family are sure to be in good hands when you book any of their tours, as they do not just have years-long experience in being in the water but also in raising a family who shares the same love and passion for the ocean. Also, another fun trivia about the Hudsons is that the head of the family, Captain Robert, has actually won a lot of sportfishing tournaments over the last 40 years, the more recent ones he won along with his son Chris! With Camelot Sportfishing, you are thus guaranteed to be in the company of people who really know about the deep sea fishing game!
Camelot Sportfishing utilizes a custom-built 34-feet fishing vessel for their ocean adventure tours, proudly carrying the company name. The Camelot has all the amenities to give you a relaxing cruise on the waters of Kona, such as a large bridge and plenty of spaces for your utmost comfort as you savor the views and the breeze, padded leather seats, a clean restroom and a refrigerator, plus, of course, top-of-the-line fishing equipment that has been tried and tested to catch big game fish! 
The Camelot can be booked for a shared fishing trip, wherein you and other guests go on a fun fishing expedition, with whom you get to share the fresh fish catch of the day. For this shared fishing charter, get ready to reel in some Blue Marlin, Yellowfin Tuna, Mahi Mahi, and other incidental catches, which the crew will gladly fillet for you to take home. If, however, you wish to maximize your time on the waters of Kona, you can also book the Camelot for a private charter and customize your adventure! With Camelot Sportfishing's private charter, you can add a snorkeling adventure, or perhaps go on a dolphin watch, after trying your hands on big game fishing. Basically, in this particular tour, you're the boss, and Camelot is exclusively yours for the day!
Whether you book a shared tour or a private fishing charter, you are guaranteed a great time with Camelot Sportfishing. Go and contact the Hudsons now for that Big Island ocean adventure!
Camelot Sportfishing Tour Boat
The Camelot is a custom-built 34-feet vessel that is equipped with:
Large flybridge

Plenty of room for resting

Comfortable padded seats 

A clean restroom

Refrigerator

Installed fishing gear
Camelot Sportfishing Special Instructions
Departure time is around 6:30 AM. Kindly wait for a confirmation email as to the exact time of the tour. 

The Camelot departs from Honokohau Harbor, Kona. When you reach the docks, look for boat slot I-45.

Choose from 4-hour, 6-hour, or 8-hour tour durations.

The fish catch will be shared with everyone on board. The crew will process and fillet the fish catch for all guests to take home.