We all know sashimi as the delicious delicacy of thinly sliced fresh raw fish, but did you know that it is also your vehicle to a fun-filled deep sea fishing adventure?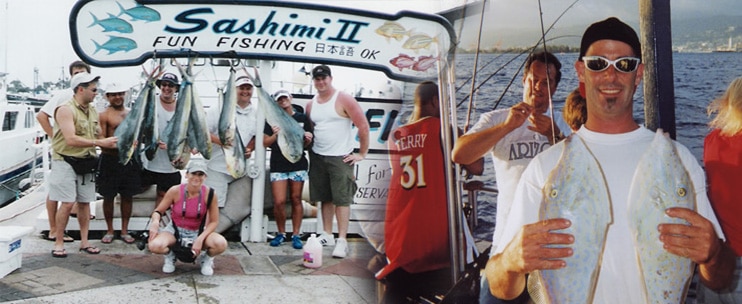 You read that right! Come aboard Sashimi II at Kewalo Harbor in Oahu Island for an exciting fishing escapade! A great way to bond with your family, Sashimi Half-Day Trolling and Jigging is a 4-hour package tour perfect for those who would want to try their hands on various fishing styles, and then get to take home 30% of your fish catch!
The Sashimi II is a custom-built 65' Delta Sportfisher, a fiberglass boat fully equipped with a shaded flybridge, air-conditioned cabin, spacious seating area, television and stereo, and restroom and shower, for a relaxing ride to the finest fishing spot in Oahu. On board are state-of-the-art electronics, too, such as a GPS, fishfinder, plotter, cellular phone and radios, to enhance your deep sea fishing experience. With all these available amenities, boarding the Sashimi II is already a great way to kickstart your adventure!
This package tour is unlike other fishing tour operators in Oahu because it lets its guests have a taste of the different fishing techniques the Hawaiians themselves employ for their supply of fresh seafood! One of these fishing styles is trolling, which involves a rod, reel, and a bait or lure, and is usually done by recreational fishermen who aim to catch some big game fish. Another style is jigging, a fishing technique that uses a unique fishing lure called the jig, hence the name! In trying out trolling and jigging, all of these fishing implements mentioned will be provided on-board, so all you really have to do is wait to reel in your fish catch!
Besides the necessary fishing equipment, Sashimi Half-Day Trolling and Jigging is also inclusive of exceptional service from its well-experienced staff and crew! These people are guaranteed fishing experts, who will not only familiarize you with the various fishing equipment you are to use, but will also share with you everything you need to know about Hawaii deep sea fishing and the different fishing techniques you will get to try on board. Don't be intimidated by their knowledge and skill though, as they are surely very friendly people, too!
In the waters of Oahu's south shore are a lot of kinds of big fish, such as blue marlin, striped marlin, skipjack, and yellowfin tuna, just to name a few! These are the kinds of fish that you can get to haul in during your Sashimi Half-Day Trolling and Jigging fishing escapade, especially since you have advanced fishing equipment and an assortment of lures and bait. When you reel in your fish catch, most especially if it's a big one, it will certainly give you that unexplainable thrill! You can choose to have your picture taken with your catch and then release it back to the ocean, as most recreational fishermen do, or you can take it with you. Sashimi Half-Day Trolling and Jigging allows guests to keep 30% of their fish catch, so you can choose to, as they say, "cook your catch".
The Sashimi Half-Day Trolling and Jigging package tour is really an adventure of a lifetime, so don't pass up on this fun fishing escapade when you visit Oahu! Go and book your slots now!
Sashimi Half-Day Trolling and Jigging's Tour Boat
A custom-built 65' Delta Sportfisher that is equipped with:
Air-conditioned cabin

Shaded flybridge

Television and stereo

CD and DVD players

Comfortable seats

Microwave

Restroom

Shower

State-of-the-art electronics (GPS, fishfinder, plotter, and communication devices – cell phone and radios)
Sashimi Half-Day Trolling and Jigging Special Instructions
Check in at Kewalo Basin Harbor, located at 1125 Ala Moana Blvd., Honolulu HI. Look for a sign that says

"955 FISH"

.

The boat will depart at exactly 6:30AM, so make sure to check in before then.

This tour operates daily and lasts for 4 hours.

Guests can keep 30% of their fish catch.

Tickets are non-refundable.