We know Hawaii as that part of the world surrounded with crystal clear waters.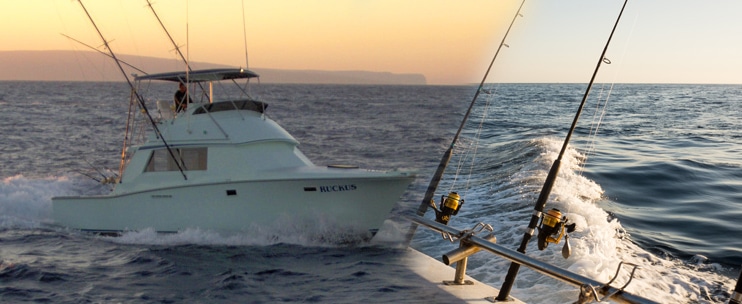 This may actually be one of the reasons why travellers from all over the world visit this tropical paradise; just catching sight of its azure seas is already more than enough to get you to take your mind off life's stress and worries. Even so, there are a lot more ways you can level up and make the most out of your trip and the Hawaiian waters, and one of these ways is to go on a fun fishing adventure! Let Ruckus Sportfishing take you to an adventure of a lifetime by booking any of its deep sea fishing package tours!
Established in 2012, Ruckus Sportfishing was founded by Ray Collier, one of the most passionate people when it comes to sportfishing and other water sport activities. He was a boat owner and operator at an early age, and he used the knowledge he acquired from being so, as well as his passion for water adventures, to build Ruckus Sportfishing. Now, it continues to stay true to its founder's commitment to provide guests with a fun and warm welcome, and that includes you, when you book its fishing tour!
Ruckus Sportfishing utilizes a beautiful 36-foot Topaz Express boat, also named Ruckus. It has a wide open deck and cushioned seats for a comfortable sightseeing experience as you head to one of the best fishing spots in Oahu. It also has other great amenities such as air-conditioning, a shaded flybridge, a restroom with hot shower, and even a refrigerator and a microwave, so really, all you have to bring is yourself and your adventurous spirit! Ruckus Sportfishing also allows guests to bring snacks and drinks, so go ahead and bring that, too, if you wish!
Ruckus Sportfishing is located at the Kewalo Basin Harbor just minutes away from Waikiki, so after departure, you can start your fishing adventure in no time! The boat is fully equipped with all the necessary fishing implements, too, such as the rods, reels, bait, tackle, ice, and even coolers for your fish catch. If you are just a beginner, the crew will familiarize you with all of the fishing equipment and will provide you, too, with all the fishing information you need, so you are sure to have a fun and stress-free fishing experience. Get ready to catch some big game fish, as there are a lot of them in the waters of Oahu! If you and your companions are lucky, you can get to reel in some Pacific Blue Marlin, Yellowfin Tuna, Skipjack Tuna, or Wahoo! While Ruckus Sportfishing only allows guests to keep 50% of fish catch that is under 50 pounds, hauling in an enormous fish is still a thrilling experience! These kinds of fish love to put up a great fight when they're hooked, so coming victorious and reeling one in is surely an experience you will love and never forget!
Whether you are a beginner or a seasoned angler, you will certainly enjoy your time with Ruckus Sportfishing. What are you waiting for? Level up your trip to Oahu and book a fishing charter with Ruckus Sportfishing now!
Ruckus Sportfishing's Boat:
A 36-foot Topaz Express that is equipped with:
Wide open back deck
Cushioned seats
Fishing equipment (rods, reels, bait, tackle, ice, coolers)
Ruckus Sportfishing Special Instructions:
Check-in is at 5:45AM. Make sure to check in on time, as the boat departs at exactly 6:00AM.
Departure is at 5:30AM for the 3/4 and full – day fishing tours. Make sure to check in before then. 
Check in at Ruckus Sportfishing, located at 1125 Ala Moana Blvd., Honolulu, HI, Slip FT.
Choose from a full-day, 3/4-day, and half-day fishing tour durations.