If you're headed to "The Valley Isle" for a quick escape away from the bustling city life, then you're in for a treat!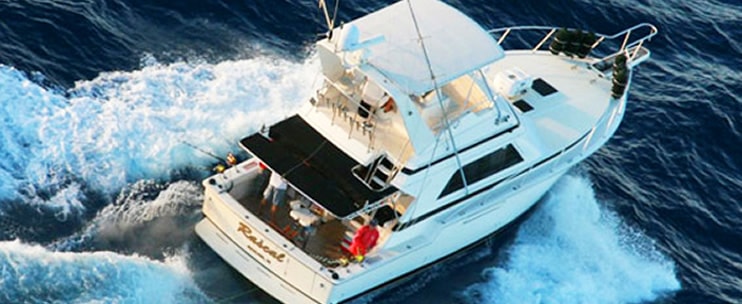 Maui is a beautiful spot in the Hawaiian Islands located between two mountains (hence the moniker "Valley Isle"), which is very much famous for its stunning beaches and its waters teeming with different kinds of fish, which you can experience first-hand by booking a deep sea fishing tour! An adventure that lets guests try their hands on catching fish and then get to taste them fresh after, Rascal Charters' Deep Sea Sportfishing is an exciting fishing escapade you wouldn't want to miss during your vacation in Maui Island!
What's great about Rascal Charters' Deep Sea Sportfishing is that it is run by people deeply passionate about fishing–a passion that will surely rub off on you in this tour! Established in 1989, Rascal Charters is one of the well-known fishing tour operators in this part of Hawaii, with an esteemed reputation among tourists and the Maui fishing community for the exceptional services they have provided since.
 Guests joining Rascal Charters will get to ride The Rascal, a 43-feet Bertram Sportfisher regularly maintained to the highest standard by its well-trained staff and crew. The Rascal is a high-powered vessel, furnished with an air-conditioned cabin, full galley, shaded back deck, and padded seats, for your utmost comfort during the boat ride. It has additional seating at the front of the fly bridge, too, so you get to fully appreciate the island's exceptional beauty from the boat as you head to the fishing grounds!
Upon your arrival to one of Maui's finest fishing spots, get ready to catch some fish! The most common big game fish in the area are the Pacific Blue Marlin, Yellowfin Tuna, and the Mahi-Mahi. There are, of course, incidental medium-sized catches, such as snappers and skipjacks. These sea creatures, especially the enormous ones, can get pretty elusive, but don't worry as Rascal Charters' Deep Sea Sportfishing package tours are inclusive of state-of-the-art fishing implements for your usage in pursuing these fish. While Rascal Charters' specialty is the trolling technique, the crew can mix it up with other fishing methods, especially when the fishing conditions during your tour day deem it necessary. Guiding you every step of the way, The Rascal's captain and crew will familiarize you with trolling and these other techniques, and as well as the fishing tools necessary for these methods. Hence, beginners, and young guests even, will enjoy and learn so much from this experience!
At the conclusion of your Rascal Charters' Deep Sea Sportfishing tour, of course, Rascal Charters will not let you go home empty-handed! The crew will cut up a portion of the entire fish catch for guests to take home, regardless of who catches what. You will then go back to your hotel with lots of beautiful memories from your fishing expedition, new learnings from Rascal Charters' well-experienced crew, and freshly caught seafood for you to devour after that fun-filled day!
Rascal Charters' Deep Sea Sportfishing is a fishing tour that is worth every buck, so what are you waiting for? Book your slot now and have a thrilling fishing adventure with Rascal Charters!
Rascal Charter's Tour Boat
The Rascal, a 43-feet Betram Sportfisher that is equipped with:
Air-conditioned cabin with a full galley

Comfortable padded seats

Shaded back deck

More seats on the flybridge for your sightseeing pleasure

State-of-the-art fishing equipment and electronics
Rascal Charters' Deep Sea Sportfishing Special Instructions
Check in at Rascal Charters, located at Maalaea Harbor, Slip #13.

Check-in time is 5:45 AM.

Choose from the following tour durations:

6-hour shared charter

4-hour private charter

6-hour private charter

8-hour private charter

No refunds for cancellations will be allowed if the cancellation is made within 72 hours before departure time, unless such cancellation is made by the captain or any representative of Rascal Charters.

While there is no age limit in booking any of Rascal Charters' fishing tours, it is highly recommended to book a private charter if accompanied by a child under 10 years old.