If you're travelling to any of the beautiful islands of Hawaii, might as well learn a Hawaiian word to kickstart your vacation!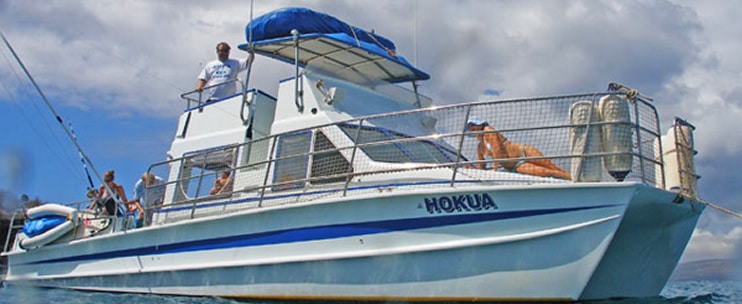 The word 'hokua', in Hawaii, actually refers to the crest or tip of a wave. Incidentally, Hokua also refers to Aloha Blue Charters' adventure vessel, which you can get on to ride these Hawaiian waves and then have an exciting fishing expedition to level up your trip to the Island! For a fun bonding experience, come and join Aloha Blue Charters' Maui Bottom Fishing!
 Aloha Blue Charters' Hokua is a 40-feet custom-built high-powered catamaran, US Coast Guard certified for your guaranteed protection and safety throughout the duration of the tour. It has a spacious flybridge so you can savor the stunning views and the beautiful weather during the boat ride, and it can carry up to 35 passengers, so you and your companions can surely come along and share this lovely experience together!
Once the Hokua arrives at the fishing grounds, the highlight of this tour begins! Aloha Blue Charters' Maui Bottom Fishing uses only top-of-the-line fishing equipment, which you are free to use during the fishing expedition. Seasoned anglers would love the experience of using these exceptional fishing implements, but if you're a beginner, as most tourists are, fret not as the Hokua's crew will readily assist and familiarize you with all these gear on-board. With their more than 25 years combined experience fishing in the Hawaiian waters, you are sure to be in good hands with the crew of Aloha Blue Charters' Maui Bottom Fishing. These people are guaranteed to be very warm and helpful, too, so don't hesitate to approach any of them for anything! Certainly, their goal is for you to have a memorable Aloha Blue Charters' Maui Bottom Fishing experience, and will thus address any of your questions or concerns.
Since the start of its operations, Aloha Blue Charters' Maui Bottom Fishing has recorded different kinds of fish species caught, and you and your companions would certainly get to reel in some of these, too! This fish catch may include snappers, Hawaiian groupers, trevally, amberjack, barracuda, and other types of Hawaiian bottomfish. In some bottom fishing areas, big game fish such as the tuna and the mahi-mahi also frequent, so get ready to catch some enormous ones, too, if you're lucky!
The Maui Island's local laws may have a few restrictions as to the kind and quantity of fish you can take home, but for these restrictions, you can always take pictures with the fish first before releasing them back to the ocean! As for those kinds you are allowed to take home, Aloha Blue Charters' Maui Bottom Fishing also offers to process your fish catch at no additional cost, so when your fishing tour ends, the experience isn't really over yet because you get to taste fresh seafood after!
Aloha Blue Charters' Maui Bottom Fishing truly is a one of a kind tour that lets you experience the joys of fishing and the taste of the beautiful island life. Come aboard the Hokua, ride those waves, and have this fishing adventure of a lifetime! Go and book now!
Aloha Blue Charters' Maui Bottom Fishing Tour Boat, Hokua
40-feet eco-powered jet drive boat

US Coast Guard-certified

Equipped with top-of-the-line fishing equipment
Aloha Blue Charters' Maui Bottom Fishing Special Instructions
Check in at Maalaea Small Boat Harbor, Slip 37, Maui, HI.

The morning tour departs at exactly 7:00 AM, while the afternoon tour departs at exactly 1:00 PM. Make sure to check in at least 30 minutes before departure time.

Tour duration is 4 hours, so expect to be back at 11:00AM for the morning tour and 5:00PM for the afternoon tour.

The trip can accommodate up to 14 anglers, plus some additional riders, taking into consideration the comfort of the guests during the ride.

Subject to the local laws on fishing, guests can get to keep some of their fish catch, which the crew can process/clean at no additional cost.