Big Island's Kona Coast is considered a mecca for sport fishing in Hawaii.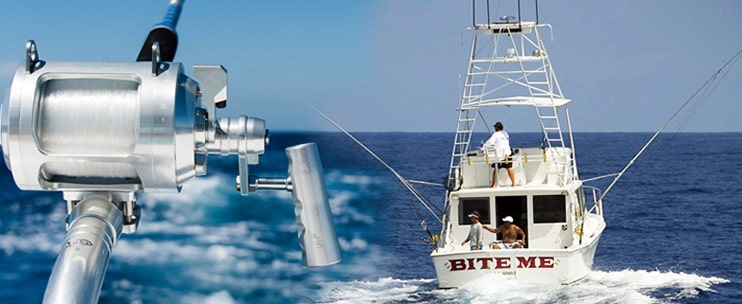 While other Hawaiian Islands offer big game fishing as one of their outdoor activities, Kona, as many anglers can attest, is truly something else. With its diverse and abundant marine life, you can be sure that fishing is well worth your trip to the BIg Island! Come and join Bite Me Sportfishing on one of its state-of-the-art vessels, the Bite Me 3!
Bite Me Sportfishing is not voted "Best of West Hawaii" for years for nothing! This renowned fishing tour operator guarantees a fun Kona Deep Sea Fishing experience, through its exceptional facilities, equipment, and crew services.
For this tour in particular, the Bite Me 3 is a 40' Egg Harbor, one of Bite Me Sportfishing mid-sized fishing vessels. The Bite Me 3 may not be the largest adventure boat out there, but it nonetheless features a big tuna tower for easier fish detection. The tower may be a good spot for some sightseeing and picture taking, too! Perfect to book for medium-sized tour groups, the Bite Me 3 also has a shaded open air cockpit, a spacious top deck, clean restrooms, and a stereo with iPod plug-in for some good music to listen and relax to during the tour. Just hopping on this vessel is already a great experience in itself!
In addition to these amenities, the Bite Me 3 also has state-of-the-art fishing gear, well-maintained for your best deep sea fishing experience! On board are some Gold Penn Two-Speed Reels, Penn International Rods, and Rupp Tournament Outriggers, just to name a few of these great fishing instruments. If it will be your first time to handle such gear, no need to worry as Bite Me 3 has on board skilled and helpful staff and crew to provide instructions and assistance. They will demonstrate the proper handling and usage of all of the fishing implements on board, and more importantly, the proper stance when the fish are successfully pursued and hooked! On the other hand, if you are a seasoned angler joining the tour, you will enjoy the experience just the same, with the top-of-the-line tools and exceptional assistance from your co-experienced big game fishers. On Bite Me 3, everyone is guaranteed an unforgettable fishing adventure!
After gathering everyone's fish catch, the crew will process and cut up the fish to share with everyone on board. Of course, there may be a few restrictions, and the processing will always be subject to the discretion of the captain and crew, but nevertheless, everyone will surely get to take home freshly caught fish after the tour. The perfect reward after that fishing expedition, these take-home seafood cannot get any fresher than this!
Booking this tour by Bite Me Sportfishing is something you will never regret. Whether you're with your family, your friends, or even on your own, the Bite Me 3 is an opportunity you should bite–err, grab! Book now for an awesome Kona deep sea fishing adventure!
Bite Me 3 Tour Boat
The Bite Me 3 is a 40' Egg Harbor, a mid-sized boat that is equipped with:
A large tuna tower

Shaded or sunny Kona open air cockpit

Shaded top deck, which can accommodate up to 6 guests

CD stereo with iPod plug-in

Clean restrooms
Bite Me 3 Fishing Gear
State-of-the-art reels (Gold Penn International, Shimano TLD Graphite)

Five – 130's; 1 – 80's

Four – TLD 25s

Penn International rods

Rupp tournament outriggers

A full-sized Murray Brothers fighting chair
Bite Me 3 Special Instructions
Departure time is at 6:30 AM, 10:30 AM, and 2:30 PM, depending on the fishing tour booked. 

Choose from the following

Bite Me 3

tours:

Half-day shared charter (4 hours)

Half-day private charter (4 hours)

3/4-day private charter (6 hours)

Full-day private charter (8 hours)
Bite Me Sportfishing

allows for a full refund if the cancellation was made by the operator.
Guests are also entitled to a full refund if the reservation is cancelled prior to 48 hours of the scheduled departure.

Guests are guaranteed to take home a portion of the day's fish catch. However, the captain has the discretion as to which fish to keep, share to the guests, or be released back to the ocean.