Hailed as the "fishing mecca" of the entire Hawaiian Islands, Big Island, specifically Kona Coast, is no doubt the most popular destination in Hawaii for deep sea fishing.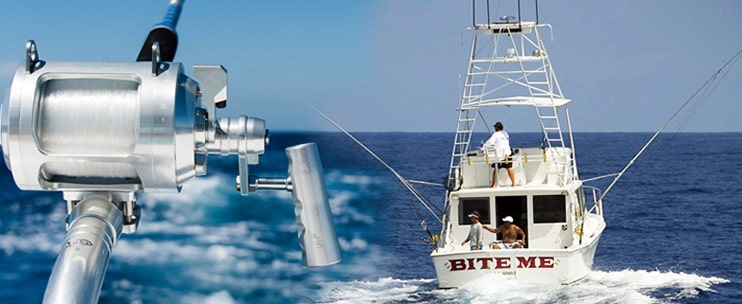 Its waters are teeming with different varieties of fish species, especially big game ones, so if you're headed to this part of Hawaii, take advantage of its abundant waters by booking a fun fishing adventure! With lots of fishing tour operators in Big Island, you can never go wrong with booking with Bite Me Sportfishing!
Bite Me Sportfishing has been voted "Best of West Hawaii" for years, so you are sure to be in good hands when you book any of their fishing tours. Bite Me Sportfishing offers both shared and private fishing tours for their vessels, depending on your preference and group size. For this fishing tour in particular, Bite Me Sportfishing utilizes the Bite Me 1, its original tour boat!
Bite Me 1 is a 40' Uniflite, powered with two brand new 3126B Electronic 450HP Caterpillar engines, guaranteed to give you a smooth and stable ride around Kona. It is furnished with a covered cabin, comfortable leather couches, clean restrooms, and a shaded top deck for your sightseeing pleasure en route to Kona's best fishing grounds. These Big Island fishing grounds are renowned for their abundance and quality of fishery, so get ready as you are bound for some fishing fun just a few minutes from departure from Honokohau Harbor!
While Bite Me 1 is Bite Me Sportfishing's first and original fishing boat, it has been well-maintained since its acquisition and first ride. Of course, the fishing implements on-board are guaranteed to be in great condition, too! Ready for your use are Gold Penn International and Shimano Graphite Reels, Melton International custom-built rods, tournament outriggers, and a full-size fighting chair. With these exceptional fishing tools, get ready to catch some Black, Blue, and Striped Marlin, Ahi, Ono, Yellowfin and Skipjack Tuna, and Rainbow Runners! There are, of course, other incidental catches as well, and sometimes, you can even get to hook some sharks! Truly an exciting experience for beginners and seasoned anglers alike!
Aside from its reliable vessel and exceptional amenities and fishing tools, Bite Me Sportfishing also prides itself with its well-experienced crew! Prior to departure, the captain and crew will start their services immediately by giving you a warm Hawaiian welcome and then brief you about the vessel, safety instructions, and other initial details to kickstart your trip. Upon departure, they will then set out the lures and share with you their vast knowledge on fishing! Guests are highly encouraged to ask questions, so that you do not only take home beautiful memories but a lot of new learnings, too, about their craft.
With all these great inclusions and features, there is no doubt Bite Me Sportfishing's Bite Me 1 is a great choice to level up your trip to the Big Island. You can choose to book the BIte Me 1 for a half-day shared charter, or have it chartered exclusively for your group of six people. Either way, this will give you an exciting fishing experience you will never forget!
Bite Me 1 Tour Boat
Bite Me 1 is a 40' Uniflite equipped with:
Two brand new 3126B Electronic 450HP Caterpillar engines

A shaded cabin and top deck

Comfortable leather seats

Clean restrooms
Bite Me 1 Fishing Gear
Gold Penn International Two-Speed Reels

Shimano TLD Graphite Reels

Melton International Custom-Built Rods

FIve 130s

TLD 25s

Rupp Tournament Outriggers

A full-size Murray Brothers Fighting Chair
Bite Me 1 Special Instructions
Departure is from Honokohau Harbor, located at 74-425 Kealakehe Parkway, Kailua-Kona, HI. It is just 5 miles of Kona Airport and around 4 miles north of Kailua-Kona. 

For the full-day, 3/4-day, or half-day morning tours that check in

before

10:00AM, check in

directly at the boat

. Look for the red sign that says "Bite Me 1" near a boat ramp that will drop you down to the vessel.

For the 3/4-day or half-day morning tours that check in

after

10:00AM, check in at the

Bite Me Logo Store

. Look for a blue building complex, and you will see the office right by the flagpole.

Fish that are over 50 pounds will be reserved. Those that are under 50 pounds will be cut up and shared among all guests.