Aside from its majestic mountains, lush valleys, and beautiful bodies of water, Kauai Island is home to a variety of outdoor activities.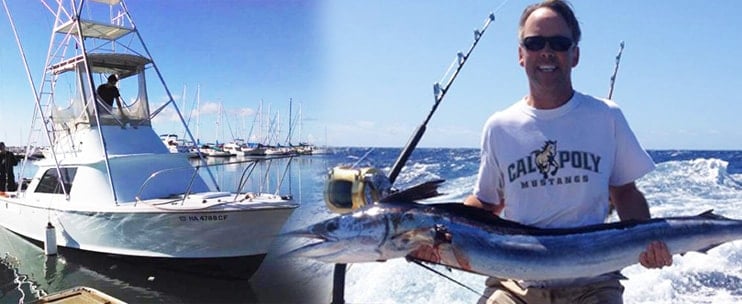 Kauai tourists get to fully experience the charm and allure of the island by going on these outdoor adventures, and have lots of fun memories to go back to after the trip. If you're deciding which of these activities to try with your family, deep sea fishing should definitely be on your list of things to do in the Island! This activity lets you and your loved ones enjoy the relaxing views of the open ocean and try out fishing, an activity that is so ingrained in the Hawaiian culture. Let Deep Sea Fishing Kauai take you to some fishing fun with their package tours!
Deep Sea Fishing Kauai is one of the few fishing tour operators that run on the leeward side of the island.
To those familiar, this is an ideal route because the rains and winds coming into the island are deflected by the Hapuu mountain range, leaving calm spots in the lee of the mountain. WIth Deep Sea Fishing Kauai, you can thus expect calmer and more consistent waves during the boat ride and the fishing adventure. To add to this are its high-powered fishing vessels, designed especially for some open ocean activities!
Deep Sea Fishing Kauai's flagship vessel is the Big Ta Do, a 31-foot Bertram Custom Sport Fishing powered with twin 330 HP turbo-charged Cummins engines for that smooth and stable ride. It has been continually refitted with improvements, and now has a pompano fighting chair, oversized rudders, and bathroom for guests to fully enjoy the experience on board. Of course, it has all the necessary fishing equipment, too, even some big-sized custom bunk/fish boxes for your fish catch! Just make sure to bring your own personal coolers, as Deep Sea Fishing Kauai allows its guests to take home some of the fish catch.
Kauai's waters are teeming with a variety of fish, which you can have the opportunity to catch in this tour! Some of these fish include Yellowfin and Big Eye Tuna, a trophy catch that can weigh over 270 pounds, the Pacific Blue Marlin, often more than 100 pounds but can reach up to 500 pounds, and the Mahi-Mahi, known for its tropical-colored scales. There are smaller incidental catches, too, like the Skip Jack and False Albacore. As mentioned, Deep Sea Fishing Kauai allows its guests to take home some of the fish catch, but of course, the catch will also be shared with the captain and local anglers. The larger fish are also reserved usually for the local markets. Usually, after the fish catch is processed and cleaned, they will be cut up to around 20 pounds and shared accordingly with the guests. Thus, after that fun fishing experience, you will get to enjoy a delicious seafood meal with your catch after. Seafood can't get any fresher than this!
With Deep Sea Fishing Kauai, there are different fishing tour options to choose from, depending on your preference and group size. Whichever you choose, you will surely have an adventure of a lifetime with Deep Sea Fishing Kauai!
Deep Sea Fishing Kauai Tour Options
Charter

– This is an option exclusive to your group. Pricing is for 6 guests.
Shared Trip

– This is an option where you will share the boat with another group. Pricing is per person.
Deluxe Shared Trip

– This is an option where you will join another group. For this shared trip, there is a maximum of 4 anglers + 2 spots for ride along guests. Pricing is per person, with a different rate for the ride along guest/s.
Deep Sea Fishing Kauai Special Instructions
Check in is at Port Allen Small Boat Harbor.

Check-in time is at 5:30 AM.

All tours have a 72-hour cancellation policy. If you wish to cancel and get a refund, make sure to make the cancellation at least 72 hours before the scheduled tour.

While there are no restrictions for this activity, it is highly recommended for those prone to get seasickness to take precaution a day before the tour and during the tour day itself.

Fish catch will be shared accordingly. The crew will process and cut about 20 pounds of the fish for the guests to share equally.

Bring personal coolers for your take-home fish catch, and as well as sunscreen and some snacks, during the tour. Beverages are available on board.