If it is your first time trying out deep sea fishing, you would of course want to join a tried and tested tour operator.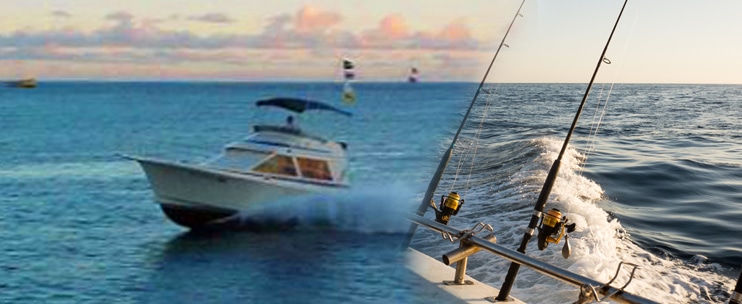 While there is absolutely nothing wrong with recently established companies, there is just this special kind of assurance a long-standing fail-safe operation gives its customers. This is exactly what Inter-Island Sportfishing is. One of the longest running fishing tour operators in Oahu, Inter-Island Sportfishing offers a fun-filled fishing adventure with its Sea Hawk package tour!
Established in the 1950s, Inter-Island Sportfishing was founded by John and Ed DeRego, whose intention in starting up this operation was mainly for visitors to have a taste of the fun and relaxing island life in Hawaii. In their humble beginnings, they started with just one fishing charter called the Stella Maris, but because of their passion for deep sea fishing and ambition for Inter-Island Sportfishing, they now have an upgraded fleet of different tour boats, to ensure their guests' safety and comfort during the tour.
 In the Sea Hawk package tour in particular, you will get to ride a 40' Tollycraft that they also refer to as the Sea Hawk, which is equipped with everything that you will need for an exciting fishing escapade. Powered by Cat 3116 diesels, the Sea Hawk has air-conditioning, large shaded bridge, restroom, and a freshly customized interior, all for a comfortable stay aboard, while en route to Oahu's ocean drop off, and also while waiting for your fish catch!
Inter-Island Sportfishing guarantees a fun and worry-free deep sea fishing adventure. It offers impressive fishing equipment, such as Penn and Shimano fishing gear and state-of-the-art electronics like a GPS, fishginder, plotter, and communication devices. It also has a large release fighting chair, for when your fish catch put up a great fight as you reel it in! Besides these great fishing implements, Inter-Island Sportfishing also has an amazing crew on-board. They are fishing experts who will guide you on your fishing experience and will respond to any query or concern you might have during the tour. With these exceptional facilities and service, everyone will certainly enjoy Inter-Island Sportfishing's Sea Hawk, whether a beginner or a seasoned angler!
Once everything is set, go and get fishing! Oahu is home to a variety of big game fish such as Pacific Blue Marlin, Yellowfin Tuna, Mahi-Mahi, and Aku, just to name a few. The  Inter-Island Sportfishing's crew has recorded some large fish catch, the largest to date is a Pacific Blue Marlin weighing more than 1,200 pounds! You might be the next one to top this record, so you better bring your camera with you during the tour, as you would not want to miss a photo opportunity with your trophy fish!
Inter-Island Sportfishing allows its guests to keep half of the fish catch that weighs under 100 pounds, so you will not go home empty-handed when you book this tour. After the tour, you may have some delicious freshly-caught seafood to take home, plus tons of beautiful memories of this truly remarkable deep sea fishing experience.
Inter-Island Sportfishing's Boat
A 40' Tollycraft that is equipped with:
Air-conditioning

Customized interior

Wide shaded bridge

Penn and Shimano fishing gear

GPS, fishfinder, plotter, cellular phone, and radios

Large release fighting chair

Restroom
Inter-Island Sportfishing Special Instructions
Check in at Kewalo Basin Harbor, located at 1125 Ala Moana Blvd., Honolulu HI 96814.

The boat departs at exactly 6:00AM, so make sure to check in before then.

Choose from the following tour durations:

Full-day (8-9 hours)

3/4-day (6-7 hours)

Half-day (4-5 hours)

All equipment, bait, and ice will be provided. Guests are allowed to bring snacks and drinks.

Guests can keep half of the fish caught that are under 100 pounds.