Someone once said that the act of fishing is actually much more than the actual fish, because "it is the great occasion when we may return to the fine simplicity of our forefathers".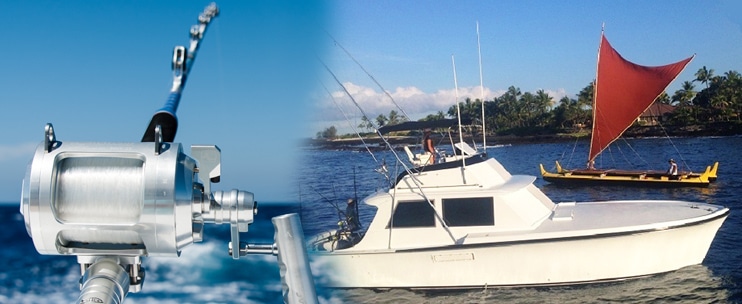 It might not seem so for some, but truly, fishing is an exciting activity, especially when you finally get to hook and reel in your catch! It is not only a way to get us to experience the lives of our ancestors, it is also a great way to connect with nature and appreciate its abundance and diversity. Don't miss out on this opportunity when you visit Kona, the "fishing mecca" of Hawaii! Come aboard the Bite Me 6 for some fun deep sea fishing escapade!
Bite Me 6 is one of the fishing vessels of Bite Me Sportfishing, one of the renowned fishing tour operators in the Big Island. Bite Me Sportfishing has been voted "Best in West Hawaii" for years, so if you join any of its tours, you are sure to have a fine fishing experience! For this tour in particular, guests will ride the Bite Me 6, a 41-foot Hatteras.
This charter is available for private bookings only, so if you and your group want to have a boat exclusively for the day, this package is perfect for you! It has all the amenities that you and your companions will need–an air-conditioned cabin, a shaded top deck, comfortable seats, clean restrooms, and even sleeping quarters, just to name some of these facilities. With all of these amenities, the Bite Me 6 will give you a relaxing cruise to Kona's fishing grounds, which won't be too long, though! As the harbor is just a few minutes away to the "Grander Alley", the prime fishing location on Kona Coast, you'd get to start your big game fishing adventure in less than no time!
For all the fishing tools that you will need, Bite Me 6 has got you covered! On board are a variety of state-of-the-art fishing reels, rods, baits and tackles, and as well as a full-size fighting chair! To keep your fish catch fresh, you can store them in tuna tubes, which are also included on board the Bite Me 6. Seasoned anglers will surely enjoy using these exceptional fishing gear, and beginners will love these just the same, as Bite Me 6's captain and crew are well-trained in handling these tools, and also in orienting fishing first-timers. On the Bite Me 6, everyone, from beginners to fishing experts, are guaranteed a grand time!
Of course, the best reward after a fun-filled day of fishing is getting to taste your fish catch fresh. While the captain reserves the right to keep fish caught that are of a certain weight, guests on Bite Me 6 will nonetheless get to take home fresh seafood that will be processed and cut by the crew on board. You may want to check some recipes already as to how these fish are enjoyed best!
Go and book Bite Me 6 for a private charter! You and your travel buddies will not regret going on this adventure!
Bite Me 6 Tour Boat
The Bite Me 6 is a 41-foot Hatteras that is equipped with:
Air-conditioned cabin

Sleeping quarters

Shaded top deck

Teak deck and windows

Comfortable seating

Microwave

Refrigerator

Coffee maker

Clean restrooms
Bite Me 6 Fishing Gear
Top-of-the-line reels (Gold Penn International, Shimano TLD Graphite)

Four – 130s; One – 80

Assorted fishing tackle

Tuna tubes and coolers for storage

A full-size fighting chair
Bite Me 6 Special Instructions
The

Bite Me 6

is for private charters only. Choose from the following tour durations:
Half-day (4 hours)

3/4-day (6 hours)

Full-day (8 hours)
Departure times are 6:30 AM, 10:30 AM, and 2:30 PM. Make sure to check in before then.

This vessel departs from Honokohau Harbor, located at 74-425 Kealakehe Parkway, Kailua-Kona, HI 96740.

Bite Me Sportfishing

allows for a full refund if the cancellation was made by the operator.

Guests are also entitled to a full refund if the reservation is cancelled prior to 48 hours of the scheduled departure.

Guests are guaranteed to take home a portion of the day's fish catch. However, the captain has the discretion as to which fish to keep, share to the guests, or be released back to the ocean.