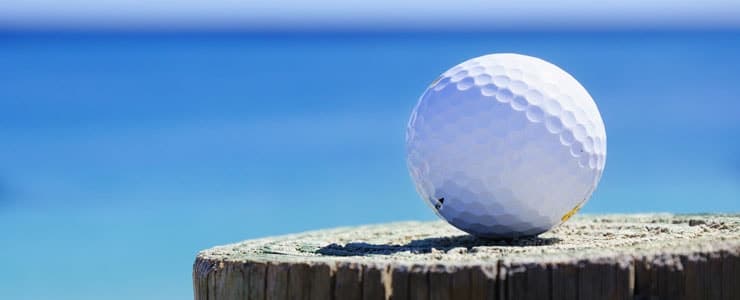 Playing golf in Hawaii is expensive. But in most cases, it's affordable. Even as low as $100 for 54 holes!
Let's face it. A fun vacation is not cheap. We don't mean spending thousands of dollars. Still, you need to pay for almost everything, including foods, snacks, beverages, hotel, transportation, and of course, your plane ticket! And when we talk about golfing in Hawaii, it's another story. We understand if you think it's expensive. Why not? Hawaii belongs to the list of the most expensive states in the United States.
It's not surprising that Hawaii is every golfer's dream. With so many golf courses all over the island surrounded by stunning sceneries, including top-notch beaches, it has become a golfer's favorite. Not to mention the perfect tropical weather.
Thankfully, there are a few golf courses that you can surely afford whether you are a beginner or not. So, we narrowed down some of the cheapest golf courses in Hawaii, in all four major islands.
Best Cheapest Golf Courses in Hawaii
Hamakua Country Club (Hawaii island)
Holes: 9+
Price: $20 for adults ($10 after 4 pm) and free for 17 years old and below
Did you know that Hamakua Country Club is currently the second-largest golf course on the big island?  It was founded in 1929 by Scottish engineers working at the sugar plantation, which measures 4,800 yards and plays to a challenging par 66 for men and 74 for women.
Situated 1,200 feet above sea level, it is located at the rural community of Honokaa (Northeastern coast of Hawaii island). With its small greens and lush fairways, along with the gentle winds and moderate climate, golfers find it challenging to play here. So, if you're ready for the challenge, this could be for you. Did we say that this is a public golf course? Well, it is and is maintained by volunteers who are also passionate about golf.
Before getting there, ensure to bring your walking legs because there's a lot of up and down hills. You can actually tag along with your children and they could play for free if they are below 17! Set your GPS to 3280 Mamalahoa Highway, Honokaa, HI 96727, and you can find it in the middle of mile markers 42 and 43, near a gas station.
When you arrive, you can stop by the clubhouse on top of the hill for a $2 beer and $3 for an imported one. From here, you can watch the panoramic views of the Pacific Ocean. If it's closed (sometimes it does), you can just slide your money through a slot on the wall. This works the same with your 20-dollar fee before playing all day long! 
We recommend getting there before noon so you could get a chance to rent a mixed bag of used clubs for $5. Also, bring your own food if you are with your children as a beautiful view makes it a perfect place to have a picnic. A lot prefer to walk, but there are golf carts, hand trolleys and rental sets that are available. The nine-hole layout has two sets of tees, white for the outward nine and blue for the inward nine. For players who prefer a shorter course, a par three layout with 18 sets of tees and holes from 75 to 150 yards in length is available.
Kukuiolono Golf Course (Kauai)
Holes: 9
Price: $10
If you are in Kauai, look for Kalaheo for fun golfing. This 9-hole golf course was designed by Toya Shirai in 1928 and was donated to the public by the sugar magnate, Walter McBryde. Up to these days, it has become a favorite of residents and visitors alike (which is not surprising). With its stunning views on every hole, you don't just play, but also relax. Plus, you can snack or dine at the clubhouse. And if you want to have a leisure walk before or after playing, explore the Japanese garden nearby.
This 2,981-yard golf course can be found at 854 Puu Rd, Kalaheo, with Bermuda grass greens and fairways, and a slope rating of 113 and a 70 USGA rating. Make sure to bring your clubs if you come here. Otherwise, you can rent a combination set of 12 for men and women. Carts are also available (you can skip this if you love walking) and you can purchase some second hand balls and a bag of tees (at a very affordable price), and you're off to go!
Sometimes on windy days, your play becomes tougher. Thankfully, staff are friendly and attentive, who are more than happy to assist you and explain everything you need to know if it's your first time. This course features two sets of tees (red and white) for different skill levels. So, you can either play the easier or more difficult one, which is equally playable anyway. While playing, you get to enjoy beautiful views so always ready your camera for a few snapshots and selfies with the richest ocean views in the background.
After playing, you can visit the Japanese garden nearby, a hidden gem in Kauai. You can stroll down a quaint path and over a footbridge to appreciate fountains, statues, bonsai trees, and other plants. The garden path leads you to a unique and massive collection of Hawaiian lava rock artefacts and a newly-built meditation pavilion. From the garden, there is a paved path leading to a bluff that offers unparalleled sceneries of the West and South shores of Kauai. The most exciting thing about it is that you could watch whales on special occasions! 
Meanwhile, you can also visit the restaurant for a drink and snacks. We recommend trying their beer on tap and to-die-for fries! Not bad for the price, indeed.
Kahuku Golf Course
Holes: 9
Price: $19
It's hard to imagine not stopping by at this golf course if you fancy a fun golf play. With a price that's easy on the pocket, you can't believe your skill will be put to the test if you happen to be in Oahu, head over to 56-501 Kamehameha Hwy, Kahuku. Where else can you experience breathtaking ocean views, while golfing? Though there are no snack bars, there is a coke machine for refreshments. However, you can bring your food and have a picnic at their picnic area, overlooking the massive green course with the ocean in sight.
This 9-hole golf course measures 2, 699 yards from the longest tees for a par of 65 and its course rating is 34.5 and a slope rating of 112. It opens at 7 am so if you want to play longer, we suggest getting there early. Bring your golf balls and tees, but in case you can't, rentals are available, along with the carts. Additionally, there is no dress code so you can wear anything casual. Bringing your kids can also be a good idea because the holes are medium-difficult, though the greens are a bit tricky.
If the weather gets cooperative with no strong winds, the first hole is a simple 165 yards with just one bunker to the left of the green. Here's a tip for you: make sure not to go out of bounds right into the driving range on the 500 yards per 5 second because you have 100 yards of fairway to the left (Well it's easier said than done). Some players find par 3s unique and challenging. And most say, the course is very forgiving because of its wide fairways. But what makes it unique is that, while you're playing, you can hear the waves pounding. Besides, it's not a competition, is it? 
Pukalani Country Club (Maui)
Holes: 9
Price: $69 18 holes
A real gem, situated at the hillsides of the upcountry Maui, Pukalani Country Club offers spectacular views of the Valley Isle of Maui. Lying at the 1,100-foot elevation of the iconic Mount Haleakala, it is no doubt a must-visit course. This 18-hole with over 150 acres of golfing ground was built in 1980 and designed by Architect Bob Baldock. He was also responsible for more than 69 private and public golf courses throughout the US. It measures 6,962 yards from the championship tees, plays to a par of 72, and offers 19 greens in its whole layout!
Because it is an only 15-minute drive away from Kahului airport, the course is very accessible and not difficult to find. To make it easier, just set your GPS to 360 Pukalani St, Makawao, HI 96768. The staff are very welcoming and ensure all your needs are catered, which makes your experience more exceptional. If you were unable to bring your equipment, they have some rentals available. The course is wide and challenging and much cheaper compared to those high-caliber golf courses in Maui. As you know, Maui is the most expensive island in Hawaii. 
If you arrive early (opens at 6:30 am), you can have breakfast on a patio of the main building, which makes your food more appetizing. You may bring your water bottle because there is a water refill, which saves you a few bucks. They also have a sale rack, where you could purchase a nice selection of hats and clothes for men and women. Sometimes, they're on sale that gives you a great deal! And of course, clean his and her restrooms. Don't be surprised by gas-powered golf carts because electricity on the island is quite expensive. So, charging many carts overnight won't give us an affordable fee for playing.
Is it challenging? Well, we say it is moderately challenging with long and wide fairways. Even though the course is in great shape, sometimes the weather tests your skill. Plus, it has many tricky approach shots with its uphill fairways and elevated green. But just remember to pay attention to your yardage and elevation gain. The highlight is hole number 3, which is two par 3s. You can opt for 130 yards for ladies, but you can go for shorter if you want a better chance for a hole in one. And when you go to number 10, you can see a lake in play. 
Special Instructions
Time and Location:

9am, 12pm, 3pm. There is available complimentary hotel transportation to and from your Waikiki hotel. You may also meet at Queen Kapiolani Hotel 15 minutes before your lesson.

Restrictions:

Children who are 13 years old and below must do a private lesson.

Operations:

Daily

Equipment:

Soft (learner) or Regular Surfboards




Not to mention, it also ranked 7th on Golflink.com's "Top 100 United States Golf Courses." This 7,310-yard, 18 holes golf course's beauty is beyond imagination. Designed in a lush rainforest, at the base of the 2,000-foot towering Ko'olau mountain range, you will be...
What could be better than playing golf in Hawaii, while enjoying the view of the Pacific Ocean? Whether you are an amateur or a veteran golfer, solo or with your children or friends, The Bay Course at Kapalua Golf surely has everything you need.  Opened in 1975, this...
If you're headed to Maui on your next vacation, or you are nearby right now, drop by Kapalua and look for Plantation Course - Kapalua Golf. Don't worry if you are a beginner, because its generous wide fairways make it playable even for your level! You will even feel...
Nicknamed the "Grand Lady of Wailea," this 18-hole, par 71 golfing ground was designed by the great Arthur Snyder, who took advantage of the site, being neighbors with several breathtaking Maui islands, and the towering 10,023-foot Mt. Haleakala. Just imagine playing...
Whether you are alone, with your small children, friends, or colleagues, this historic golf course offers you a one-of-a-kind experience. Did you know that Kaanapali was once called the home to the Royal Chiefs of Maui? So, imagine becoming a part of this beautiful...
Named both by Golf Magazine and Golf Digest as one of the country's 10 best new resort courses in 1994, this golf course maintained its beauty, to have been awarded with another honor - the world's best designed courses by Conde Nast Traveler's readers. If you decide...
Redesigned by one of Hawaii's most famous golf architects, Robin Nelson, this 6,400-yard golf course with ocean views is now more forgiving (with a twist) that suits all levels of players. Many of its holes offer you stunning sights of natural canals, lava rock...
No Results Found
The page you requested could not be found. Try refining your search, or use the navigation above to locate the post.
Imagine playing golf with the snow-topped Mauna Kea volcano as a dramatic backdrop with seemingly endless views of the Pacific Ocean. You can only experience this and more at Hapuna Golf Course located in Big Island, which stretches along the awe-inspiring Kohala...
Many Hawaii tourists are faced with a question they can't answer after deciding to visit the land of Aloha. Everybody knows all of Hawaii's major islands, including Maui, Big Island, Kauai, and Oahu, are special in their own ways. If you are one of them, let us walk...