Are you looking for a fun activity to do in Oahu?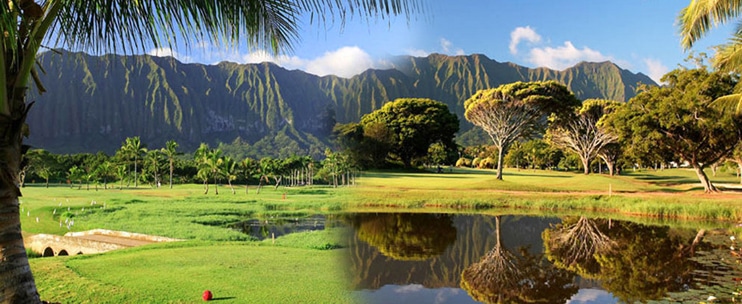 A favorite among the locals, this 18-hole, par 72 golf club is famous for its sunny weather that gives golfers a favorable environment to finish the entire game with a smile. But if you desire a more challenging play, book your reservations in the late afternoon for prevalent trade winds. 
The front nine is open that exposes you to the elements, whereas the back nine leads you to a vast wooded forest that features abundant wildlife and trees. Their clubhouse with complete facilities, including a bar, banquet rooms, and grill-type restaurants, will surely make you happy!
What to Expect?
Olomana is located at 41-1801 Kalanianaole Hwy, Waimanalo, Hawaii 96795, Honolulu County, the eastern side of the Koolau Mountain Range, and just 30-minute drive away from Waikiki. There are many car rentals in the city if you haven't arranged one yet or perhaps taking a taxi is more comfortable.
When you get there, you will be greeted with breathtaking views of the Koolau mountain range with majestic greens all over and the Olomana Peak. Although it's just 30 minutes away from downtown, the atmosphere is very country-like, which gives you a calm and relaxing feeling. Besides, former President Obama didn't make this as his home course for nothing. They surely have a driving range where you could practice your swing or perhaps stop by their beer garden before or after playing to have a drink and take a rest while listening to music.
This 6326-yard short golf course has an interesting layout with two different nines, which can be both challenging. The front nine has level fairways and a water hazard at each hole while the back nine challenges your skills with the presence of irregular rolling hills and strategically positioned sand bunkers. When you make your way over the manicured fairway, this leads you to a forest where you encounter many wildlife and trees. 
The signature hole is the par 3, eighth, which has a semi-island green that is protected with sand bunkers and coconut trees. Prevailing trade winds may make your game more difficult if you are playing in the late afternoon. We suggest bringing some extra balls because you might be needing them with plenty of water and swampy areas. Finally, at number 18, you will get closer to the stunning Koolau mountain, which serves as your background as you hit your finishing hole.
Clubhouse
You can drop by their fully stocked pro shop with branded apparel. Their restaurant is a grill-type dining area with a bar. Also, they have banquet rooms that can accommodate up to 200 guests. Some guests who don't plan to play golf actually dine here for their delicious menus, apart from the golf course view. They say the mood mysteriously gives them peace, especially when they feel the wind that comes through the windows. If you dine here, we recommend trying their garlic shrimp mixed plate because it's really superb!
OLOMANA GOLF LINKS DETAILS:
Architect: Bob Baldock

Director of Golf: Alex Cuevas

Golf Professional: Ryan Adams

Dress Code: Proper golf attire

Golf Cart Rental: Included in the package

Course Type: 18-hole, par 72

Yardage: 6306/5907/5473

Yardage Markers: Sprinkler heads

Slope: 126/121/128

Rating: 69.8/68.3/72.4

Bunkers: Yes

Golf Carts:  Yes

Pull Carts: No

Water Holes: Yes

Caddies: No

Five-some Policy: Yes

Walking: Yes (after 2:30 PM)

Greens: Bermuda

Fairways: Bermuda

Spike Policy: Soft spike only

GPS Tracking: No

Lessons: Available

Club House: Available

Pro Shop: Available

Restaurant: Available

Bar: Available

Conference Facilities: Available

Banquet Facilities: Available

Lodging: Not available

Showers: Not available

Lockers: Not available

Rider Fee: Around $22

Practice Green: Yes

Driving Range: Yes

Club Rental: Taylor Made (Approximately $31)

Ocean Holes: No

Junior Rates: Around $59 in the morning and $39 after 1 PM
OLOMANA GOLF LINKS SCORECARD:
| | | | | | | | | | | |
| --- | --- | --- | --- | --- | --- | --- | --- | --- | --- | --- |
| HOLE | 1 | 2 | 3 | 4 | 5 | 6 | 7 | 8 | 9 | OUT |
| Blue | 433 | 157 | 355 | 511 | 283 | 369 | 423 | 120 | 520 |   |
| White | 413 | 133 | 335 | 487 | 253 | 353 | 402 | 113 | 470 |   |
| Red | 389 | 114 | 322 | 474 | 240 | 337 | 391 | 99 | 455 |   |
| Men's Hcp | 11 | 13 | 3 | 7 | 15 | 5 | 1 | 17 | 9 |   |
| +/- |   |   |   |   |   |   |   |   |   |   |
| Men's Par | 4 | 3 | 4 | 5 | 4 | 4 | 4 | 3 | 5 | 36 |
| +/- |   |   |   |   |   |   |   |   |   |   |
| Ladies' HCP | 11 | 13 | 9 | 3 | 15 | 7 | 1 | 17 | 5 |   |
|   |   |   |   |   |   |   |   |   |   |   |
| HOLE | 10 | 11 | 12 | 13 | 14 | 15 | 16 | 17 | 18 | IN |
| Blue | 408 | 169 | 395 | 407 | 304 | 528 | 331 | 162 | 431 | 3135 |
| White | 384 | 160 | 383 | 380 | 281 | 474 | 320 | 152 | 414 | 2948 |
| Red | 303 | 153 | 321 | 368 | 267 | 396 | 310 | 138 | 396 | 2652 |
| Men's Hcp | 2 | 8 | 4 | 10 | 18 | 12 | 16 | 14 | 6 |   |
| +/- |   |   |   |   |   |   |   |   |   |   |
| Men's Par | 4 | 3 | 4 | 4 | 4 | 5 | 4 | 3 | 4/5 | 35 |
| +/- |   |   |   |   |   |   |   |   |   |   |
| Ladies' Hcp | 6 | 4 | 2 | 12 | 18 | 81 | 4 | 10 | 16 |   |