Discover a beautiful side of Oahu while completing your fun and challenging golf round!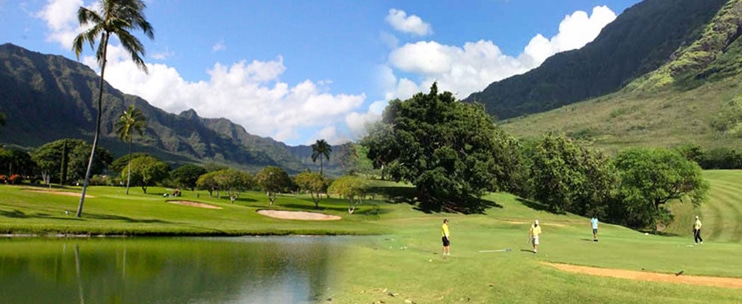 Whether you are a beginner, intermediate or professional, Makaha Valley Country Club satisfies your golfing goals.
Located 45 miles away from Waikiki, leave the hustle and bustle of the city and relax in the most scenic vistas of West Oahu while golfing. In every hole, you get to view the beauty of Mt. Kaala and the Makaha valley itself, including the Waianae Mountain Range and the Pacific Ocean.
This 6, 369-yard course has a nice layout with well-maintained fairways and greens but with some elevation changes that add challenge to your game, in addition to the use of doglegs. And when you want to relax and refresh before or after your game, you can visit their snack shack and bar located in their clubhouse. Reserve your tee time now, and experience genuine, fun golf!
What to Expect
Makaha Valley Country Club is a one-hour drive away from Waikiki. You can call them if you wish to arrange roundtrip transportation from and to your hotel. Otherwise, you can rent a car or a taxi, which could transport you to 84-627 Makaha Valley Road, Waianae. From Waikiki, take H-1 Freeway West leading you to Farrington Highway, directing you to West Waianae. From there, turn right at Makaha Valley Road, and when you reach the fork, stay right until you arrive at the golf course.
This part of the island is on the drier side, so it's most likely that you will play on a clear, sunny day, which allows you to have 360-degree views of your surroundings. If you wish to practice your swing before your game, you can always use their practice green. Their clubhouse also has complete facilities, including a fully-stocked Pro Shop where you could rent and purchase golfing stuff. Club rentals are brand-new that lets you enjoy your game more. Plus, you know your money is worth it.  On top of this, they have a snack shack and a bar where you could watch the beautiful golf course while indulging in their delicious menus like Japanese cuisine and refreshing drinks. We recommend hanging out here after your fun play for its pristine atmosphere before going back to the city.
We say that this is a golf course that makes you think of enjoying your game, rather than scoring. Cart paths are a bit rough, so drive slowly, but it lets you enjoy the views more! The best thing about this 18-hole golf course is that it has a great layout and is always well-maintained. Surprisingly, it has a unique character that makes golfers come back for more. Many players finish it off within 3.5 hours, which probably makes you say it's an easy play. But watch out because it has its own tricks! 
Though the fairways are open and fair, many slopes are pretty hard to read, which challenge your skills. Also, expect to use dog legs, and you can't use driver wedges on every hole. Gladly, the stunning views of Mt. Kaala is visible on every hole, while you can have a glimpse of the ocean from the course itself. Number 18, par 5, is the signature hole that gives you a chance to finish your round a birdie. Meanwhile, number 17, par 3 has majestic million-dollar views!
COURSE DETAILS:
Golf Course
Architect: William Bell

Director of Golf: Stacy Amann

Started operating: 1967

Course Type: 18-hole, par 71

Dress Code: Proper golf attire

Spike Policy: soft spike only

Yardage: 6369/6091/5720

Yardage Markers: Sprinkler heads

Slope:  127/120/123

Rating: 68.8/72.7/67.2

Bunkers: Yes

Golf Carts:  Yes

Pull Carts: No

Water Holes: Yes

Caddies: No

Five-some Policy: Allowed

Walking: Not allowed

Greens: Bermuda

Fairways: Bermuda

GPS Tracking: Not available

Lessons: Available

Rider Fee: Around $25

Practice Green: Yes

Driving Range: Yes

Club Rental: Taylor Made (Around $30)

Ocean Holes: No

Junior Rates: Around $32



Facilities


Club House: Available

Pro Shop: Available

Restaurant: Snack shack

Bar: Available

Conference Facilities: No

Banquet Facilities: No

Lodging: No

Showers: No

Lockers: No
SCORECARD:
| | | | | | | | | | | |
| --- | --- | --- | --- | --- | --- | --- | --- | --- | --- | --- |
| HOLE | 1 | 2 | 3 | 4 | 5 | 6 | 7 | 8 | 9 | OUT |
| Blue | 375 | 155 | 485 | 415 | 220 | 369 | 330 | 385 | 370 | 3,104 |
| White | 342 | 140 | 470 | 407 | 196 | 347 | 317 | 360 | 354 |   |
| Red | 303 | 120 | 445 | 397 | 170 | 338 | 304 | 337 | 345 | 2,759 |
| Men's Hcp | 13 | 17 | 9 | 1 | 15 | 5 | 11 | 7 | 3 |   |
| +/- |   |   |   |   |   |   |   |   |   |   |
| Men's Par | 4 | 3 | 5 | 4 | 3 | 4 | 4 | 4 | 4 | 35 |
| +/- |   |   |   |   |   |   |   |   |   |   |
| Ladies' HCP | 13 | 17 | 9 | 1 | 15 | 5 | 11 | 7 | 3 |   |
|   |   |   |   |   |   |   |   |   |   |   |
| HOLE | 10 | 11 | 12 | 13 | 14 | 15 | 16 | 17 | 18 | IN |
| Blue | 485 | 337 | 305 | 175 | 412 | 410 | 436 | 204 | 501 | 3,265 |
| White | 475 | 323 | 300 | 170 | 402 | 402 | 400 | 192 | 494 | 3,185 |
| Red | 435 | 313 | 285 | 143 | 392 | 362 | 377 | 168 | 486 | 2,961 |
| Men's Hcp | 10 | 12 | 14 | 18 | 4 | 6 | 2 | 16 | 8 |   |
| +/- |   |   |   |   |   |   |   |   |   |   |
| Men's Par | 5 | 4 | 4 | 3 | 4 | 4 | 4 | 3 | 5 | 36 |
| +/- |   |   |   |   |   |   |   |   |   |   |
| Ladies' Hcp | 10 | 12 | 14 | 18 | 4 | 6 | 2 | 16 | 8 |   |