Sure, there are many ways to have fun in Maui, but if you are looking for an ultimate, unique adventure combined with sightseeing and relaxation, head to Kaanapali Kai Golf Course for an exciting golf play!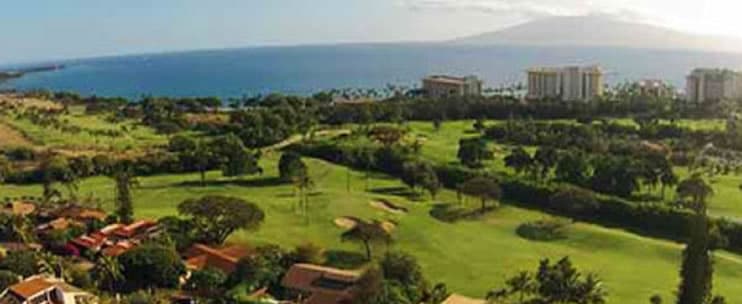 Redesigned by one of Hawaii's most famous golf architects, Robin Nelson, this 6,400-yard golf course with ocean views is now more forgiving (with a twist) that suits all levels of players. Many of its holes offer you stunning sights of natural canals, lava rock boundaries, and trenches, along with the beautiful and fragrant Hawaiian flowers throughout the course. Plus, a widespread of Coconut trees and Norfolk Pines, which border many fairways. 
Book your tee time now and find out why it was chosen in 2008 to host the "Ladies Only Big Break Kaanapali!"
What to Expect
The best thing about this golf course is that it has everything you need. It features its own lodging services, apart from a few hotels nearby, where you could shop and dine. Kaanapali also offers packages, which you might want to consider, along with hotel services. In addition, you can bring your children who are seven years old and up to avail of exciting freebies! If you are traveling during the rainy season (April to October), we recommend bringing a rain jacket. Lastly, don't forget your cameras because many beautiful sceneries are truly worth capturing.
When it comes to their facilities, the Pro Shop is fully stocked with a variety of golf items, including hats, sweaters, Hawaiian-designed t-shirts, and golf accessories that you can purchase. Hopefully, they will be on sale when you are there. And of course, club rentals are available here if you haven't brought yours. The accommodating and friendly staff ensure to help you in any way they can, from checking-in to leaving the course.
Once you step foot on Kaanapali Kai Golf Course, you can see it is well-maintained. It's landscaped with beautiful flowers, including Hibiscus and Bougainvillea. If you smell a sweet scent, that is probably Plumeria, which is also known as Lei flower that is usually used for the popular Hawaiian lei greetings. Moreover, the land where this course is located used to house a sugar cane plantation, so don't be surprised if you see some Sugar Cane Train steam on many holes. Not to mention the awe-inspiring West Maui Coast views and its neighboring islands Molokai and Lanai. If you happen to book between November and April, chances are, you could spot humpback whales that migrated from the colder waters for breeding.
Though you are not allowed to walk, they have GPS available on their cart, so it makes it easier, especially if it's your first time playing here. Plus, it helps with the pace of your play. If you haven't been playing for a while and wish to practice your swing before your round, you can utilize their practice green. A regular player could finish a round in 3-3.5 hours, which tells it is not a very difficult play. If you are a real golf player, you may find the course easy, but the wind might challenge your skills. The greens are in good condition but undulating. We suggest your approach shots should be in the right tier. Otherwise, the result would be three putts. There are only two water hazards, but a lot of sands.
Your round is accented by the signature hole 7th, par 4 with a Pineapple train in the background, in addition to 4 great pars.
COURSE DETAILS:
Golf Course Information
Location: 2290 Kaanapali Parkway, Lahaina, Maui
Architect: Arthur Jack Snyder (recently renovated by Robin Nelson)   
Started Operation: 1976   
Golf Professional: Sutee Nitakorn
Course Type: 18 holes, par 70   
Yardage: 6388/6010/5563/4522
Yardage Markers: Sprinklers and 150 yards   
Slopes: 135/130/126/109
Ratings: 70.7/69.0/67.1/62.2   
Golf Carts: Yes   
Pull Carts: No
Bunkers: Yes
Water Holes: Yes
Greens: Bermuda   
Fairways: Bermuda
GPS Tracking: Yes
Practice Green: Yes   
Driving Range: Yes
Ocean Holes: No   
Policies
Caddies: No
Five-some Policy: Not allowed   
Walking: Not allowed
Dress Code: Proper golf attire   
Spike Policy: Soft spike only
Facilities
Club House: Available   
Pro Shop: Available
Restaurant: Available   
Bar: Available
Conference Facilities: Not Available   
Banquet Facilities: Not available
Lodging: Available   
Showers: Available
Lockers: Available
Rates
Rider Fee: Around $30-$15
Club Rental: Titleist (Around $55 and $35)   
Junior Rates: Around $55 or free with paying adult at 2:30 PM to 3:00 PM
SCORECARD: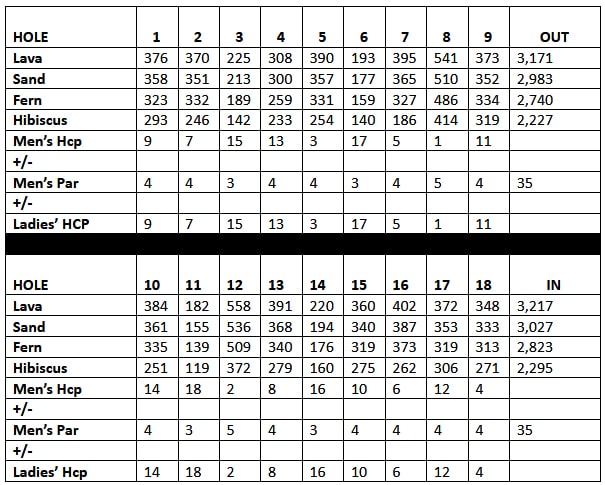 ALL FEES INCLUDED
Operates daily
If booking Friday night, please call for availability.
Reception Plans require 24 hours notice to book.
Please see our Holiday Cruises for Valentines, Easter, Father's Day, July 4th, & New Year's Eve.
Special Instruction
Where and When: 2290 Kaanapali Parkway, Lahaina, HI 96761
View Map
Special Notes: Golf club rentals are NOT included in your package. You will want to make arrangements if you need golf club rentals.
Operation Days: Open daily
Vendor: Hawaii Tee Times
Island: Maui
Equipment: This course aerated their greens on April 9th, 2019.