What could be better than golfing on a beautiful golf course in great shape with the stunning views of Pearl Harbor and the historic USS Arizona Memorial and USS Missouri in the background?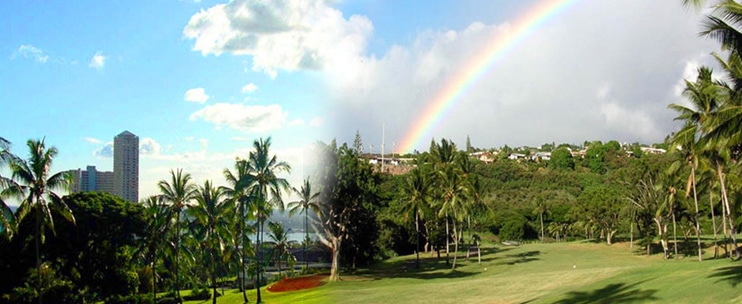 Sure, there are many golf courses on the island, but Pearl Country Club is a must try that you won't regret playing. With a challenging course, interesting holes and greens, and fairways in good condition, you couldn't ask for more! Not to mention the attentive and accommodating staff who ensures your enjoyment from start to finish, and their clubhouse with complete facilities.
Book a tee time now and find out why it was voted as the number 1 Best Golf in Oahu for 2019 by People's Choice Award!
What to Expect
The best thing about this 6,787-yard golf course is that it is located just 20 minutes away from Waikiki. So, this is perfect if you are not looking into getting far away from the city but want a peaceful, green surroundings. Simply head to 98-535 Kaonohi Street Aiea on your booked schedule. Also, if you prefer a private or intimate play, we recommend booking at an early time to avoid overcrowding, especially if you are a beginner.
Some non-golfers visit the course for the restaurant, which offers nothing but majestic views, especially on a clear, sunny day, and mouthwatering foods. It has an indoor and outdoor seating that serves traditional local and Japanese favorites like oxtail soup, shrimp curry, sandwiches, and others. So, if you want to unwind before or after your game, you can hang out here for a while for a complete Pearl Country Club experience.
This 18-hole, 72-par course's fairways are well-groomed with a great layout. There are a few water hazards and bunkers but the terrains, trees and fast greens will definitely test your skills. It features rugged, rolling terrain and lined with Norfolk Pine, Coconut Palms and flowering Monkeypod Trees that added beauty to the entire golf course, and at the same time, serve as obstacles to your game. In various locations, you can view the USS Arizona Memorial and the USS Missouri, along with the majestic Waianae Mountain Range on the west.
You will be impressed with the front nine, because it's where you can enjoy breathtaking views of Pearl Harbor and the city below. It can also be viewed from the 17th hole, par 5, which is a treat before hitting your final target. Some say, they imagine the Japanese fighter jets flying over the terrain towards Pearl Harbor. On the other hand, the back nine is tiered against the sloping hillside, which makes you have a hard time using the right clubs for each sloped terrain. 
Although the course is forgiving, watch out because it is also temperamental. For a successful putting, you can perhaps find your bearings towards Pearl Harbor because the putts break in this direction. Minimizing guessing is also helpful. It's a good thing the staff are very helpful in any way. At your final hole, you need to aim the right side of the fairway on your drive because the slope and wind will bring back your ball to the left. Remember that this is not a long hole so making a straight tee shot gives you the best chance for a par or birdie. Most difficult? We say it is hole number 13 and it would be best to aim to the left side of the green.
PEARL COUNTRY CLUB DETAILS:
Architect:

Akira Sato

Director of Golf:

Kari Yoshida

Operation Started:

1967

Golf Professional:

Todd Rego

Course Type:

18-hole, par 72

Dress Code:

Proper golf attire

Spike Policy:

Soft spike only

Yardage:

6787/6232/5536

Yardage Markers:

Sprinkler heads

Slope:

136/131/124

Rating:

72.7/72.2/71.5

Bunkers:

Yes

Greens:

Tifeagle

Fairways:

Tifeagle

Golf Carts:

Yes

Pull Carts:

Not available

Water Holes:

Yes

Caddies:

No

Five-some Policy:

Allowed

Walking:

Not allowed

Ocean Holes:

No

GPS Tracking:

Not available

Lessons:

Available

Club House:

Available

Pro Shop:

Available

Restaurant:

Available

Bar:

Available

Conference Facilities:

Not available

Banquet Facilities:

Available

Lodging:

Not available

Showers:

Available

Lockers:

Available

Rider Fee:

Around $30

Practice Green:

Yes

Driving Range:

Yes

Club Rental:

Nike (Around $45)

Junior Rates:

Around $70 for under 17 years old
PEARL COUNTRY CLUB SCORECARD:
| | | | | | | | | | | |
| --- | --- | --- | --- | --- | --- | --- | --- | --- | --- | --- |
| HOLE | 1 | 2 | 3 | 4 | 5 | 6 | 7 | 8 | 9 | OUT |
| Championship | 559 | 410 | 212 | 421 | 497 | 180 | 335 | 340 | 414 | 3,368 |
| Regular | 507 | 328 | 184 | 411 | 472 | 154 | 310 | 327 | 347 |   |
| Forward | 487 | 300 | 118 | 381 | 448 | 117 | 288 | 287 | 345 | 2,771 |
| Men's Hcp | 3 | 15 | 13 | 1 | 7 | 17 | 9 | 5 | 11 |   |
| +/- |   |   |   |   |   |   |   |   |   |   |
| Men's Par | 5 | 4 | 3 | 4 | 5 | 3 | 4 | 4 | 4 | 36 |
| +/- |   |   |   |   |   |   |   |   |   |   |
| Ladies' HCP | 3 | 13 | 17 | 9 | 5 | 15 | 1 | 7 | 11 |   |
|   |   |   |   |   |   |   |   |   |   |   |
| HOLE | 10 | 11 | 12 | 13 | 14 | 15 | 16 | 17 | 18 | IN |
| Championship | 374 | 431 | 539 | 194 | 403 | 395 | 194 | 519 | 370 | 3,419 |
| Regular | 348 | 376 | 526 | 172 | 393 | 369 | 171 | 479 | 358 |   |
| Forward | 331 | 295 | 456 | 115 | 322 | 357 | 126 | 418 | 345 | 2,765 |
| Men's Hcp | 8 | 12 | 2 | 16 | 14 | 4 | 18 | 6 | 10 |   |
| +/- |   |   |   |   |   |   |   |   |   |   |
| Men's Par | 4 | 4 | 5 | 3 | 4 | 4 | 3 | 5 | 4 | 36 |
| +/- |   |   |   |   |   |   |   |   |   |   |
| Ladies' Hcp | 8 | 10 | 2 | 16 | 12 | 6 | 18 | 4 | 14 |   |