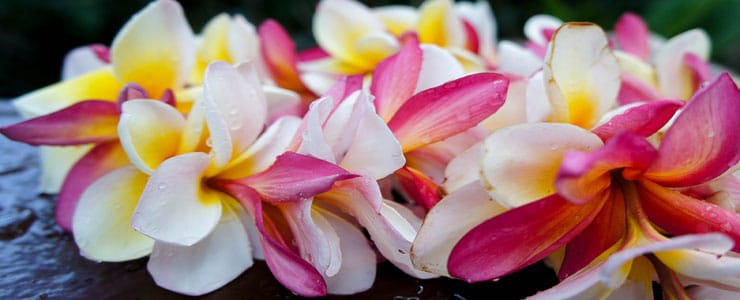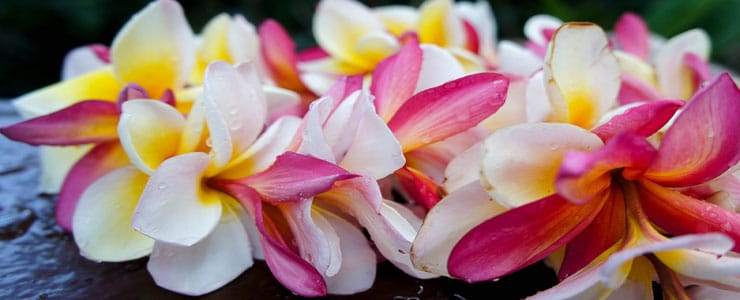 What better way to kickstart your trip to the lovely islands of Hawaii than by receiving a heartening flower lei greeting immediately at the airport! A Hawaiian tradition that dates way, way back to the time of the ancient Polynesians, the flower lei greeting is the perfect ceremony that will set the tone for your delightful Hawaiian vacation. It's a beautiful ritual we all just see in the movies, and now, here is your chance to experience such a warm Hawaiian welcome promptly upon arrival!
Dating back to the late 1800's, the ancient Polynesians greeted their visitors arriving in steamships with lovely, fragrant lei, the Hawaiian word for garland or wreath. Leis are usually made from Pikake blossoms, Plumeria blossoms, or Orchid blossoms, all of which look so gorgeous when hung as ornamental necklaces on delighted visitors. Apart from being used to warmly welcome island visitors, the leis were also made as gifts to give to each other, and even to their gods, as a sign of love, affection, and reverence. These were also presented during birthdays, graduations, weddings, religious ceremonies, and other important celebrations. Truly, the lei has become ingrained in the Hawaiian culture that up until now, these beautiful floral garlands are instantly associated with the lovely people of Hawaii and their equally lovely island traditions. Thus, getting a lei greeting at the airport is not only a captivating way to jumpstart your trip, but it also is a great way to commemorate the ancient Hawaiian tradition and preserve such a beautiful island custom.
Whether you are landing on Oahu, Maui, Kauai, or Hawaii Island, the classic flower lei greeting is available for booking for you and your loved ones. An authentic experience of Hawaiian hospitality, this short but sweet ceremony is something you surely would not want to pass up on upon arriving on the Island. When you book this activity, all your flight details and other necessary information will be coordinated with your assigned lei greeter, who will then be at the airport waiting for your safe arrival. Afterwards, you will then be welcomed by fresh, fragrant, and absolutely charming flower garlands. Make sure your cameras are ready to capture this beautiful moment! Depending on the package you get to book, you will be able to choose among several lei options, including standard leis, leis for men, and even candy leis children will absolutely adore! Of course, for the flower leis, the type of flower strung to create the leis will be subject to the availability and the season, depending on what time of the year you are to visit. Nonetheless, with the wide variety of bright and gorgeous flowers that grow on the Island, you will surely be adorned by truly beautiful pieces, whatever time of the year that is!
 This activity is not only perfect for visiting families, but also great for honeymooners! This is also a great gift idea, so even if you are not the person travelling, you can make arrangements to gift your travelling friends and loved ones with this memorable Hawaiian welcoming ceremony. 
Oahu Lei Greeting
 Just as you are about to enter the baggage claim area at the Honolulu International Airport, your warm lei greeter will already be there to hang on your necks the most beautiful Hawaiian flower leis. Subject to the season and availability, choose from a wide array of flower choices like Dendrobium Orchids, Plumerias, Carnations, and Tuberose, just to name a few. You can choose to get the standard leis, but if you're feeling a little extra, you can get fuller and more lavish leis by ordering the superior and deluxe ones! You can also choose to have the leis shortened, perfect for those travelling with kids. 
Maui Lei Greeting
 If you are landing at the Kahului Airport, your assigned lei greeter will just be by the escalators, waiting to give you the most heartening Hawaiian welcome. You have the option to be given single-strand leis (standard) or the fuller ones (superior and deluxe), and you may also avail of fun and innovative leis such as the candy lei and good luck lei! With this Maui package, you have not even left Kahului Airport yet, but you will already have felt the exceptional island life!
Kauai Lei Greeting
 If you are visiting Hawaii through the island of Kauai, your lei greeter will be at the Lihue Airport anticipating your safe arrival, in order to give you a Hawaiian welcome you only saw on television and in the movies. This is the best way to kickstart your Kauai adventure, for sure! Whether you order the standard single-strand lei, the more lavish superior and deluxe leis, or the innovative ones such as the candy lei and cigar lei, the Kauai Lei Greeting is a must when travelling to this part of Hawaii, especially if visiting for the first time!
Big Island Lei Greeting
At the Kona Airport, the warmest lei greeter will await your arrival and will give you a grand Hawaiian welcome just before you retrieve your luggage at the baggage claim area. The Big Island is home to many species of vibrant and lavish flowers, so you better grab this opportunity by booking the Big Island Lei Greeting! You can opt for the standard single-strand lei or the fuller superior or deluxe leis, and you can also choose to mix and match different types of flowers, depending on their availability. There's no better way to start your Big Island adventure than by booking this activity!
Begin your Hawaiian getaway in the best and most authentic way possible with the Hawaiian lei greeting! Feel the aloha spirit, the island life, and the Hawaiian vibe by booking a lei greeting arrangement now! For your convenience, most of these lei greetings make available the option to book a private transportation to your hotel as an add-on, so go and make your lives easier by availing of this additional package, too!