Second Manta Ray Night Snorkeling Tour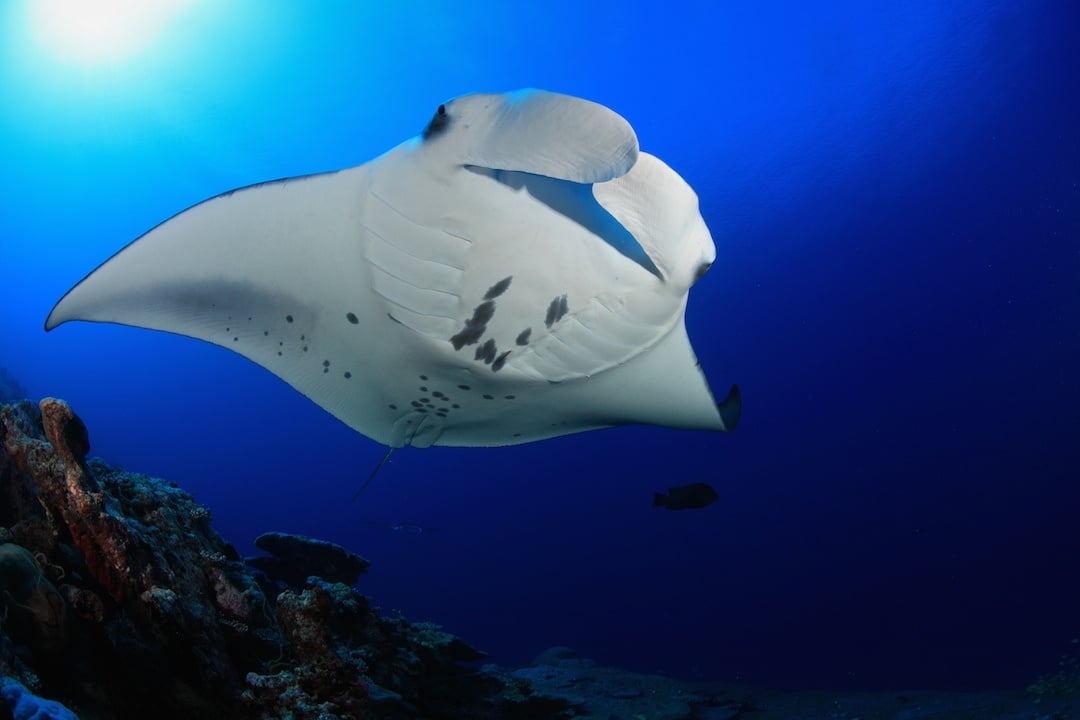 $130 Per Person | 1.5 Hours | This Tour Opens Up After The First Manta Ray Night Tour Is Full
$130 Adults
$115 Children Ages 6-12 yrs | Select an adult rate first before selecting child rate
$65 Ride Along Ages 4 and up
About
After boarding our spacious 50 foot catamaran, you will quickly arrive at the World Famous Manta Ray Village for an evening snorkel adventure with the magestic manta rays. The Travel Channel says, "It's one of the top ten things to do in your lifetime."
Prices
Adult – $130 Per person
Children (4-12) – $115 per person
Ride Alongs (4yrs and up) – $65 per person
Itinerary
After boarding the beautiful Hoku Nui, you will quickly arrive at the World Famous Manta Ray Village. Be sure to bring your underwater camera so you may capture these beautiful rays as they feed on the illuminated microscopic plankton below you. The Travel Channel says," It's one of the top ten things to do in your lifetime", and Sea Paradise has been offering its guests the opportunity to get up close and personal with these majestic manta rays since 1985, making Sea Paradise an original tour expert in Hawaii.
Check-in
Be sure to sign the e-waivers for each guest prior to check in and meet directly at Keauhou Bay located at the end of Kaleiopapa Street, Kailua Kona, HI 96740. Please do not check in at any buildings. Public restrooms are located on the east side of Kaleiopapa Street near the end parking lot. Restrooms are also onboard our vessel.
(Please allow additional drive time in anticipation of possible traffic delays)
You will be met by crew at the end of the pier 15 minutes prior to departure and will fitted for wetsuits before boarding Hoku Nui which is a 50ft Sailing Catamaran with a blue sail bag. Be sure to wear swimwear for the wetsuit fitting.
Drop Off
Return to Keauhou Bay approximately 1.5 hrs from departure time.
Things To Bring
We have limited space to stow gear. Sea Paradise operates a "shoe-less boat" so wear sandals or shoes that are easy to remove. We suggest you bring: towel, cover-up, light jacket or sweater for after you're out of the water, and you may also bring an underwater camera just make sure the flash is turned off. Gratuity is not included in the price of the tour but tips are greatly appreciated.
*Snorkel equipment is provided on all of our tours. Personal gear is welcome aboard, please note, we NO longer allow the use of full-face snorkeling masks on our excursions due to safety concerns.
Upload your favorite photos to us on social media. Instagram hashtag #seaparadisehawaii and Facebook: Sea Paradise Inc.
Inclusions
Enjoy hot cocoa, chocolates, water, soft drinks, and local juices.
In The Water
Once you reach the Manta Ray Village, our staff will provide a knowledgeable and professional briefing on the manta rays.
For our snorkeling guests, our staff will prepare and guide you onto our state of the art "manta floatation device". Here guests of all ages and skill levels can hold onto our float that rests above the majestic manta rays as they feed on the microscopic plankton that rises from the bottom of the ocean at night and is attracted to the light source attached to our float. Snorkel time is approximately 45 minutes.
For our ride along guests, you will watch the majestic manta rays as they feed on the microscopic plankton, from the comfort of our 50 foot catamaran in the World Famous Manta Ray Village.