One of the ways by which we can classify travellers is by how they prefer to spend their vacation mornings.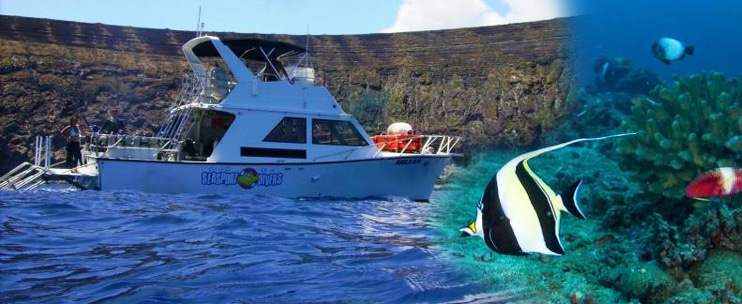 There are some who prefer the slow and relaxed vibe, with a hearty breakfast and a cup of coffee by the beach, for instance. There are some, on the other hand, who would rather kick-start their day with some action and head on straight to the fun! If you are the latter, then this tour is perfect for you. Come and join Seasport Divers' Morning Two Tank Dive for an exciting dive, sightseeing, and marine life encounter, perfect to jump-start your morning and to complete the perfect Kauai getaway!
Perfect for the early risers and adventure seekers, Seasport Divers' Morning Two Tank Dive takes its guests to prime diving locations along Kauai's south shore. Depending on the weather and water conditions on the day of your trip, you will get the chance to explore Brennecke's Ledge, Sheraton Caverns, or Ice Box, just to name a few. If there is a certain dive site that you have in mind and would want to visit and explore, don't hesitate to give the crew a heads-up! Seasport Divers also considers its guests' preference in deciding which location to dive at, so if the weather and seas cooperate, then you're in for a special treat!
Seasport Divers' Morning Two Tank Dive is exclusive to certified divers who have logged at least 15 dives, and if you validly qualify, there is no reason not to go on this underwater adventure. Regardless where particularly in Kauai South Shore you are taken on your scheduled dive, you are guaranteed an undersea spectacle you will forever fondly look back on! Kauai's south shore is a place of abundant sea life, well-preserved coral and rock formations, and safe and clear waters, so, surely, Seasport Divers' Morning Two Tank Dive is bang for the buck.
Experience Kauai's magnificent underwater paradise by booking Seasport Divers' Morning Two Tank Dive! Trust us–this is going to be a morning of adventures, encounters, and uttermost fun!
Tour Highlights:
A scuba diving adventure exclusive for certified divers

A two-tank dive with depths from 60-100 feet range

A morning of underwater exploration in Kauai's south shore, which may include Brennecke's Ledge, Fast Lanes, General Store, Ice Box, or Sheraton Caverns
Tour Inclusions:
This tour is inclusive of the following:
Two tanks, wetsuit, masks and fins, computer

A guided tour facilitated by a PADI, SSI, or NAUI instructor

A comprehensive pre-dive briefing, which also includes information about Kauai's marine life

A boat ride on the

Anela Kai,

a custom PRO48 US Coast Guard-certified dive boat equipped with hot showers, cabin, and observation deck
* Nitrox, BCD, and regulator are also available on-board but for a minimal fee
Special Instructions:
Check-in is at Seasport Divers, located at 2827 Poipu Road, Koloa, Hi 96756.

Check in at 7:30 AM at the latest.

This tour is exclusive for certified divers who have logged at least 15 dives prior to the scheduled dive. Each participant's certification card must be presented upon check-in.

A medical questionnaire must be filled out before the tour. If the responses show that the participant is not entirely fit to join, a doctor's clearance will be required to be able to participate. 

This tour lasts for around 4 hours. The boat is expected to return at Seasport Divers Dive Shop at around 12:00 PM.

This tour operates daily.

The maximum capacity is 18 divers per booked tour.