You've seen pictures, now experience the best West Maui snorkel spots first hand on our West Maui Half Day Snorkel Adventure. What better way to start your day in paradise than with a hot breakfast from Chef Joey onboard your boat? Keep your eyes peeled for Hawaiian spinner and bottlenose dolphins, or you may see humpback whales during the winter months. To truly experience the beauty of ocean life, take an underwater camera so that you can show all your friends back home what it was like to wear an octopus as a hat!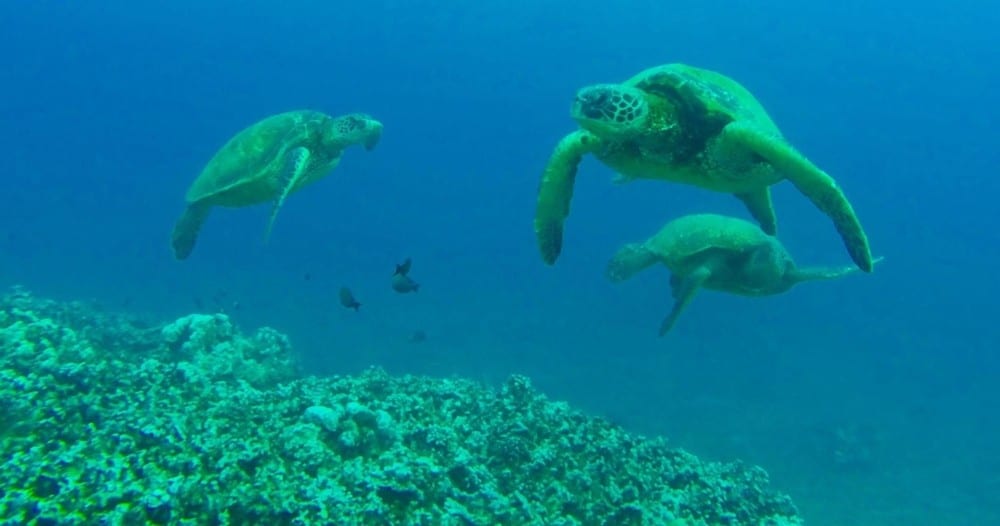 A West Maui Half Day Snorkel Adventure. These adventures are perfect for those who want to experience the magic of snorkeling without the commitment of a full-day adventure but still get up-close and personal with many colorful fish that inhabit our Maui waters. Dive into an ocean vacation at moderate speed! The fun begins as you depart from your favorite spot on Kaanapali Beach, behind Whaler's Village, where you can watch whales during winter months (December through March) or talk story with dolphins year-round. Along the way, Chef Joey will make sure everyone enjoys a hot breakfast, so their bellies are ready to meet all kinds of sea life throughout our morning trek across waves–all while staying in motion! 
Escape the pressures of everyday life and kick back on a West Maui Half Day Snorkel Adventure. Spend your morning snorkeling alongside some of the most beautiful reefs in all of Hawaii, experiencing Hawaiian spinner dolphins and feeding tropical fish as they swim by! A hot breakfast will keep you fueled on beginning or end your day with a hearty dose of island culture—I hope you can take some inspiration to bring home with you.
Be stung by sky-blue water and bright, white sand. While you lounge onboard our brand new 72′ Pacific Adventure luxury catamaran, we'll take you to all the best snorkeling spots that Maui has to offer, along with points of interest, including Lanai. More than just a tour around the island, this is a once-in-a-lifetime experience built for adventurers that are sure to live up to expectations. It's time to get your Hawaiian on! 
You'll enjoy a fun-filled day as you start the adventure with a short boat ride to historic Ka'anapali Beach. A guided snorkel hike through Maui's spectacular West Maui Waters will allow you to experience tropical fish, noble green sea turtles, and vibrant reefs. Plus, we throw in an all-you-can-drink boxed lunch (and that includes beer!) for our guests who want something extra special. This is one of the unique adventures on earth: there are no other shops or restaurants near enough for visitors to find anything they may need quickly – so don't forget to pack some water and snacks in your bag before boarding our vessel, which leaves. Experience the best of West Maui Half Day Snorkel Adventure. You will be taken to two different locations, including a sunken shipwreck, before going back for a relaxing cruise and delicious lunch!