Easy to do, and a lifetime of memories.
Find yourself underwater on Maui's most pristine reefs with Lana'i Coast Snorkel Lahaina Harbor!
Discover snorkeling right around the coast from one of our accommodations located in downtown Lahaina – all you have to do is set sail for adventure with just your mask and fins. This fantastic vessel will take you to some of the best spots within clear view as we provide an easy way for novice snorkelers to be able to get out there too. Bring your family for a great day of paddling around Lahaina's historic harbor. We'll show you the sights, point out fascinating sea life and share some age-old Hawaiian customs as we go. Make sure to bring your camera so you can snap a selfie with our beautiful island in the background.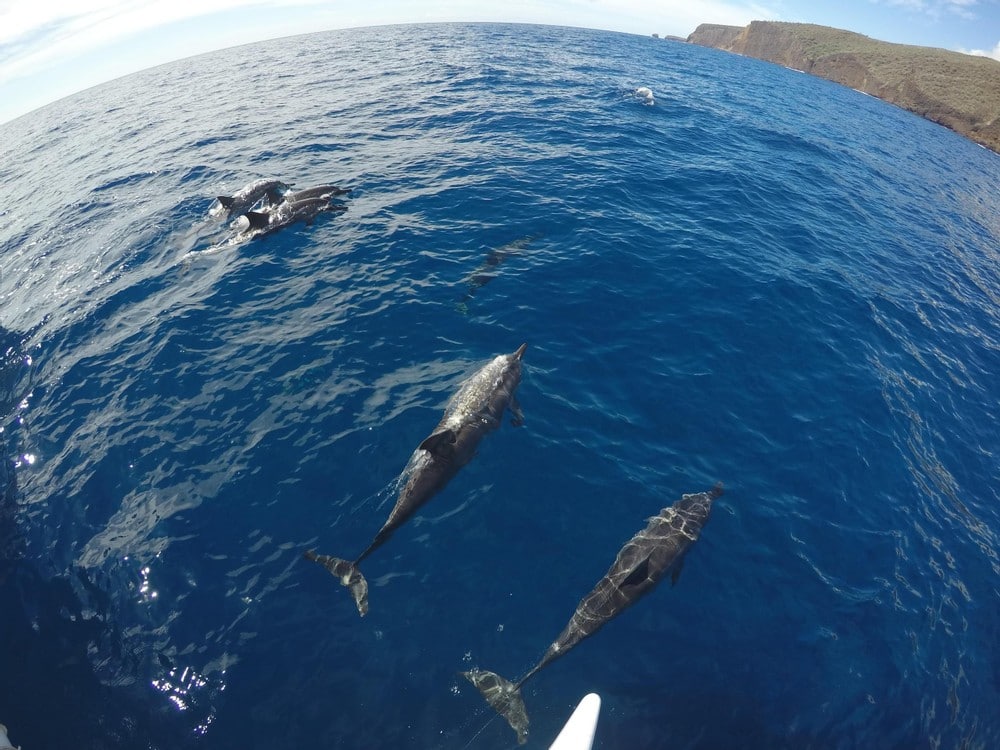 Spend your day out in the water!
You'll get a chance to explore some of Lana'i's most pristine reefs, all while learning about the marine life that lives below. $140 gets an adult all-day pass and saves money on future trips with a 5% discount off any other activity for reservations booked within three months. Explore one of Lana'i's best features without breaking your budget. Join us aboard the Alihilani for a slice of island paradise. Relax and escape the crowds at your own pace with this beautiful adventure on Lana'i Coast Snorkel Lahaina Harbor! Indulge in a continental breakfast of tropical fruit, freshly baked banana bread, and locally roasted coffee from Maui's Best Banana Bread & Coffee Co.? We have no set destination, so our experienced crew can select the best locations based on conditions, and we'll always visit multiple spots that are ready for snorkeling.
Leave the hustle and bustle behind at Lana'i Coast Snorkel Lahaina Harbor.
Join us on our newest vessel, the 'Alihilani, for an adventure along the incredible coast of Lana'i. Running only on Saturdays, this trip explores pristine reefs along Lanai's south shoreline with unlimited fresh fruit and coffee while you explore some of the best snorkeling spots in Hawaii. Whether you're looking to find that perfect spot for laying out a beach umbrella and spending your whole day lounging by a palm tree or all about exploring and seeing as much as possible, then we won't disappoint.
Leave the stress of your daily life behind and escape to a new world: explore the underwater treasures of Lana'i Island during this snorkeling trip onboard our latest vessel, 'Alihilani. This scenic paddle tour leaves each Saturday at 8 am from Lahaina Harbor for an adventure by sea as we search for secluded reefs and secret passages along Lana'i's south shores. The turbulent waters created by Haleakalā provide incredible opportunities to spot whale spouts offshore while we are on the lookout for turtles, dolphins, manta rays, sharks, reef fish – anything that lives in these protected waters. Bring a camera along with you to capture all of the beautiful sights.
Dare you to explore the beautiful waters of Hawaii with a once-in-a-lifetime experience!
Don't dream about this snorkel cruise for your next vacation. Snatch it up now and get ready to have so much fun. Get on board today and experience Lahaina Harbor in its natural state. The Lana'i Coast Snorkel Lahaina Harbor is your go-to if you want a tour that suits both the experienced diver and those new to snorkeling. Take in the views as we cruise along this beautiful coastline where many dolphins often put on a show for spectators. Venture away from the bay and travel into depths of blue water with one of our crew, who will teach you safety techniques before leading you out into open waters to explore some of Hawaii's most fascinating marine life. You'll glide by vibrant coral gardens, gorgeous lagoons, and lively underwater parks teeming with fish large and small. This adventure is even more thrilling when there's a possibility that Hawaiian green sea turtles or humpback whales might be greeting us.