The Maui, Lanai Half Day Snorkel Adventure is the perfect way to spend your day on Maui. You'll be sailing out from Kaanapali Beach aboard Sea Maui for a two-hour sail to Lanai, where you'll find some of the most fantastic snorkeling points in Hawaii. Highlights include Blue Lagoon and Molokini Shoal (secret spots only our captains know). The boat can hold up to 18 participants, so we often run full sailings when we depart in Kalepolepo Bay for Lahaina Harbor every Tuesday and Friday at 8 am sharp! Packages available for lunch, drinks, and snacks are also available on board, with no need for booking ahead of time. The Lanai Half Day Snorkel Adventure is a perfect way to escape and explore hidden treasures with active marine life and gorgeous views. Enjoy breakfast, coffee, free gear from our Sponsors (including an endless supply of zip-off pants!), and more with this one-of-a-kind tour.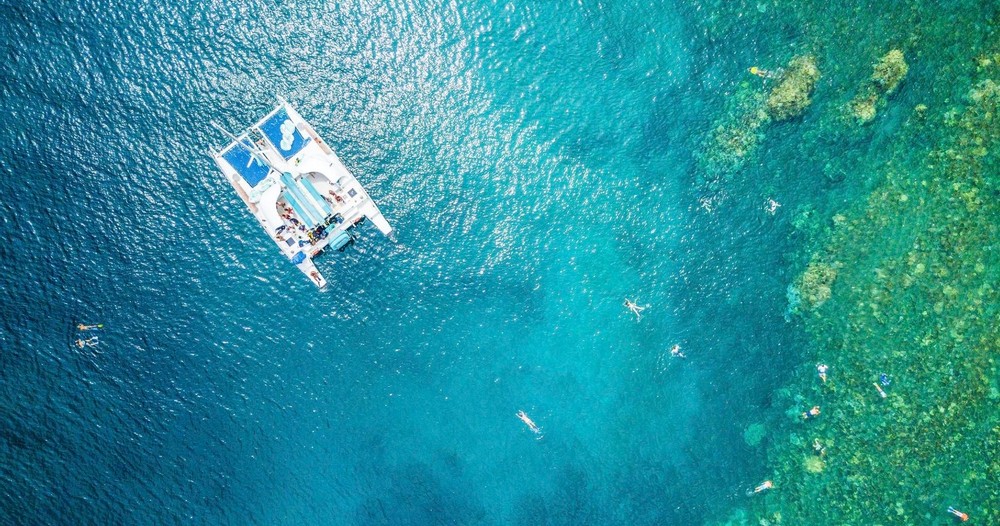 We only offer half-day tours because we want you to enjoy your whole day in Lanai! These trips are also an excellent introduction for first-time snorkelers who may not feel comfortable going out full days or meet shorter time constraints when it all comes down to balancing work and play. While sunrises are the big event on Maui, Lanai has moments of quiet beauty and serenity. You will feel it as you set off from Kaanapali to a perfect snorkel site with turtles and colorful fish. After your half-day adventure around the shoreline of Lanai, enjoy some coconut cocktail shots back at Whalers Village before heading home. 
Lanai is the perfect getaway for those looking to escape the trials and tribulations of their hectic lives. It offers a chance to slow down, relax and soak up some sun. In addition, Lanai has some of the world's most fantastic snorkeling spots on its shores! Take this half-day tour where you will cruise across the ocean to Lanai and visit an excellent snorkel site. With endless tropical fish swimming around your head or lurking in small nooks beneath corals, try anything from beginner to specialty dives during this 2-3 hour adventure! Our crew awaits you with some hot coffee warmed up by Chef Joey just before departure at 7 am every Monday – Friday morning.
Tune the morning away with your cup of joe and some snorkeling courtesy of Lanai Half Day Adventure! Enjoy time on a secluded beach, watching for Maui to fade below you as we approach our secret treasures. You'll experience tropical fish, turtles, and vibrant reefs while exploring just enough to leave you hungry for more. Once back on board, feast on a buffet lunch prepared by Chef Joey before returning to Ka'anapali spectacular white sand beaches. This is your chance to take in Maui like you never have before, with a day of snorkeling while taking in views that will make you feel as if you're going on vacation every morning. You'll be offered premium food and drinks, making this adventure one of a kind.
You'll experience the crystal clear waters and biodiversity of Lanai's reefs on this snorkel adventure, with the option to spend some time exploring one of Hawaii's most historic lagoons. Throughout your trip, we'll be using HD cameras to capture your epic adventure. These high-definition photos and videos will be shared on board for everyone's viewing pleasure as they're projected on our in-cabin TVs. Best yet, you can even purchase these digital memories from us afterward so you can enjoy them anytime, anywhere!