Are you up for an exciting kayak tour in the longest and largest river on the island of Kauai? Go back to ancient times while listening to Hawaiian history and Wailua Valley myths narrated by knowledgeable and friendly tourist guides, and walk the path that early Hawaiians took in the past.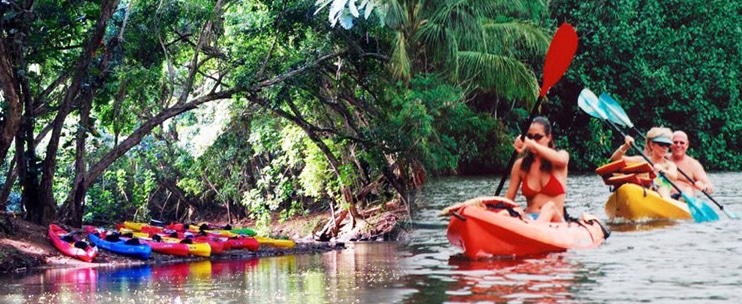 Join Rainbow Kayak Tours in a one-of-a-kind paddle tour and waterfall hike for five hours that starts at Wailua River! Whether you are a beginner or a pro, you will surely enjoy this unique adventure. Did you know that Wailua River was once a home to the ancient Hawaiians who paddled 1,500 miles from the Marquesas Islands to the island of Kauai nearly 1,500 years ago? These days, it is the largest navigable river in Hawaii. 
Before checking-in, make sure to bring some essentials on this trip. Because you will get wet, we recommend wearing a swimsuit under your clothes. Though your hike is just about one mile,  it is strongly suggested to wear hiking boots, running shoes, or something light because trails can be muddy. Another must-have is an extra bottle of water. Remember: you will be paddling for about 4 miles. Some guests bring extra clothes, which they leave in the van, as well as towels, rain gear, sunglasses, sunscreen, and hats. Most importantly, bring your cameras and your energy!
You will kick off your adventure at the historic Wailua River, where you start paddling towards Kamokila Village, a replica of an old Hawaiian village and was once a sacred fishing and farming area. On your way, you will pass by many Heiaus (sacred temples) along the cliff lines of the Wailua. At the same time, your guide will tell you interesting stories about these spots. After paddling for a while, you will reach North Fork where you will leisurely kayak through the Garden Isle's majestic jungle river. 
Brace yourself for your next destination because you can't help but gasp with its beauty – the trailhead of Secret Falls or Uluwehi Falls. Nestled in the heart of Wailua on west Kauai, this 100-foot waterfall feeds directly into the Wailua River from Mount Waialeale, known as the wettest area on the island. Its water smoothly flows into a small pool of water, before flowing into a zigzag stream that connects to Wailua River. From here, enjoy a gentle hike through Kauai rainforest to another captivating 120-foot waterfall flowing into a natural pool surrounded by vegetation and rocks. Thankfully, it is rare that extreme weather stops this amazing journey because tours go out, rain or shine, unless the weather becomes extremely dangerous.
You will eat your appetizing lunch here, which is included in your package. You may choose from turkey, ham, peanut butter jelly sandwiches, gluten-free bread or lettuce wrap, and some other vegetarian choices. 
Tour Inclusions
Kayak and paddles

All equipment and accessories necessary

Dry storage & dry bags on kayak for cameras and personal things

Backpack use

Personal flotation device

Delicious picnic lunch: turkey, ham, vegetarian, peanut butter jelly sandwiches, gluten free bread, or lettuce wrap.

Fresh pineapple, chips, cookies, and bottled water
Special Instructions
7:00 am Tour Time:

Check-in at 6:50 am. Tour returns at around 12:00 pm.
12:30 pm Tour Time: Check-in at 12:20 pm. Tour returns at around 5:30 pm.
Check-in location: 440 Aleka Pl, Kapaa, HI 96746 
FROM THE NORTH: South on Highway 56 through Kapaa 1/2 mile past McDonalds in Foodland Center to Coconut Marketplace. Turn left just before the Marketplace at Aleka Loop. Go behind the Marketplace, following Aleka Loop to Rainbow Kayak at Islander Shops next to ResortQuest Islander on the Beach.
 FROM THE SOUTH: Take Highway 50 past Lihue to Hwy 56 North. Cross Wailua River (double bridge] one mile to Coconut Marketplace and turn right past the Marketplace on Aleka Loop. Turn behind the Marketplace following Aleka Loop to Rainbow Kayak at Islander Shops next to Islander on the Beach.        
Restrictions:

Not allowed for women who will be 20 weeks pregnant or more on the date of the tour.

Available for ages 5 to 75.

Participants should be in good physical condition, comfortable in the water, and enjoy hiking.

Trail conditions can be muddy and slippery at times.

Participants must be able to walk 1.5 miles and kayak for 60-90 minutes.

 
Operations:

Monday to Saturday

Duration:

5 hours

Capacity:

Maximum of 12 participants per tour