Do you prefer enjoyable golf rather than a competition-like game?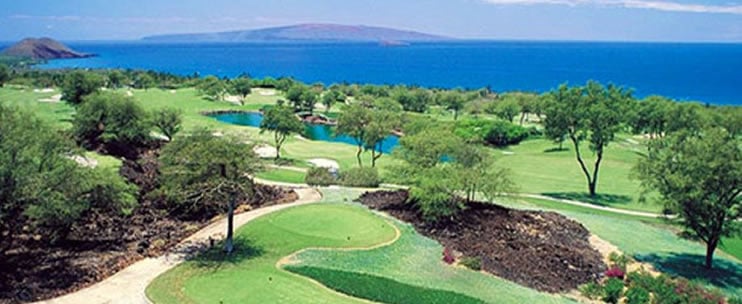 Then the Wailea Emerald Course is what you are looking for. This 18-hole, par 72 course is one of Wailea Golf Club's three golf courses in the beautiful island of Maui. It offers fun golfing in a picturesque setting with beautiful and sweet-scented tropical plants around, along with the panoramic views of the ocean and island, which could be viewed everywhere in the course. And if you book during the winter season, you can have a chance to watch humpback whales head breaching, playing and swimming in the ocean.
Aside from its reputation as one of the best golf courses for women, it is also known as an entertaining course for all types of players – beginners, intermediate or professionals. But don't get too confident, because it also has hidden tricks that you can see as more enjoyable than as difficult challenges. 
Book your tee time now and experience what we are talking about!
What to Expect
Whenever you are in Hawaii and doing an outdoor activity like golf, always remember to apply sunscreen or bring a wide hat for your skin's protection. If it's your first time in Hawaii, know that the brightest sunlight happens between 10 AM to 4 PM, and its UVR is damaging at those times compared to the rest of the days. On the other hand, it could rain in the afternoon, especially during the rainy season (November to April), so we suggest bringing a rain jacket, and of course your cameras! When you are ready, head to 100 Wailea Golf Club Drive, Wailea, Maui.
When you get there, all the friendly crew attend to your needs, from check-in to check-out. For club rentals and golfing needs, they have two fully stocked Pro Shops in their top-notch golf club. In fact, both received local and national outstanding awards. Each of them boasts two distinct logos and sells golf and resort apparel, pretty handbags, accessories, famous headwear, and high-quality golf equipment and shoes. 
When it comes to the golf course itself, you can see it is well-maintained once you get there. Its carpet-like fairways are wide and forgiving. It has four to six tee boxes on every hole, which allow you to adjust the difficulty according to your skill level. One of Emerald's unique characters is its double green shared by hole numbers 10 and 17. It is bordered by a 2.7-million-gallon salty water lake that is undeniably one of the most stunning spots on the course.
Your most unforgettable hole is the 415-yard number 6, which is a par 4 downhill dogleg. Well, there's a lot of landing area for your tee shot, but you will be left with a tricky pitch shot if your strategy is not on the mark. This is due to the green that falls off sharply in all directions into grass bunkers. Meanwhile, number 11 is the longest among all the holes. It measures 535 yards from the white tees and is usually prone to wind, making it more difficult to reach the green.
Dining and Relaxing
There are three restaurants you can choose from, including their own bars. One is the Gannon's with the best Pacific Ocean and sunset views. This award-winning diner is home to contemporary Hawaiian Regional cuisine, which is a result of incorporating flavors from the rich cultural influences of the island plus fresh, locally sourced ingredients. Their lively Red Bar is also a must-try for its scenic views and one-of-a-kind bistro menu. Another one is the Manoli's Pizza company that lets you have a bird's eye view of the Blue Golf Course. It is a casual, open-air restaurant that serves fresh and delicious Mediterranean dishes such as gourmet pizza and pasta. To check out their wine menu, try their 30-seat bar, which has an adjacent lounge area and five flat-screen televisions to watch sports.
Mulligan's on the Blue Restaurant is an Irish restaurant that serves mouthwatering foods and island-style drinks, which is your third option. It has open-air inside and outside seating that feature sweeping views of the Pacific Ocean. Every night, there is a live band playing, in addition to their dinner show featuring Uncle William K. So, if you want to relax after your golf play, you can try these places for a complete Maui vacation.
WAILEA EMERALD COURSE DETAILS:
Golf Course Information
Architect: Robert Trent Jones, Jr.   
Director of Golf: Marcus Judge
Started Operating: 1994   
Golf Professional: Michael Taylor
Course Type: 18 holes, par 72   
Yardage: 6825/6407/6361/5873/5785
Yardage Markers: Sprinkler heads   
Slopes: 135/130/120M/126L/120M/114L
Ratings: 72.8/70.8/68.5M/72.8L/64.7M/69.5L   
Golf Carts:  Yes   
Pull Carts: No
Caddies: No
Bunkers: Yes
Water Holes: Yes
Greens: Tifton   
Fairways: Tifdwarf Grasses
GPS Tracking: Yes   
Lessons: Yes
Practice Green: Yes   
Driving Range: Yes
Ocean Holes: No
Policies
Five-some Policy: Not allowed   
Walking: Not allowed
Dress Code: Proper golf attire   
Spike Policy: Soft spike only
Facilities
Club House: Yes   
Pro Shop: Yes
Restaurant: Yes   
Bar: Yes
Conference Facilities: No   
Banquet Facilities: No
Lodging: Yes   
Showers: Yes
Lockers: Yes
Rates   
Rider Fee: Around $35
Club Rental: TaylorMade (Around $60)   
Junior Rates: Around $209 in the morning and around $95 after 10:00 AM   
EMERALD GOLF COURSE SCORECARD: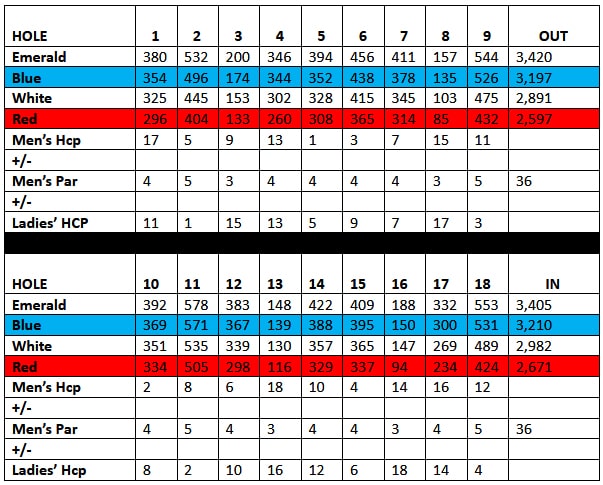 ALL FEES INCLUDED
Operates daily
If booking Friday night, please call for availability.
Reception Plans require 24 hours notice to book.
Please see our Holiday Cruises for Valentines, Easter, Father's Day, July 4th, & New Year's Eve.
Special Instruction
Where and When: 100 Wailea Golf Club Drive, Wailea, HI 96753
View Map
Special Notes: Golf club rentals are NOT included in your package. You will want to make arrangements if you need golf club rentals.
Operation Days: Open daily
Vendor: Hawaii Tee Times
Island: Maui
Equipment: This course aerated their greens on December 9th, 2019.