The Waikiki Starlight Luau takes place right in the middle of Waikiki, at the Hilton Hawaiian Village's Rooftop Garden.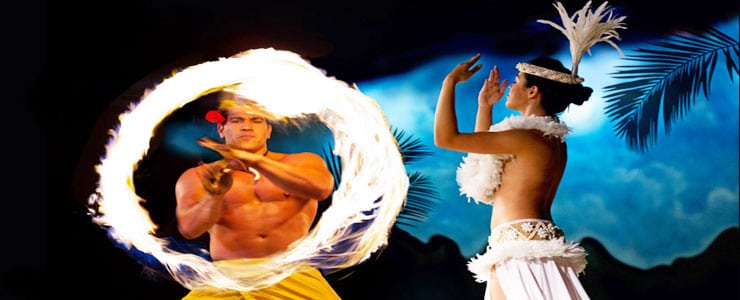 Your Hawaiian luau experience starts upon arrival. You'll be warmly greeted with a traditional lei and welcome Mai Tai punch and live music. You can then participate in a number of activities, including Polynesian Tatau (a tattoo station), hula lessons, a pineapple toss, coconut carving, the conch shell blowing challenge and more!
Then indulge in a delicious all-you-can-eat buffet feast including authentic Hawaiian cuisine, as well as continental American favorites. The big luau feast is followed by an exciting Polynesian show, with music and dances from Hawaii and greater Polynesia. This is a top Waikiki luau – one that you'll always remember.
Luau Highlights
Located in the middle of Waikiki
Traditional lei and welcome Mai Tai punch upon arrival
Take part in Hawaiian activities
Delicious all-you-can-eat luau buffet
Exciting Polynesian show
Waikiki Starlight Luau Buffet Menu
Cold Selection
Island Salad Greens – Carrots, Cucumber, Papaya Seed Dressing, Orange Ginger Vinaigrette (GF)
Caesar Kale Salad – Parmesan Crisp, Portuguese Sausage Crumble, Caesar Dressing
Green Papaya Salad – Fresh Herbs, Fish Sauce, Peanuts, Lime (GF)
Potato Salad (GF)
Soba Noodle Salad – Ham, Bean Sprouts, Cucumber, Fish Cake, Tamago (Egg), Miso Dressing
Maki Sushi – Pickled Ginger, Wasabi
Poi
Sliced Sweet Potato – Toasted Coconut (GF)
Lomi Lomi Salmon – Maui Onions, Scallions (GF)
Seafood Poke Salad – Scallops & Shrimp, Peppers & Sweet Red Onions, Olive Oil, Champagne Vinegar (GF)
Taro Rolls with Butter
Hot Selection
Hawaiian Fried Rice – Bean Sprouts, Napa Cabbage & Scallions (GF)
Stir-Fried Vegetables – Snow Peas & Toasted Sesame Seeds (GF)
Seared Island Catch – Coconut Lime Sauce, Lomi Lomi Tomatoes & Onions (GF)
Huli Huli Chicken – Soy Jus, Toasted Sesame, Scallions & Peppers (GF)
Kiawe Smoked Brisket – Guava BBQ Sauce
Kalua Pork – Braised Cabbage, Scallions (GF)
Carving Station: Whole Smoked Suckling Pig – Hawaiian Red Clay Salt (GF)
Desserts
Chocolate Macadamia Nut Bars
Coconut Haupia Squares
Banana / Coconut Bread Pudding
Fresh Fruit Bowl
Coffee / Decaf Coffee & Hot Tea
Kids' Buffet (12 years and under)
Iceberg Lettuce Wedges – Ranch & 1000 Isle Dressings
Assorted Fresh Diced Fruits
Tater Tots
Corn Cobbetts (GF)
Huli Huli Teriyaki Chicken Bites (GF)
Pineapple BBQ Meatballs – Sweet & Sour Sauce
(GF) Gluten-Free
Two complimentary beverages are included. Additional drinks will be available for purchase. Menu is subject to change.
Seating Options
General Seating
 Includes standard table seating and a Mai Tai Punch
Golden Circle Premier Seating
Includes a fresh orchid lei greeting, premier seating section closer to the stage,  a Mai Tai Punch & 1 beverage.
Diamond Premier Seating
 Includes a fresh orchid lei greeting, premier seating section that is Center within the 1st or 2nd row, 1st in line to enjoy the buffet, a Mai Tai Punch & 2 beverages
Luau Schedule
5:00 pm – Doors open
5:30 pm – Welcome activities with lei greeting, photo opportunity, cocktail reception, live music & interactive activities and games. Types of games include pineapple tosses, tattoo station, Hawaiian implement station & Hawaiian crafter/carver table.
5:45 pm – Group hula lesson and conch shell blowing contest
6:00 pm – Dinner
6:45 pm – Fashion show
7:00 pm – Waikiki Starlight Show – Voyage Across the South Seas
Holiday Luaus – Holiday luaus are held on Thanksgiving Day, Christmas Eve, Christmas Day & New Year's Eve.  Please select Holiday pricing to book those days.
All Holiday Luaus will not have tiered seating. Seating will be designated by the Luau Manager.
All Holiday Luau guests will receive a Flower Lei & have upgraded buffet menus as exampled below. 
The Holiday menu example
Cold Section: Local Island Greens, Green Papaya Salad, Local Tomato Salad, Seafood Salad, Hawaiian Poi, Lomi Lomi Salmon, Soba Noodle Salad, Chilled Molokai Sweet Potato, Taro Rolls, Maki Sushi & Hawaiian Pineapple & Fruit Bowl
Hot Station: Kalua Pork, Seared Island Catch, Pineapple & Vegetable Fried Rice, Roasted Turkey with Stuffing & Cranberry Relish, Guava & Honey Baked Ham with Pineapple Raisin Sauce, Carved Kiawe Smoked Prime Rib with Au Jus
Dessert Station: Pumpkin Cheesecake, Milk Chocolate Haupia & Coconut-Banana Bread Pudding
Child's Buffet: Pineapple BBQ Meatballs, Fried Chicken Fingers, Corn on the Cobb, Fruit Bowl, Lettuce, Celery & Carrot Sticks, Hawaiian Jello Squares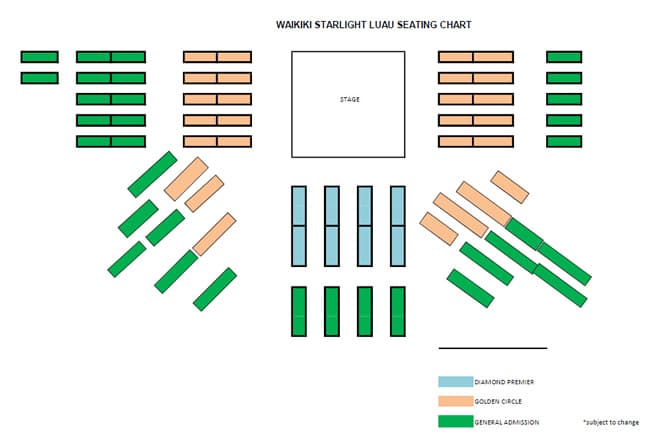 Special Instructions
Where and When
Take the elevator or escalators up to the 6th floor of the parking structure, then take the escalators on the left up to the mezzanine level, where the luau check-in desk is (the little grass hut). Check-in is at 5:00 pm.
View Map
Luau ends approximately 8:00 pm.
Restrictions
There are no specific restrictions for this activity.
Please contact us if anyone in your party has special needs.
Special Notes
Complimentary Valet & Self Parking are available at the Hilton Hawaiian Village.
Infant pricing (children 3 and under) do not get a plate and must sit in an adult's lap. High chairs may be available, but are subject to availability. In order to reserve a seat and a plate, child pricing must be booked.
Operation Days
Sunday – Thursday
Duration
Approximately 3 hours
Capacity
Diamond Premier seats 32 Maximum Seats
Golden Circle seats about 240 seats.