Sure, hanging out by the famous Waikiki Beach is awesome, but this Waikiki water adventure is going to take things a notch higher.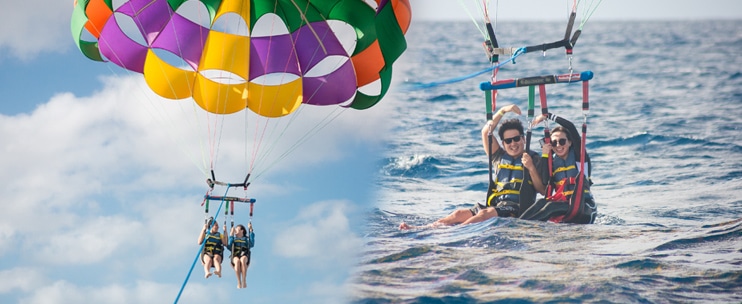 Waikiki Ocean Sports' Waikiki Parasail lets you ascend into the beautiful Hawaiian skies, relish the views from up above, and altogether have an adventure of a lifetime! Truly an exciting experience you should not pass up on when visiting Hawaii, Waikiki Ocean Sports' Waikiki Parasail is perfect for all the adventure-loving, thrill-seeking sightseers out there!
What's great about Waikiki Ocean Sports' Waikiki Parasail is it comes in different packages, principally taking into consideration the parasailor's ability and preference. Beginners mostly opt for the shortest towline line, but this is not to say that first-timers cannot go on the longest one, which offers the best aerial views! Delight in the views of the pristine Hawaiian seas, the panoramic Waikiki skyline, and the majestic mountain views in the background. 
A sight to behold, a bird's eye view of Waikiki is definitely something you should not miss out on when visiting this part of Hawaii, especially for those who are doing so for the first time!
Whatever parasailing package you and your companion decide on getting, you are sure to have the safest parasailing adventure, as Waikiki Ocean Sports' well-trained staff will give you an instructive safety briefing prior to departure. Afterwards, cruise along Waikiki Beach and prepare to sail excitingly into the Waikiki sky!
Never mind those second thoughts and apprehensions! Waikiki Ocean Sports' Waikiki Parasail is especially safe and ultimately an enjoyable Hawaiian experience. It's no surprise that many have booked and raved about this Waikiki adventure! For added convenience, Waikiki Ocean Sports' Waikiki Parasail comes with a complimentary round-trip transportation from select Waikiki hotels, so when you book, make sure to ask about this add-on, too!
Package Options
Beginner
This package features the shortest towline of only 300 feet, thus making it perfect for parasailing first-timers.
This package lasts for around 4 to 5 minutes upon ascent. 
Turtle
This package utilizes a somewhat short towline of only 500 feet. This is suitable for those who want to sail a little bit higher and longer, but nonetheless want a short towline.
This package lasts for around 5 to 6 minutes upon ascent.
Dolphin
Utilizing a towline with a length of 750 feet, this package is a mid-range flight ideal for adventurous parasailors.
This package lasts for around 6 to 8 minutes upon ascent.
 Whale
This utilizes the longest towline with a length of 1,000 feet! For such height, parasailors who opt to go on the Whale package are guaranteed the best aerial views.
This package lasts for around 10 minutes upon ascent.
 Ride-Along Option
This option is perfect for those who are not exactly into water adventure activities, but nonetheless want to tag along for a relaxing Waikiki Beach cruise. Stunning beach views still await those who choose this option!
Instructions
Check in at Slip F-R (Kewalo Basin), 1025 Ala Moana Blvd., Honolulu, HI 96814.
Check in at least 20 minutes before your scheduled tour time.
The following are not allowed to go on this activity:
Children below 6 years old
Participants under 18 years old without a liability waiver signed by their parents or guardian
Pregnant women
Those above 425 lbs.
For single flights, those weighing below 125 lbs.
All participants are required to sign a release of liability waiver prior to boarding the vessel.
Subject to participants' weights, wind conditions on the day of the tour, and captain's discretion, flights may be single, tandem/pair, or triple. 
This tour operates daily.
The boat can carry up to 12 passengers per tour.