Experience the Hawaii's underwater world while riding along a scooter and guided by a dive professional!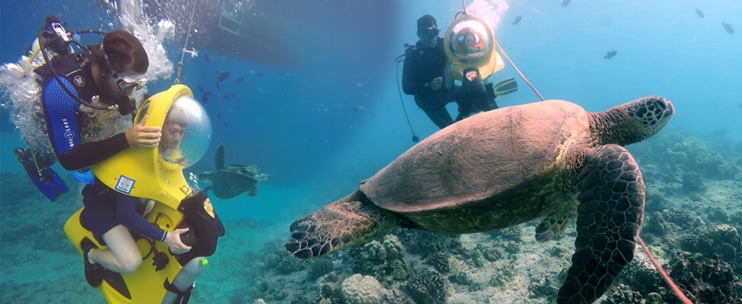 Just sit back and direct the scooter in the direction you want to go!  No snorkeling, diving, or scuba experience is needed!
Underwater submarine scooters work on the bell theory, with a helmet that has a large curved goggle-like architecture to enhance the peripheral vision and see the most of your surroundings!  As you descend a seal is formed so your head stays dry inside the bubble!
While you're not on the scooter, you can also have access to other activities on the boat like snorkeling or relaxing in the shaded areas of the sun deck.
Special Instructions
Where and When
Waikiki Transportation
If you sign up for this option, your pick up time and location will be in your confirmation email.
Driving Out
9:00 am Tour: Check in at 8:40 am. Tour returns approximately 12:00 pm.
1:00 pm Tour: Check in at 12:40pm. Tour returns approximately 4:00 pm.
Check in at Slip F-R. When you arrive at the dock, find the yellow booth to check in.
1025 Ala Moana Blvd
Honolulu, HI 96814 (Kewalo Basin)
View Map
Restrictions
No flying 24 hours before or after this activity.
Minimum age: 10 years
Minimum height: 4ft 6in tall.
If Waikiki Ocean Sports deems a guest not capable in participating in the activity, the guest will not be allowed to participate and will not be allowed a refund. If you're concerned about that restriction please speak to Waikiki Ocean Sports before booking.
All guests should be in good physical health.
Those with the following are NOT recommended or advised to participate in this tour:
Those with prior history of high blood pressure
Those with heart disease
Those on medication
Operation Days
Sundays to Fridays
Duration
approximately 3 hours
Capacity
50 guests