Come aboard the E-Sea Rider for an ocean adventure to remember! Waikiki Ocean Sports specializes in safe, innovative, and sensational ocean activities, which is why it has been dubbed as a top choice for ocean sports in the whole of Hawaii.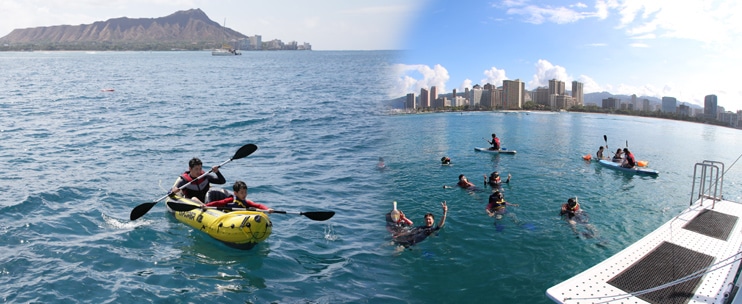 For this tour in particular, Turtle Snorkeling Cruise is a fun and risk-free open water activity that allows you to enjoy and explore the tropical waters of Oahu and get to see its undiscovered beauty down under. If you're up for some real good fun under the sun, Waikiki Ocean Sports' Turtle Snorkeling Cruise is your best bet!
This tour kick-starts with a relaxing cruise on the E-Sea Rider, a 60-foot cruise ship that has been customized and retrofitted into a one-of-a-kind water adventure sport vessel. A vessel that can comfortably carry up to 70 passengers, the E-Sea Rider promises a smooth ride and a relaxing sightseeing cruise to your tour group's designated snorkel site! With E-Sea Rider's comfortable seats and wide and spacious view decks, you and your companions will surely enjoy the sights as you psych and gear yourself up for an exhilarating ocean adventure!
packsOn Waikiki Ocean Sports' Turtle Snorkeling Cruise, you will most certainly enjoy viewing the ocean from the surface with your snorkeling gear, which will be provided and are inclusive in the package. With waters so clear, you will easily catch sight of tropical reef fish, sea turtles, and plenty more marine organisms, many of which are endemic to Hawaii. If you opt to go all out and avail of the DELUXE option, you will not only get to snorkel and get a glimpse of Oahu's underwater beauty, but you will also enjoy other ocean activities such as kayaking, paddleboarding, sliding down the E-Sea Rider's water slide, and jumping up and down its ocean trampoline! An ocean adventure could not get any more fun than this, that's for sure!
Waikiki Ocean Sports' Turtle Snorkeling Cruise is a tour package that you just cannot pass up on. It's not everyday that you get to travel to this part of the world, so make sure to make the most out of your trip by booking this tour now!
Tour Inclusions:
Waikiki Ocean Sports' Turtle Snorkeling Cruise is inclusive of the following:
Snorkeling Only Package

– snorkel gear and light snacks and refreshments 

Deluxe Package

– snorkel gear, kayaks, stand-up paddle boards, use of the ocean trampoline and water slide, and light snacks and refreshments
* Life vests will also be provided for all guests, whether booking the Snorkeling Only or Deluxe tour packages.
** Round-trip transportation to and from select Waikiki points is available as an add-on, too, but you must sign up for it to be accommodated.
Special Instructions:
Choose from the following tour times:

Morning tour: 9:00 AM to 12:00 PM

Afternoon tour: 1:00 PM to 4:00 PM

If you sign up for the Waikiki transportation service, your pick-up time and location will be confirmed via email. Otherwise, make sure to check in at least 30 minutes prior to your tour's departure as it will leave promptly as scheduled.

Check-in is at Slip F-R, located at 1025 Ala Moana Blvd., Honolulu, HI 96814.

The following are the requirements and restrictions to join this tour:

All participants must at least be 5 years old.

Pregnant women and senior citizens are discouraged from joining this tour for health and safety considerations. If you do intend to join, please check with Waikiki Ocean Sports prior to making your reservation.

All participants must be in good health and in good physical health condition to join. Any guest with a medical condition is advised to check with Waikiki Ocean Sports prior to placing a reservation.

Prior to departure, all guests are required to sign a waiver. Minors must be assisted by a parent or legal guardian in making this waiver.

Guests are generally allowed to bring their own beverages on board, but all drinks must be of a canned variety. 

Waikiki Ocean Sports' boat staff and crew have the right to regulate consumption of food and drinks throughout the duration of the tour.

Tour duration is approximately three hours. As mentioned above, the morning tour shall return at around 12:00 PM, while the afternoon tour is scheduled to return at approximately 4:00 PM.
For bookings you may visit Oahu tours and packages here: Oahu Tours | Cheap Hawaiian Activities