Certified scuba divers, this is an opportunity you should not pass up on! As can be safely expected, you have most probably been to many dive sites, given your prior diving experiences that led you to acquiring an advanced open water diving certification.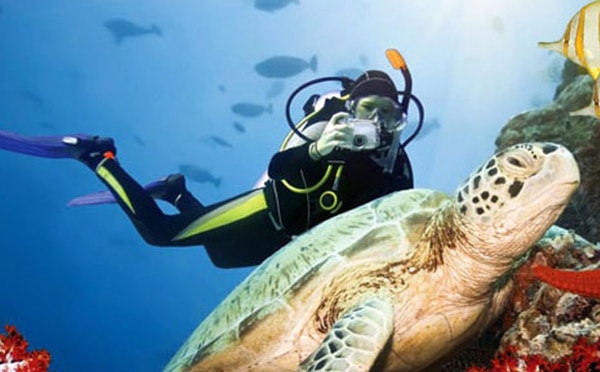 Waikiki Ocean Sports' Advance Certified Scuba Dive will take you to two prime dive spots on Oahu that are unlike any other. If you're up for both a shipwreck dive and natural reef dive in one tour, then this is for you! Go and make the most out of your scuba skillfulness and certification by going on Waikiki Ocean Sports' Advance Certified Scuba Dive!
Located conveniently in Kewalo Basin, Waikiki Ocean Sports offers a wide selection of water activities that will make your trip to Oahu even more memorable and exciting. For this package tour in particular, the Advance Certified Scuba Dive offers a jam-packed morning of exploring and sightseeing underwater, with dive depths that can reach up to 100 feet! With dives so deep, you are in for an adventure in somewhat unexplored areas of Oahu underworld. Not quite like any other, indeed!
Waikiki Ocean Sports' Advance Certified Scuba Dive's first dive location is at Sea Tiger or YO-257/San Pedro, where the shipwreck sights will amaze and wow you. A 40-minute diving course, this shipwreck dive is just so breathtaking–a scene straight out of a movie! Here, you will not only be astonished by the underwater shipwrecks, but you will also have the opportunity to get up close with Oahu Island's deep sea fish and green sea turtles. Truly an amazing experience, just this first dive site is already more than enough to make your Oahu getaway so thrilling and unforgettable!
The second dive site is just as breathtaking. On this part of the tour, you will be staying somewhere shallow, but is guaranteed to be equally astonishing as the first. Your second tank will take you to a natural coral reef site, where you can catch sight of Hawaii's magnificent coral reef system. Here, you will enjoy the views of Oahu's coral reef formations, and as well as the sea creatures living and lurking in them. With waters so clean and pristine, exploring undersea and being one with nature are made even more fun and thrilling!
If you are a certified scuba diver, you just cannot miss such a beautiful opportunity. Seize it, or you'll regret it! Go and book Waikiki Ocean Sports' Advance Certified Scuba Dive now!
Tour Inclusions:
This package tour comes with a complimentary round-trip transportation from select Waikiki hotels. Make sure to check if your hotel is covered. If not, you may arrange to be picked up at the nearest hotel covered by the complimentary pick-up.

This tour is also inclusive of light snacks and drinks on board, as well as all diving gear including wetsuits, fins, and masks. You are, of course, free to bring your own.
Special Instructions:
This tour is exclusive only to those who have the proper valid certification (advanced open water diving certification).

Check in at 8:40 AM. Check-in is at Slip F-R, located at Kewalo Basin 1025 Ala Moana Blvd., Honolulu, HI 96814.

All guests are required to fill out and sign a PADI medical release form and a waiver of liability.

All guests are expected to be in good physical health. Waikiki Ocean Sports may refuse a participant, should it determine that such guest is not physically and medically fit to join the activity.

Children below 15 years old are not allowed to join the tour.
The following are discouraged to join the tour:
Pregnant women

Senior citizens

Smokers above 45 years old

Those on medications

Those diagnosed with alcoholism and other psychological health problems such as depression, panic attacks, etc.

Those who are overweight, or have breathing, spinal, or nasal-related problems

Those who have asthma, high blood pressure, and other related health issues

This tour operates from Sunday to Friday.

This lasts for approximately 3 hours per booked tour. Tour concludes at around 12:00 PM. 
You may visit  our homepage here: Cheap Hawaiian Activities | The Place For You to Find Great Hawaiian Activities and Tours at A Discounted Price