Much has already been said about scuba diving as a recreational activity.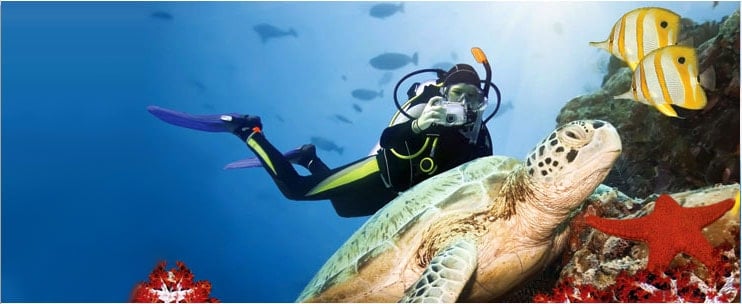 Most, if not all, already know that a scuba diving adventure allows divers to explore the underwater world and meet precious marine mammals and other sea creatures in their natural habitat, which is just as precious, too! Truly, such is an adventure to remember, but while you're at it, why not grab the opportunity to learn from the pros and be certified thereafter? The PADI Open Water Diving Course is one the most popular scuba diving certification courses in the world, and fortunately for you, you can avail of this in Oahu and become a certified scuba diver, through Waikiki Dive Center!
PADI, short for Professional Association of Diving Instructors, in partnership with Waikiki Dive Center, offers a special treat to Oahu vacationers who do not just want to explore underwater but also to learn the essentials when it comes to scuba diving.
 YoA necessary step especially for those who want to be certified and enjoy all the perks of being a certified entry-level diver anywhere in the world, the PADI Open Water Course combines both theory and application for a holistic learning experience. The first part of the course is Knowledge Development, where the basic terms, principles, and concepts on dive safety and enjoyment are covered. The next is Confined Water Dives, where you will be taught the essential scuba skills in a pool—a perfect preparatory step for first-timers before they go straight into open water! Of course, the last part of the course is Open Water Dives, where, evidently, you get to apply all that you have learned in the prior portions of the course in the pristine open seas of Oahu!
Note, however, that before all these fun learning activities, PADI requires participants to complete the PADI E-Learning System prior to your trip to Oahu. Basically an online course consisting of instructional videos, reading materials, and quizzes, the PADI E-Learning System takes about 12-15 hours to complete, which you can choose to finish at your own pace. After finishing this online course, all you have to do is print out your E-Record, bring it with you to Oahu, present it at the Waikiki Dive Center, and then the real scuba diving adventure starts!
Being a certified scuba diver has a lot of amazing perks that you can enjoy anywhere in the world, so if you're up for this kind of all-out experience, sign up now for a PADI Open Water Diving Course and see you at Waikiki Dive Center!
Special Instructions:
The PADI Open Water Diving Course is a two or three day course. 

On the first day, the dive will start at 7:15 AM. The boat dives on the next day/s will be at 10:15 AM.

Make sure to check in prior to these scheduled dives. Check-in is at Waikiki Dive Shop, located at 424 Nahua Street, Honolulu, HI 96815.

Participants need to be at least 10 years, medically cleared and fit for diving, and are able to swim. 

To ensure that one is cleared for diving, a medical form must be filled out prior to joining the activity.

The Waikiki Dive Center operates two dive boats, which you will get the chance to ride and cruise in:
Submariner

, a Coast Guard-certified dive boat that can safely carry up to 10 to 12 divers
Snoopy V,

a Coast Guard-certified dive boat that can safely carry up to around 16 to 28 divers
You can visit our Oahu tour packages here: Oahu Tours | Cheap Hawaiian Activities