A trip to Oahu is guaranteed a jam-packed trip of thrilling adventures, breathtaking sights, and lots of beautiful memories.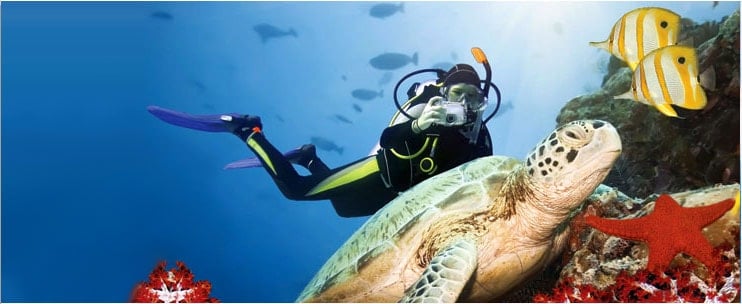 In fact, Oahu is such a popular tourist destination for the many things it has to offer, that this part of Hawaii is the most visited of all the state's main islands. This being so, if you're bound to visit Oahu, make sure you make the most out of it by booking tour packages that let you relish its views like no other! Let Waikiki Dive Center give you this by booking its Afternoon Dive tour package. An afternoon of wonderful underwater views and scuba diving experience, Waikiki Dive Center's Afternoon Dive is definitely a bang for the buck!
Waikiki Dive Center's Afternoon Dive takes you to a diving excursion off Oahu South Shore. This part of the island is hailed as one of the finest dive sites on Oahu, and rightfully so!
Oahu South Shore is teeming with a wide range of marine life, including different species of colorful reef fish, green sea turtles, and rays, among many others, and these precious creatures are what you will get to meet up close when you go on this scuba adventure! They're all as excited as you are, so as long as you remember to respect the beauty and sanctity of their homes undersea, you and they will surely have a grand time.
What's great about this scuba diving package is since it's scheduled in the afternoon, the weather, water, and temperature are optimal for a dive! Enjoy the beautiful Hawaiian sun and breeze while on the cruise to the two designated natural reef dive sites, and then enjoy further the warm and clear waters as you go down under. These water and weather conditions are perfect for sightseeing, for sure!
Whether you're a certified diver or just a beginner, everyone is welcome to join Waikiki Dive Center's Afternoon Dive. This activity is ideal for divers of all skill levels, and even more ideal to complete an unforgettable Oahu vacation! An adventure you will not regret booking, Waikiki Dive Center's Afternoon Dive is your passport to an ultimate Hawaiian fun!
Tour Highlights
This tour takes you to a diving excursion off the scenic Oahu South Shore.

Dive at two natural reef dive sites, which both feature an abundant marine life and a breathtaking underwater topography!

This is perfect even for beginners, as Waikiki Dive Center's staff and crew are adequately trained and experienced to teach and guide participants without prior diving experience. 
Tour Inclusions
All scuba diving gear will be provided, but feel free to bring your own!

A complimentary round-trip shuttle is available from Waikiki hotels. 
Special Instructions
The shuttle will pick up participants from Waikiki hotel/s from 10:15 to 10:30 AM. Make sure to indicate your pick-up details upon booking. Return is at around 3:30 PM.

All Waikiki Dive Center tours depart from Kewalo Basin Harbor on Maunalua Bay, where you will be dropped off directly after hotel pick-up.

If you will not be availing of the complimentary Waikiki hotel pick-up, check-in is at the Waikiki Dive Shop, located at 424 Nahua Street, Honolulu, Hi 96815.

The following are not allowed to participate in this activity:

Children below 10 years old

Pregnant women

Those with medical restrictions but without a doctor's clearance

Non-certified divers will required to fill out a medical form prior to departure.

This tour operates daily.

The tour lasts for approximately five hours.