Have you ever wondered what it would be like to soar through the skies and take in the breathtaking beauty of Hawaii's south shore? Well, wonder no more because CheapHawaiian Activities and Tours is here to make your dreams come true! We are proud to offer an unforgettable half-hour helicopter tour of Oahu's south shore that will leave you in awe.
Picture this: you'll be departing from the Honolulu International Airport and embarking on a journey that will take you over downtown Honolulu, Waikiki Beach, Diamond Head, Hanauma Bay, and the Nu'uanu Pali cliffs. And the best part? You have the option to fly with the doors on or off, so you can enjoy unobstructed views of the stunning landscape below.
But that's not all! Your tour will also include a trip over Pearl Harbor, where you'll get to see iconic landmarks such as the USS Arizona Memorial and Battleship Missouri. This is truly a once-in-a-lifetime opportunity to witness the beauty and history of Hawaii from a whole new perspective.
At CheapHawaiian Activities and Tours, we pride ourselves on delivering exceptional experiences to our guests. With unbeatable value, an extensive selection of activities, experienced guides, small group tours, and a commitment to customer satisfaction and safety, we guarantee that your time with us will be nothing short of remarkable.
So, what are you waiting for? Don't miss out on this incredible adventure in paradise. Book your half-hour helicopter tour of Oahu's south shore with CheapHawaiian Activities and Tours and get ready to create memories that will last a lifetime.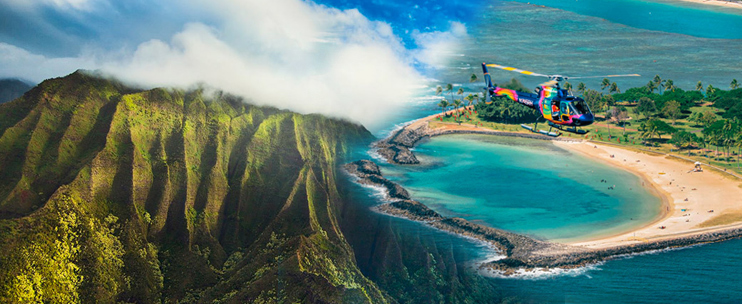 Unforgettable Half-Hour Helicopter Tour of Oahu's South Shore
Get ready for the experience of a lifetime as Rainbow Helicopters offers a half-hour helicopter tour of Oahu's stunning south shore. Departing from Honolulu International Airport, this tour guarantees breathtaking sights and unforgettable moments.
The tour begins with a bird's-eye view of downtown Honolulu, where you can soak in the vibrant city skyline. As you soar through the clouds, Waikiki Beach comes into view, revealing its iconic beauty. The crystal-clear waters and pristine white sand are even more awe-inspiring from above.
Next, prepare to be captivated by the majestic Diamond Head, a volcanic crater that has become an iconic symbol of Hawaii. As your helicopter gracefully glides over its rugged slopes, you'll gain a new appreciation for this natural wonder.
No helicopter tour of Oahu is complete without a visit to Hanauma Bay. This marine sanctuary boasts a vibrant coral reef ecosystem, and from the air, you'll witness its natural splendor in all its glory.
As you continue your journey, prepare to be enchanted by the Nu'uanu Pali cliffs. These dramatic, wind-swept cliffs showcase the sheer beauty and power of nature. From high above, you'll witness the awe-inspiring panoramic views that make the Nu'uanu Pali cliffs a must-see on any trip to Oahu.
One of the highlights of this tour is the opportunity to choose whether you want to fly with the doors on or doors off. Flying with the doors off offers an unobstructed, unparalleled view of the beautiful landscapes below. It's an exhilarating experience that will leave you in awe of Hawaii's natural beauty.
The tour concludes with a visit to Pearl Harbor, where you'll have the unique chance to view the USS Arizona Memorial and the Battleship Missouri. This historic site pays tribute to the brave men and women who lost their lives during the attack on Pearl Harbor. As you hover above, you'll gain a deeper understanding of the significance of this memorial.
Rainbow Helicopters offers daily tours with multiple departure times between 9 am and 5 pm, making it convenient for visitors to choose a time that suits their schedule.
For your comfort and safety, Rainbow Helicopters utilizes two types of helicopters for this tour: the Airbus AStar and the Robinson R44. The Airbus AStar has a seating capacity of up to 6 passengers, while the Robinson R44 can accommodate 3 passengers. Rest assured that both helicopters are well-maintained and equipped with the latest safety features.
To ensure everyone can enjoy this extraordinary experience, prices for the half-hour helicopter tour start at just $295 per person. Please note that additional surcharges may apply for passengers weighing over 260 lbs.
At CheapHawaiian Activities and Tours, we are committed to providing unbeatable value and ensuring customer satisfaction. With an extensive selection of activities and tours, we cater to various interests and preferences.
Our experienced guides are passionate about Hawaii and eager to share their knowledge with you. They will provide you with insights into Hawaii's culture, history, and hidden gems, making your tour a truly enriching and insightful experience.
By keeping our tour groups small, we aim to provide an intimate and personalized experience. You'll receive individual attention from our guides and have the opportunity to make new friends along the way.
Your safety is our top priority, which is why we adhere to strict safety standards and guidelines. We want you to have a worry-free and secure journey as you explore the beauty of Hawaii.
As a locally-rooted tour provider, we take pride in our deep understanding of Hawaii's culture and history. Our tours are designed to showcase the best of the islands, while also minimizing our environmental impact with eco-friendly practices.
Join us at CheapHawaiian Activities and Tours for an unforgettable adventure in paradise. Whether you're a solo traveler, a couple, or a family, we guarantee a memorable experience that will leave you with cherished memories of Hawaii's enchanting landscapes and warm hospitality. Book your dream vacation with us today and discover why we are the best tour provider in Hawaii!