Umauma Waterfall Rappel and River Experience
Rappel 250 feet into the Umauma valley!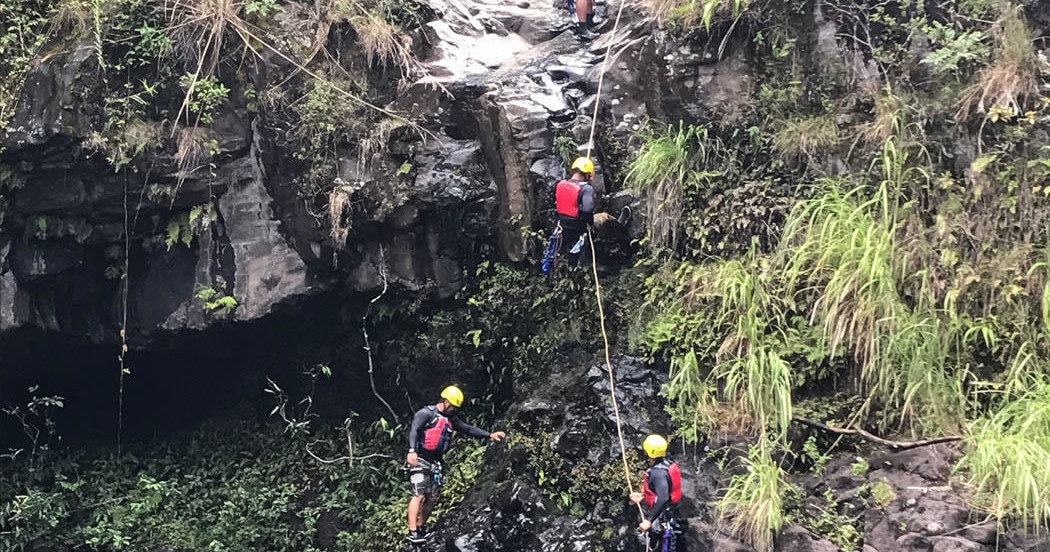 Rates
Adults (ages 11 and older): $285.00
Children (ages 8 to 10): $275.00
Highlights
What better way to experience the Umauma River than to rappel right into it! Join us as we explore the beautiful scenery of the Umauma River. Swim, float, rappel and hike through the valley as we enjoy the natural beauty and unique features the Umauma River has to offer.
Description
Make memories that will last a lifetime as you experience the coolest adventure in Hawaii. Start your rappel experience by rappelling 250 feet into the Umauma valley. The last 20 feet is a cave, so you will free rappel right into the Umauma River. But don't worry, you will be fully equipped with a wetsuit, tobbies and all the necessary top of the line rappelling safety gear. Once you enter the river, you will relax as you float down the Umauma river to a 100 year old flume dam. This dam was made in 1910 and is still perfectly in-tact today. It's level surface makes for an infinity pool like experience in the river! Next, you will boulder down a short distance to a natural stone slide formation where you will slide right into a large pool. On this tour, you will rappel down two waterfalls and even end with a jump (optional) at our private pond.
This tour will last approximately three and a half hours
Policies
Requires a minimum of 4 people to commence tour.
Check-in 45 minutes prior to your tour time.
Restrictions apply.
Please wear swim clothes you can wear under a wetsuit, as well as a towel and a change of clothes for after the tour. Please do not use sun screen or mosquito repellent as it won't be necessary since you will be wearing a full body wetsuit.
Minimum Age requirement is 8.
Children under the age of 18 must be accompanied by an adult.
Weight limits are: 80 lbs to 250 lbs
No persons with neck or back injuries or women who are pregnant. Not recommended for people with heart problems.
Safety First! Umauma reserves the right to refuse a persons participation on tour if it is determined that the individual is not fit for the experience. Umauma will issue a refund in this situation minus a 25% cancellation fee.