Enjoy a guided kayak tour from Kailua Beach to the Mokulua Islands!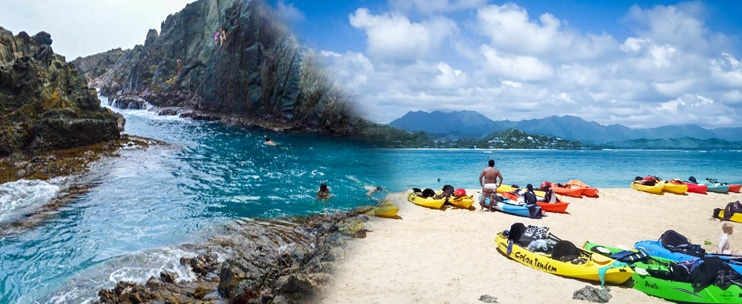 Guided by a trained naturalist and master paddler, this tour sets off from the beautiful Kailua Beach and cruises along the calm waters of Kailua Bay. Along the way, you may see Kailua Bay's famed resident, the Hawaiian green sea turtle.
You'll land your kayak on one of the two Mokulua Islands called Moku Nui and then enjoy swimming and relaxing on the island's sandy beach. You can also go on an island exploration with your guide to see the natural tide pool, called Queen's Bath, or the breathtaking cove on the back of the island where you can go snorkeling and/or cliff jumping.
After leaving Moku Nui, you'll land your kayak on another beautiful beach where you can snorkel some more. Your guide will share interesting stories about Hawaiian history, marine life and geology. This tour includes a delicious picnic lunch.
Tour Highlights
Guided kayak tour to Moku Nui Island
Island exploration – see a natural tide pool and a hidden cove
Relax on the beach or go snorkeling in crystal clear waters
Chance to see a variety of marine life, including tropical fish and turtles
Tour Inclusions
Kayak and tour guide
Life jacket
Snorkeling gear (snorkel, mask and fins)
Dry bag
Picnic lunch (French-style sub sandwich, chips and a drink)
Roundtrip transportation from Waikiki
Special Instructions
Where and When:
Waikiki hotel pick-up is between 7:45 am and 8:15 am from Monday to Friday, or from 7:15 am to 7:45 am on Saturday. The exact hotel pick-up time will be specified on your voucher. Look for a white van with Twogood Kayaks on the side.
If you are driving out yourself, check-in is at 8:15 am at the Twogood Kayaks shop, 134-B Hamakua Drive, Kailua, HI 96734. View Map
The tour begins at 9:00 am. Return to Waikiki is around 4:00 pm.
Restrictions:
There are no specific restrictions for this activity.
Special Notes:
Operation Days:
Monday through Saturday
Duration:
5 hours
Capacity:
Equipment: