Are you ready to take your Hawaiian adventure into the next level?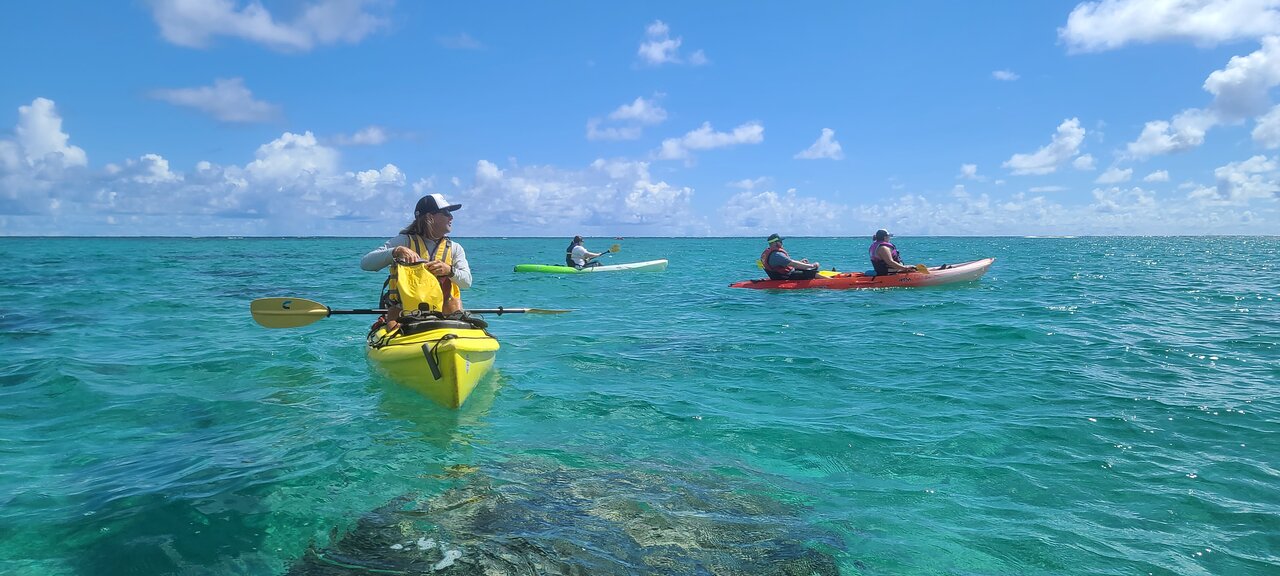 If you are a kayak enthusiast or a daredevil with a massive adrenaline rush, the Twin Islands Guided Kayak Tour is for you!
Kailua Beach Adventures understands every kayaker's dream, that is why it is bringing you another thrilling 5-hour tour to explore one of Oahu's most beautiful beaches – the Kailua Bay! You can even bring your kids who are 13 and over, to let them experience a one-of-a-kind sea escapade. Allow them to witness the beauty of the ocean, and take a glance of how marine life interacts. And most importantly, let them have fun with your family or other guests. If you worry about your safety, rest assured that their lifeguard certified and experienced tour guides will take care of you in every way.
So, what should you expect after booking? First of all, you will get wet so you must bring a bathing suit or extra clothes to change after your trip, along with footwear with a strap. One of Kailua Beach Adventures' missions is to protect the ocean and sea life, so you are recommended to bring reef-safe sunscreen. With all the panoramas that are worth capturing, camera is also a must-have in this trip! In case you didn't bring something you need, they have a shop in their store where you can purchase at reasonable prices.
After checking-in, your guide will brief you on safety measures, talk a bit about the area, and provide basic instructions on kayaking. You will then begin your adventure at the Kailua Beach, where you will paddle towards the Mokuluas, the popular twin islands located offshore at Lanikai Beach, which are one-hour paddle away. Here's a little trivia for you: The northern part called Mokulua Nui or Moku Nui is a volcanic cone with two peaks as high as 225 feet or 69 meters. On the other hand, the southern portion called Mokulua Iki or Moku Iki is just a hump with a maximum elevation of 150 feet or 46 meters. Its western side has a rocky coral beach.
When you reach Moku Nui, a protected seabird sanctuary, you might encounter a Hawaiian green sea turtle or "honu" as you pass by their natural feeding grounds. Or perhaps a baby seal sunbathing. Then after landing on the island's beach, enjoy an eco-tour and tide pool hike to the breathtaking Queen's bath. If you get lucky, chances are you will see rainbow runners, rock crabs, and a variety of endemic marine life in the hidden tide-pools.
After your island exploration, you will paddle to Lanikai Beach where you will be served with a mouthwatering picnic lunch. You'll have plenty of time to do some fun activities here. Remember to take pictures of the majestic beach, which is described as the "most beautiful beach" in Oahu. With its turquoise blue waters, you can never resist swimming and snorkeling to meet the most colorful coral reefs and fish that you will ever see. You will be arriving at the check-in area at around 2:30 pm, where you can use the shower facilities and change your wet clothes.
TOUR HIGHLIGHTS
Guided kayak tour with lifeguard-certified tour guides from Kailua Beach to the Mokulua Islands

Eco-tour and tide-pool hike to Queen's Bath on the island's deserted beach

Paddle to Lanikai Beach and enjoy swimming, snorkeling, kayak surfing

Enjoy a picnic lunch at the most beautiful beach in Oahu

A chance to see various beautiful marine life
TOUR INCLUSIONS
Transportation from and to Waikiki

All kayak and safety gear, including life jackets, dry bags, and island landing permits

Use of secure lockers for your valuables

Mouthwatering lunch

Free beach parking
ADDITIONAL INSTRUCTIONS
Pick-up time:

Begins at 7:30 am 
Check-in time: 9:15 am (130 Kailua Road, Kailua Beach Adventures Beachside Center)
Return to Waikiki: Around 3:30 pm
Restrictions:

Every participant must know how to swim. Nobody who can't swim is allowed to join the tour. No refund is allowed in this case as per the cancellation policy.
Minimum age of participant: 13 years old (13 to 18-year old guests must be accompanied by a parent or a guardian). 16 years old and under must ride a double kayak, accompanied by a parent or a guardian.
Participants need to transport their kayaks to/from the beach through a cart (5-10 minute-walk).

Operations:

Monday to Saturday

Duration:

5 hours of guided Oahu kayaking + exploration
Equipment: One or two-person Ocean Kayak™ or Spectrum Kayak™ with Comfort Pro Kayak Seat™