Most girls, if not all, have dreamed of being a mermaid, or at least have wondered what it is like to be one, at least once in their lives.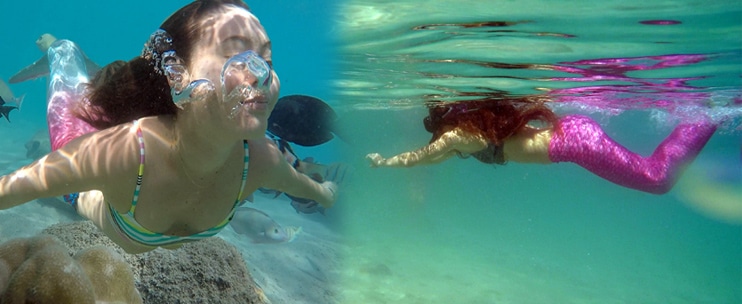 Of course, with all these childhood folklore, fairy tales, and movies that feature this magical aquatic creature, the thought of becoming a mermaid is one that has ever since bewilders and marvels us. Thanks to Try Scuba Diving Honolulu, you can actually make this childhood dream come true! Perfect for kids and the kids-at-heart, this Mermaid Snorkel Tour and Photoshoot is a tour package that will give you a magnificent and magical time underwater–with lots of great photos to remember the experience by, of course!
This tour kicks off on the beach, where your very own mermaid guides will be excitedly waiting for you and your group! On the beach, these guides will brief you on snorkeling fundamentals, and, of course, everything you need to know about wearing your pretty mermaid suit. As Try Scuba Diving's guides are properly trained and adeptly experienced in snorkeling and accompanying mermaid snorkelers, you will surely feel safe, comfortable, and secure as you have a magical time undersea! 
After that short briefing on land, which will take just around 10 to 15 minutes, you are ready to get your tails wet and splash around like those mermaids you only used to watch and read about! You will start off in shallow waters of about three feet, so that you can comfortably practice and get accustomed to swimming with your mermaid tail. Afterwards, you can go ahead and snorkel at your own pace and preferred depth! This is what's great about the Mermaid Snorkel Tour and Photoshoot–your comfort and preference matter. Your mermaid guide will be with you every step of the way, so your safety is very much guaranteed, too. 
Apart from these, you are also guaranteed excellently taken pictures and videos you would love to look back on when this enchanted moment is over! Once you are comfortable moving in the water with your mermaid tail, you will be taken to a spectacular coral reef system, which will also be part of your photo and video shots. Truly, Try Scuba Diving Honolulu's Mermaid Snorkel Tour and Photoshoot is a fun, unique, and dazzling way to explore underwater and get the loveliest memorabilia from!
Tour Highlights:
Go on an underwater adventure with a lovely mermaid tail

Explore and experience Oahu's coral reefs and diverse marine life

Take home beautiful underwater photos and videos of you having fun as a mermaid!
Tour Inclusions:
Try Scuba Diving Honolulu's Mermaid Snorkel Tour and Photoshoot is inclusive of the following:
Use of mermaid tail, suits, and snorkeling gear

Underwater pictures and videos

An instructional briefing and a guided snorkeling tour care of well-trained experts
Special Instructions:
Check in at least 15 minutes before your scheduled tour time.

Meet-up is in front of Lifeguard Tower 1G at Magic Island, Ala Moana Beack Park.

The following are the requirements and restrictions in joining this activity:
All participants must at least be 5 years old to join.

Those who are under 18 years old must have a parent or guardian to sign the waiver form.

All participants must be in good physical health and are comfortable swimming in open water.
Tour duration is approximately 1.5 to 2 hours. Tour time varies depending on the tour group size and participants' ability in water.
This tour can accommodate up to 8 guests. If you are travelling with a larger group, kindly send an inquiry first, as the tour operator may be able to accommodate a bigger tour group.
This tour operates daily.