Try Scuba Diving Honolulu is one of the only beach dives available close to the Waikiki Area!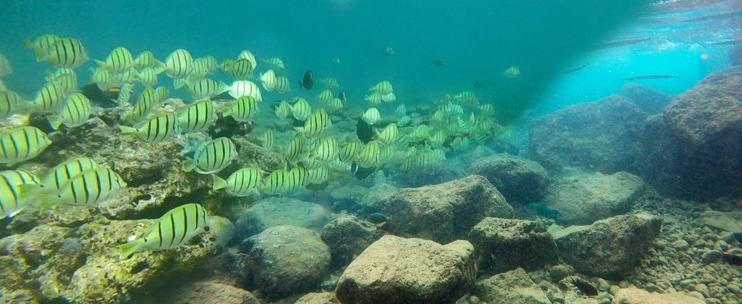 Try Scuba Diving Honolulu specializes in taking new beginners out scuba diving for their first dive experience.  Groups dive from Magic Island and no experience is necessary!  This group is perfect for beginners and first timers.  Certified Divers can even join and head out a littler deeper than others.
All your equipment is included and dive instructors are with the group every step of the way.
Others can snorkel if they prefer not to dive.
All Dives are done by beach entry so you walk right into the water and don't have to worry about going further than you're comfortable with.
Each tour also starts with a safety briefing and training with equipment right in the shallow waters so guests can get used to the gear before heading out.
If your child wants to go scuba diving but you do not .. they can!  The parent must be at check in to sign the waiver forms and be close by for the tour duration.  If using transportation the parent would still need to pay for transportation for themselves.
Tour Highlights:
No Certification Required!
Small group sizes ensures personal, informative service with friendly and professional guide
All Gear is included and instructors teach you everything you need to know for your first dive.
Family Friendly
Multiple times offered throughout the day
Close encounter with wildlife
Tour Inclusions:

Safety Briefing
Trial and Training of the Equipment
All Diving or Snorkeling Gear required.
Available downloading of the GoPro video taken of the tour.
Special Instructions
Where and When
Check in is 15 minutes before tour time.
Meet in front of Lifeguard tower 1G at Magic Island in Ala Moana Beach Park. Google Map for Magic Island should take you exactly to the Lifeguard tower 1G. View Map
There is usually free parking available at Magic Island.
Restrictions
Minimum Age is 8 yrs old.
All Participants under the age of 18 must have a parent or guardian there to sign a waiver form.
All guest should be in good physical health and be comfortable in the water. No starting a dive within 8 hours of diving and no flying after 8 hours of ending a dive.
A medical questionnaire will be filled out at check in. Below is a list of the questions. Any yes would require a doctor's note clearing the guest to participate.
Do you currently have an ear infection?
Do you have a history of ear disease, hearing loss, or problems with balance?
Do you have a history of ear or sinus surgery?
Are you currently suffering from a cold, congestion, sinusitis or bronchitis?
Do you have a history of respiratory problems, severe attacks of hayfever or allergies, or lung disease?
Have you had a collapsed lung (pneumothorax) or history of chest surger?
Do you have active asthma or history of emphysema or tuberculosis?
Are you currently taking medication that carries a warning about any impairments of your physical or mental abilities?
Do you have behavioral health, mental or psychological problems or a nervous system disorder?
Are you or could you be pregnant?
Do you have a history of colostomy?
Do you have a history of heart disease or heart attack, heart surgery or blood vessel surgery?
Do you have a history of high blood pressure, angina, or take medication to control blood pressure?
Are you over 45 and have a family history of heart attack or stroke?
Do you have a history of bleeding or other blood disorders?
Do you have a history of diabetes?
Do you have a history of seizures, blackouts or fainting, convulsions or epilepsy or take medications to prevent them?
Do you have a history of back, arm, or leg problems following an injury, fracture, or surgery?
Do you have a history of fear of closed or open spaces or panic attacks (claustrophobia or agoraphobia)?
Operation Days
Daily
Duration
1 to 1.5 hours, under water time is usually 25-35 minutes.
Capacity
4 guests per Dive Instructor, large groups can be scheduled with multiple dive instructors.
Equipment
All Diving or Snorkeling gear is included.