What could be more exciting than being a part of an authentic luau in a historic and beautiful valley that bears significance in the Hawaiian region?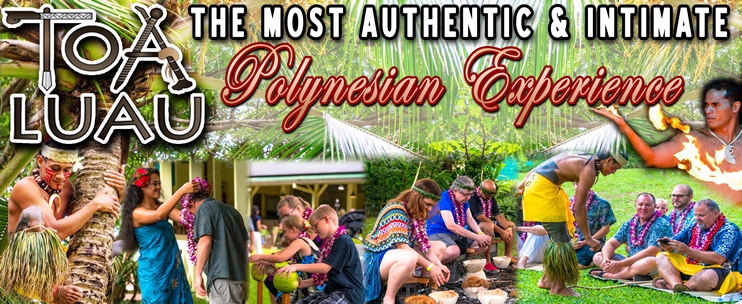 Come and join Toa Luau for a stunning evening show, featuring dances and music from Polynesian nations all over the Pacific, complemented by an eat-all-you-can luau dinner!
Home to a jaw-dropping botanical garden with over 5,000 botanicals along a paved way towards a 45-foot waterfall, Waimea Valley is a beautiful treasure of the island. Known to ancient Hawaiians as the "The Valley of the Priests," the descendants of the Kahuna Nui or high priests cared for this land while building large heiau (sacred temples) and several fishing shrines along the edges of the valley's entrance. You can even see carved burial caves within the steep cliffs that surround the valley walls.
Before the luau, make sure to arrive there at least 2 hours earlier so you can have time to stroll through the gorgeous and fragrant flower lei gardens. Take advantage of this admission included in your luau package, especially if you're looking for something unique to do before the festivities. If you are up to a short walk for about 15-40 minutes, you will witness some of the island's most diverse plant life and even splash at the refreshing pool at the base of the Waimea Falls. They offer life jackets of different sizes for free of charge! Did you know that a hike to the falls is ranked as one of Oahu's best hikes?
Before the luau begins, some friendly locals welcome you with a warm lei greeting and then escort you to the scenic luau grounds. There, you can participate in some Polynesian traditional activities, games, and rituals, including the kava ceremony and traditional cooking demonstrations. Kava ceremony is a ritual in every village in Fiji where friends and family gather together to share kava, a Fijian national drink made from the crushed root of the yaqona. It is a mildly narcotic and sedative drink that makes your mouth, lips, and tongue numb, as it creates a calm and relaxed feeling when it reaches your body. 
Before the evening's highlights, it's time to indulge in your mouth-watering luau dinner consisting of different dishes, including the kalua pork, salads, grilled shoyu BBQ chicken, fresh fruits, desserts, and others. For vegetarians, a menu can be customized upon request. You can also order extra cocktails at the bar after your complimentary drink for a more lively evening. 
To wrap up the event, you will be entertained by their multi-talented dancers with captivating performances, accompanied by traditional music to celebrate Polynesia. As a finale, you will be treated to a thrilling and unforgettable Samoan fire-knife dance.
Toa Luau Highlights
Only Hawaiian luau on Oahu's North Shore

Enjoy cultural presentations representing Polynesia, great food and a spectacular Samoan fire-knife dance

Learn what and how is the Fijian Kava ceremony is done

Take a leisurely, gentle walk on a paved path through the world-class botanical garden to the Waimea waterfall (natural walk is optional)

Swim at the natural pool below the Waimea Falls (optional activity and subject to weather conditions)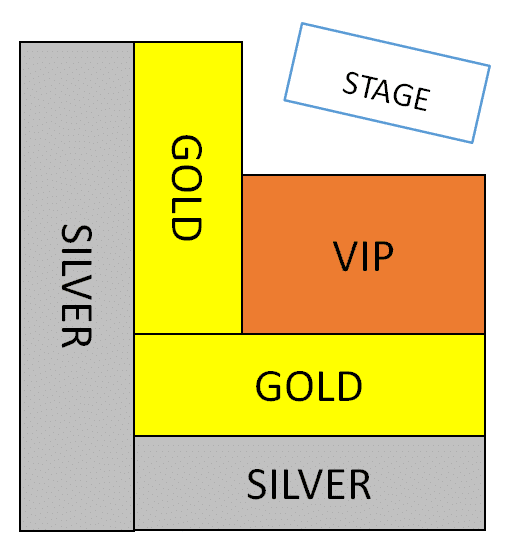 Toa Luau Menu
Pupukea Green Salad – Mixed Greens, Cherry Tomatoes, Cucumber, Candied Mac Nuts & Papaya Seed Dressing

Island Mac Salad – Celery, Onion, Carrots, Deviled Egg Aioli & Smoked Chili Flake

Kalua Pork – Lomi Tomato, Alaea Salt and Chili Pepper Water

Grilled Shoyu BBQ Chicken – Shoyu, Green Onion, Sesame Seed, Chicken Thighs

White Rice with Furikake

Fresh Fruit

House-Made Haupia

White Cake with Coconut Frosting

Ice Tea & Spa Water
 *Note: A meal of mixed vegetables can be customized for vegetarians. Guests with gluten requirements can eat most things on the buffet except the cake, macaroni salad, and bread rolls.
Toa Luau Packages
SILVER PACKAGE: Seating, Flower lei greeting, Cultural activities, Umu demonstration, Kava demonstration, Luau dinner buffet, Third buffet order, Polynesian show, 1 Drink ticket (for adults), Botanical garden admission
GOLD PACKAGE: Seating, Flower lei greeting, Cultural activities, Umu demonstration, Kava demonstration, Luau dinner buffet, Second buffet order, Polynesian show, 2 Drink tickets (for adults), Botanical garden admission
VIP PACKAGE: Seating, Flower lei greeting, Cultural activities, Umu demonstration, Kava demonstration, Luau dinner buffet, First buffet order, Polynesian show, 3 Drink tickets (for adults), Luau souvenir, Botanical garden admission
*Note: Drink tickets are for Adult tickets only.  Free water and ice-tare available for all guests, including children.
Special Instructions
Location and Time:

Check-in for the luau begins at 4:45 pm. Luau starts at 5:00 pm and ends at approximately 8:30 pm.
Same-day admission to the Waimea Valley botanical garden is included. Waimea Valley hours are 9:00 am to 4:00 pm.
ADDRESS:

Waimea Valley, 59-864 Kamehameha Highway, Haleiwa, HI 96712 (located across from Waimea Bay)

DRIVING DIRECTIONS:

If you decide to hike up to Waimea Falls before the luau starts, please drive yourself to the valley and give yourself at least 3 hours before 4:00 pm to hike and swim. 
*Note: Parking is free.
WAIKIKI OR NORTH SHORE ROUNDTRIP TRANSPORTATION:

If you selected this option, your confirmation email will list the closest pick-up location to your hotel and the pick-up time. While you can expect delays due to traffic, please be sure to be at your pick-up location a few minutes before the listed time. Please look for a black bus or van with a TOA LUAU sticker on the side.
*Note: Centralized pick-up locations include Ala Moana Hotel, Ilikai Hotel, Hotel LaCroix, Hyatt Centric, Courtyard Laie, and Turtle Bay Resort.
Restrictions:

There are no specific restrictions for this activity.
Waimea Valley is currently closed on Mondays & Tuesdays. This means if you are booked on a Monday – the day of the luau, you will not be able to walk the botanical gardens/swim in the waterfalls. HOWEVER, you can bring your luau ticket back a day Wednesday through Sunday to gain admission to the botanical gardens and/or swim in the waterfalls.
Special Notes:

Waimea Valley admission is included. Prior to the luau festivities, guests can take a walk on a paved path through the botanical garden and walk to Waimea waterfall. The walk is 1.5 miles round trip. If you like to experience the valley without hiking, there is a golf cart shuttle offered at $10 /person roundtrip at the valley entrance.
*Note: Infant pricing (children 4 and under) have their own seat and plate of food at the luau.
Operations:

Monday and Wednesday

Duration:

3.5 hours